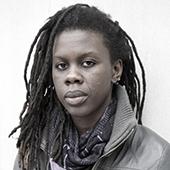 Director Charlotte Brathwaite (Canada/Barbados/UK) is known for her unique approach to staging classical and unconventional texts, video, film, dance, visual art, multi-media, site-specific installation, performance art, plays and music events. Her work has been seen in the Americas, Europe, Africa, the Caribbean and Asia and ranges in subject matter from the historical past to the distant future illuminating issues of race, sex, power and the complexities of the human condition. 
Named as one of the "up-and-coming women in theatre to watch" by Playbill, Brathwaite is recipient of several awards and citations including the Prelude Festival Franky Award, the Brown Institute Magic Award, the Princess Grace Award, the Julian Milton Kaufman Prize (Yale), a Rockefeller Residency, and the National Performing Network Creation Fund. She received her MFA at Yale School of Drama and her BA in Physical Theater at the Amsterdam School for the Arts (the Netherlands). She has been Visiting Professor at Amherst College, the University of Fortaleza UNIFOR (Brazil),  and Visiting Artist at New York University, Williams College and Barbados Community College (West Indies).
Currently she is a freelance director and Assistant Professor of Music and Theater Arts at Massachusetts Institute of Technology (MIT). www.charlottebrathwaite.com
Prof. Brathwaite is teaching Introduction to Action 21M.600 M/W 11-1pm and All the World's A Stage:  socio-political perspectives in performance 21M.800.  In the spring 2019 semester, she will develop and direct a new interactive game performance Rogue Objects with students at MIT.