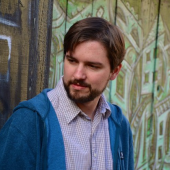 The music of composer and multi-instrumentalist Dan VanHassel (b. 1981) has been described as "energizing" (Wall Street Journal), "a refreshing direction" (I Care If You Listen.com), and "an imaginative and rewarding soundscape" (San Francisco Classical Voice). His works create an evocative sound world drawing from a background in rock, Indonesian gamelan, free improvisation, and classical music. His music has been recognized by grants from the Boston Foundation, Chamber Music America, the Barlow Endowment, the Johnstone Fund for New Music, and New Music USA and he has received honors and awards from ASCAP, New England Conservatory, UC Berkeley, Carnegie Mellon, the Guerrilla Composers Guild, and the Kalamazoo New Music Project.
His music has been featured at the MATA Festival, Bowling Green New Music Festival, International Computer Music Conference, UnCaged Toy Piano Festival, Shanghai Conservatory Electronic Music Week, Bang on a Can Summer Festival, UC Davis Music and Words Festival, and the Wellesley Composers Conference. He has worked with ensembles and performers such as Talea Ensemble, Dinosaur Annex, Phyllis Chen, Verdant Vibes, Keith Kirchoff, Keuris Saxophone Quartet, UC Berkeley Symphony, Now Hear Ensemble, Transient Canvas, Gloria Cheng, Symphony Number One, Red Fish Blue Fish, Ignition Duo, Empyrean Ensemble, Hotel Elefant, the Boston Percussion Group, Ensemble Pamplemousse UNC Pembroke Percussion Ensemble, and the UC Santa Cruz Wind Ensemble. Recordings of his music appear on albums by Ignition Duo and the Now Hear Ensemble, as well as releases on the Soundset, SEAMUS, and Thinking OutLoud labels.
Also active as a concert producer and performer on electric guitar and piano, Dan was a founding member of contemporary chamber ensemble Wild Rumpus and artistic director through 2016. Currently residing in Boston, Dan has degrees from the University of California Berkeley, New England Conservatory, and Carnegie Mellon University.