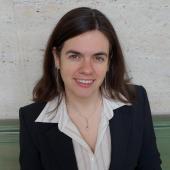 Leslie Tilley, Assistant Professor of Music, is an ethnomusicologist whose research focuses on analytical approaches to world music, particularly the analysis of improvised musics from Bali, Indonesia. Born in Halifax, Canada, Tilley began her musical training as a classical vocalist, earning a Bachelor of Music from Acadia University in 2000 before falling in love with academic music study. She subsequently earned an M.A. in ethnomusicology in 2003 and a Ph.D. in 2013, both from the University of British Columbia where she studied under foremost Balinese music specialist Michael Tenzer. Tilley's M.A. thesis explored collaborative improvisation on the 4-person Balinese melody instrument, reyong, positing a grammar of unspoken rules for the improvised style norot. Her Ph.D. dissertation "Kendang Arja: The Transmission, Diffusion, and Transformation(s) of an Improvised Balinese Drumming Style" continued in a similar vein, examining the Balinese paired improvised drumming genre kendang arja. In it, she analysed the kendang arja improvisations of master drummers from several different villages in order to understand the underlying boundaries to freedom required when improvising together.
Tilley has presented her work at several conferences, including Analytical Approaches to World Music (AAWM), Society for Ethnomusicology (SEM), and Society for Music Theory (SMT). Her research interests range from Balinese music to variation and improvisation to cross-cultural musical analysis. Her recent article "Dialect, Diffusion, and Balinese Drumming: Using Sociolinguistic Models for the Analysis of Regional Variation in Kendang Arja" borrowed theories of linguistic diffusion and variation to explain drum pattern diffusion and change in kendang arja traditions. Her forthcoming chapter in the Springer Handbook of Systematic Musicology, "Analytical Ethnomusicology: How We Got Out of Analysis, and How to Get Back In," examines and critiques the many analytical methods used by ethnomusicologists in the last 130 years. Tilley's current book project combines the research of her M.A. and Ph.D., using these examples as case studies for a broader discussion of both the freedom and the constraint inherent in collaborative improvisation. She is also beginning to explore computational analysis of Balinese improvisation, and looks forward to training her lens on improvised forms in other music cultures.
Tilley teaches Introduction to World Music (21M.030) as well as courses on Indonesian music. She also leads the MIT Balinese gamelan.