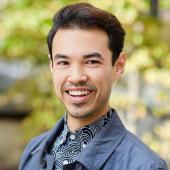 Voice - Emerson/Harris Program
Eiji Miura joined the Boston Conservatory at Berklee faculty in 2018 as an instructor of voice and is the managing director of the Boston Conservatory Opera Intensive at Valencia.
Miura is an active and sought-after Boston-based singer and educator. He is a graduate of the Boston Conservatory's vocal performance and pedagogy program, and in addition to his post at the conservatory, he currently serves on the faculties of the Berklee College of Music, the Massachusetts Institute of Technology (MIT), and is a guest teaching artists at the Longy School of Music of Bard College for the the 2021-22 academic year. Previous faculty positions include the New England Conservatory Preparatory School and Clark University.
Miura's background in linguistics has led him to developing a unique pedagogy that is pluralistic in its approach. His current interest in this field involves examining how a singer's native language may predispose them to certain challenges or advantages in learning to achieve a balanced and free genre-neutral technique upon which stylistic choices may be employed. Using this information, he creates an informed technical blueprint for addressing vocal faults, specifically focusing on recognizing the psychoacoustics of language and culture, as well as language-related articulatory entanglements.
As a performer, Miura has established himself as a versatile artist. He has performed with ensembles such as Odyssey Opera and Boston Modern Orchestra Project, held residencies at cathedrals throughout England, and performed the role of Goro in the world's first true-to-story Japanese-English bilingual production of Puccini's Madama Butterfly with Pacific Opera Project and Opera in the Heights. A strong proponent of diversity, equity, and belonging, Miura's participation in this production of Madama Butterfly led him to investigate issues surrounding culturally appropriative themes and practices in the tradition of Western classical music. He has lectured and been a guest speaker on this topic nationally. For the 2021-22 season, he is collaborating with the Boston Lyric Opera and Final Bow for Yellowface on a project called "The Butterfly Process," a multi-part discussion and performance series which will explore themes of racism, orientalism, cultural appropriation, misogyny, and exoticism in operatic works and within the opera industry.
In addition to his M.M. in vocal performance and pedagogy, Miura holds an M.Sc. in communications and a double B.A. in Asian studies and vocal performance from Clark University.