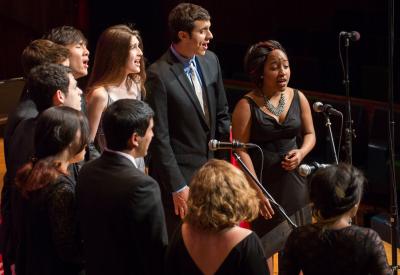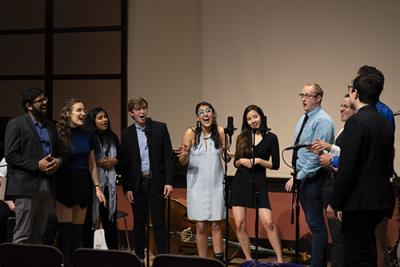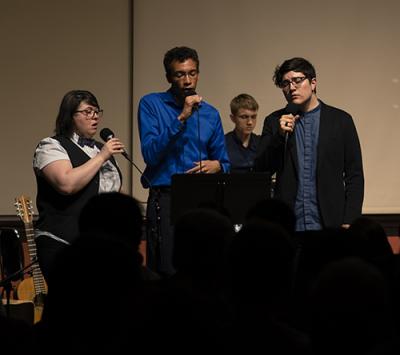 Laura Grill Jaye, Coach
Vocal Jazz Ensemble may be taken for credit:  21M.445
The MIT Vocal Jazz Ensemble (VJE) was founded by Institute Professor John Harbison in the spring of 2011 as the first and only vocal jazz performance group at the Institute. Boston-based vocalist-arranger-composer Laura Grill Jaye is the current director and coach of VJE, which has quickly risen to high recognition not only on campus but throughout Boston. Performance opportunities have included a professional recording with the MIT Festival Jazz Ensemble of the MIT school song and "A Rhumba for Rafael Reif," as well as an appearance with the Boston Pops at Boston's Symphony Hall. Professor Harbison has arranged many pieces for VJE over the years.
VJE's debut recording Vocal Jazz at MIT: Store-Bought Hair, was released in 2015. Past collaboration have included performances with Jacob Collier, Dominique Eade, and Luciana Souza. Under the direction of Laura Grill Jaye, VJE has participated in a special residency with and won high praise from Audra McDonald, and has collaborated and recorded with FJE .
VJE sings ensemble and solo jazz music.  It performs with jazz instrumentalists on and off campus, including a concert in Killian Hall at the end of each semester. The group also offers members opportunities for arranging and songwriting.  Rehearsals are on Tuesday evenings at 7:30 pm in Killian Hall.  
November 24, 2019
April 26, 2020
AUDITIONS
Auditions for both new and returning members will take place on Thursday, September 5th from 7:00pm to 10:00pm in Building 4-162.
Students are expected to prepare two songs of contrasting styles.  One song must be "Smile" by Chaplin/Parsons/Turner.  Many people have recorded this song, but Nat King Cole's is easy to find online if you're learning by ear.  The second song can be from any genre and should showcase your voice. 
Audtion Information For All Music Ensembles
About Laura Grill
Born and raised outside of Chicago, Laura grew up with an appetite for picking up instruments… and the inability to put them down. In seemingly no time this translated to a personal investment in the study and creation of new music. Laura traded the heartland for the coast and moved to Boston in 2008. In the company of Crooked Still, Joy Kills Sorrow and Sarah Jarosz, Grill found her voice at the New England Conservatory.
Amongst the crowd of conservatory musicians, Laura assembled her eclectic band of Tucker Antell (Clarinet, Flute, Saxophone), Matt Consul (Viola, Violin, Mandolin) and Brad Barrett (Bass, Cello).
Although clearly infused with Jazz and Classical sensibilities the Laura Grill Band sound is undeniably folk. Reflective lyrics are combined with tastes of chamber music, improvisation, and four-part harmonies to create a sound that is uncatalogued. "Never Before," the debut album from the Laura Grill Band, was released to much acclaim. The collection of intimate songs was recorded one-hundred percent live in a picturesque snowy cabin in New Hampshire. 
www.lauragrilljaye.com