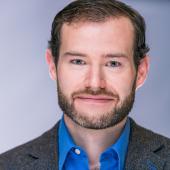 Benjamin Park (b. 1987) first started composing music in high school, but it was not until arriving at MIT that Ben (Class of 2010) started studying and writing music more seriously.  After declaring his physics major, Ben added ambitions for a second degree in music.  While at MIT, he studied composition with Peter Child and Keeril Makan and played French horn in the MIT Wind Ensemble.  In 2009 he was awarded the Gregory Tucker Memorial Award.
Electing to follow his passion for music, Ben has since studied at the Hartt School in West Hartford, Connecticut, and also at the New England Conservatory, where has has studied with Kati Agócs and co-chaired the Tuesday Night New Music series.  He is currently the composer-in-residence for the Flatirons Chamber Music Festival, and his work has been performed by the Boston Modern Orchestra Project and the Albany Symphony Orchestra and has made it as far north as Reykjavik, Iceland, as part of the Dark Music Days Festival. Ben completed his doctorate in music composition at the New England Conservatory of Music in 2019, when he also received the Donald Martino Award for Excellence in Composition.  
Currently at MIT, Ben teaches 21M.301.  When not enjoying music as a listener, composer, or teacher, he can often be found baking bread and running, though usually not at the same time.