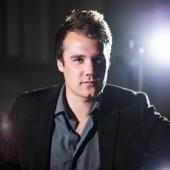 Brian Buch (b. 1984) received his Doctorate in Music Composition from Boston University and his Bachelor of Music degree in Music Composition with an emphasis in Piano Performance from the Jacobs School of Music at Indiana University. Brian is on faculty at the Massachusetts Institute of Technology and the New England Conservatory of Music's School of Continuing Education and privately teaches composition, classical and jazz piano, ear training, and courses in developing perfect pitch. As a composer, Brian writes for all genres of classical music from orchestral to chamber and solo instruments and is a founding member of the International Cat Murr Composer's Society. His principal composition teacher and mentor is Alla Cohen and has also studied composition with Don Freund, P.Q. Phan, Sven-David Sandström, Sam Headrick, Joshua Fineberg, and Richard Cornell. Brian has studied classical piano with Faina Koffman, Edward Auer, Reiko Neriki, Gerald Stofsky, and jazz piano with Dick Odgren. Brian's works have been performed throughout the US, Canada, Europe, Estonia, Bosnia, Serbia, and Russia.
As a pianist, Brian is constantly in demand and frequently performs classical and jazz music throughout the country. He has performed for elite circles in major cities around the country and for well known celebrities and high-ranking government officials. He is active in premiering new works both as a soloist and participant in chamber ensembles. Brian frequently conducts and works with groups focused on contemporary music..
Many of Brian's compositions have received national and international recognition in competitions such as the MTNA Young Artist Composition Competitions (1st and 2nd prizes), International Robert Helps Composition Competitions, Second International Lepo Sumera Composition Competition in Estonia, Queen Elisabeth Composition Competition in Brussels, the 4th International Haifa Composers Composition Competition in Israel, the Wainwright Prize, Boston University Soloists Composition Competition, ASCAP Plus, the Second International Competition for Young Composers named after Nicolay Myaskovsky at the Moscow Conservatory, and a Most Distinguished Mention in the IBLA Grand Prize in Sicily. Brian has collaborated and received commissions from Daedalus Quartet, ALEA III, JACK Quartet, Duo Vers La Flamme, Balletik Duo, RUSQuartet, New England String Quartet, Yevgeny Kutik, and the Grammy Award winning ensemble Orchestra of Our Time. His music has been released by record labels Ablaze and Marquis Classics and broadcast on NPR, All Things Considered, NPR WNCK Nantucket, WGBH, WHRB Harvard, Russian Television Network of America (RTN), and Italy's Radio Taukay online radio for contemporary music. His first album Stone of Traveling Winds, a compilation of solo and chamber works, was released July of 2014 and his second album Poems to Sing at Night, a collection of solo piano works composed and performed by Buch, was released summer of 2015.