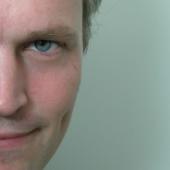 Caleb Hammond is a teacher and creator of theater and visual art. He has taught theater and art at Eugene Lang College (The New School), Hartford Art School and Carnegie Mellon. He has been a special guest lecturer at Colgate University and the Toyoma Glass Institute in Japan.
Directing work includes: Prop 8, staged reading at Carnegie Mellon, featuring The Book of Mormon's Rory O'Malley; 1000 Wolves at Incubator Arts Project, NYC; Walks Through Walls at Highways Performance Space, Los Angeles; How Delightful to Know Mr Lear, in the New Haven Festival of Arts and Ideas; Mac Wellman's Antigone at Carnegie Mellon; SICK at UndergroundZero Festival NYC and FIRE (sex and death), at Divaldo Kampa, Prague. Acting credits include: Hal Hartley's films Ned Rifle and Meanwhile; John Jesurun's webseries Shadowland; Sam Shepard's True West, at the Factory Theater, Boston; Tennessee William's The Demolition Downtown, at the Provincetown Williams Festival. He was a regular featured performer in Jay Scheib's work including: the Obie-award winning Untitled Mars, at PS122, NYC and the National Theater of Hungary; Bellona, Destroyer of Cities, at the Kitchen, NYC and Maison des Arts, Paris; and This Place is a Desert: Under the Radar Festival, The Public Theater NYC and Boston ICA.
He has worked as an assistant director on several theatrical productions and a web series with MacArthur Fellow John Jesurun as well as a tour of Jay Scheib's opera Addicted to Bad Ideas, presented at the Spoletto Festival South Carolina, the Cutler Majestic Theater in Boston, Urb Festival in Helsinki and Luminato Festival in Toronto. His original production The Irresistible, adapted from texts by Ibsen and Euripides, will premiere this April at Immersive Gallery in Brooklyn, where he is a 2015 artist in residence. He is also currently developing a new performance in collaboration with actress Anna Kohler and working on a series of video installations based upon Rainer Maria Rilke's Elegies in collaboration with Glass artist Sean Salström. His visual art has been exhibited at the Nishida Art Museum, Toyama, Japan, Gallery 825 in Los Angeles; Vaudeville Park in NYC; The Copley Society in Boston, and Visual Research in New Haven. MFA: Directing, Carnegie Mellon. BFA: Studio Art, Hartford Art School.