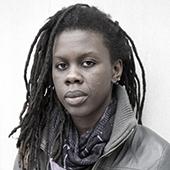 Director Charlotte Brathwaite (Canada/Barbados/UK) was named as one of the "up-and-coming women in theatre to watch" by Playbill. Brathwaite is known for her unique approach to staging classical and unconventional texts, dance, visual art, multi-media, site-specific installation, video, film, performance art, plays and music events. Her work has been seen in the Americas, Africa, Europe, the Caribbean and Asia and ranges in subject matter from the historical past to the distant future illuminating issues of race, sex, power and the complexities of the human condition. 
Presented at both national and international venues her work has been seen in New York at The Whitney Museum of American Art, The Park Avenue Armory, The Public Theater/Under the Radar Festival, the Bronx Academy of Arts & Dance (BAAD!), The Living Theater, Joe's Pub, La MaMa E.T.C, The Highline, Jack Performance Space, Bushwick Starr, BRIC Arts Center, Central Park Summer Stage, the Studio Museum of Harlem, 651 Arts, D.C. Arts Commission 5x5 Projects (Washington D.C.), The International Festival of Arts and Ideas (New Haven), FORM Festival (Arcosanti), Moss Arts Center (Virginia), MDLive Arts (Miami), Segerstrom Arts Center (Orange County), Wow Festival (San Diego), Contemporary Arts Center (Cincinnati), Right About Now Festival (Amsterdam, The Netherlands), Test! Festival (Zagreb, Croatia), Het Veem Theater (Amsterdam, The Netherlands), Scarlett Project (Port of Spain, Trinidad), Culture Station Seoul 284 Festival (Seoul, Korea), Aarshi Theater (Kolkata, India), Hebbel am Ufer (Berlin, Germany) and The Chale Wote Festival (Accra, Ghana) among others.
Brathwaite is a 2019 Creative Capital awardee, a 2019 United States Artists Fellow and a 2019 Rockefeller/Bellagio resident. Other awards include: the Prelude Festival Franky Award, the Brown Institute Magic Grant, the Princess Grace George C. Wolfe Award, the Julian Milton Kaufman Prize (Yale), and the National Performing Network Creation Fund. She has continued collaborations with noted artists such as Meshell Ndegeocello, Peter Sellars, Flutronix, Ayesha Jordan, Justin Hicks, Kyle Abraham/AIM, Tamar Kali, Guillermo E. Brown/Pegasus Warning, Sanford Biggers, Greg Tate, Burnt Sugar Arkestra and others.
She received her MFA at Yale School of Drama and her BA in Physical Theater at the Amsterdam School for the Arts (the Netherlands). She has been a Visiting Professor at Amherst College, The University of Fortaleza UNIFOR (Brazil) and Visiting Artist at Williams College, New York University and Barbados Community College. 
Brathwaite is currently a freelance director and Associate Professor of Music and Theater Arts at Massachusetts Institute of Technology (MIT).   For more information look to www.charlottebrathwaite.com.