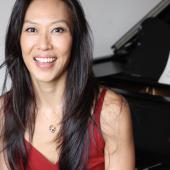 Elaine Kwon is a prize-winning concert pianist, martial artist, and MIT educator (since 1999), whose diverse talents have placed her in a category of her own. She is also Co-founder and Artistic Director of the immersive music pairing series, Savor Your Senses®, which has delighted audiences world-wide with sensory music experiences of wine, food, spirits and more.
She has performed solo and chamber music concerts globally and has been broadcast on TV/radio in the US, Canada, China and Bulgaria. She received standing ovations in seven sold-out Carnegie Hall benefit concerts - Elaine Kwon and Friends (2008-2016), and as soloist with numerous orchestras including the National Music Festival Symphony, Toronto Philharmonia, Union Symphony, and Slovak Sinfonietta. As collaborative pianist, she has performed with musicians of all genres, including multi-Grammy winning drummer/DJ/producer, Questlove (Roots, The Tonight Show with Jimmy Fallon, Hamilton), multi-Tony/Grammy winner, David Bryan (keyboardist of Bon Jovi, composer of Memphis and Diana), legendary rock singer, Melissa Etheridge; Broadway's Hamilton star Christopher Jackson; members of Freestyle Love Supreme, and many others. She also concertizes as the pianist in Piazzolla Trio.
She holds a Doctorate of Musical Arts in Piano Performance from Boston University, a Master of Music in Piano Performance from New England Conservatory of Music, and a Bachelor of Music in Piano Performance from the University of Texas at Austin.
Dr. Kwon has been a featured guest on the Oprah Winfrey Show and StarTalk with Neil deGrasse Tyson. She was named a Power Woman of New York and was the subject of a documentary for the Arirang television series, Dream It (broadcast to 89 million households internationally). She has been profiled in numerous TV segments, videos and magazines. 
As an avid martial artist, Elaine is a second-degree black belt, five-time U.S. National Tae Kwon Do Forms Champion and currently studies Shaolin Kung Fu. She represented Nike in Asian ad campaigns and has appeared in Vogue, Elle, Women's Health, and many other ads, magazines, and books.
She is the creator of LifeChord® and makes her home in New York City, where she continues to explore ways to combine and communicate her passion for music, martial arts, creative education and optimal living.