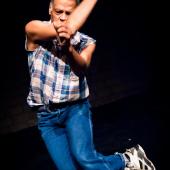 Ishmael Houston-Jones is a choreographer, author, curator, and educator. His improvised dance and text work has been performed worldwide. Drawn to collaboration as a way to move beyond boundaries and the known, Houston-Jones celebrates the political aspect of cooperation.
He curated Platform 2012: Parallels, an eight-week series of events at Danspace Project in New York that interrogated the intersection of dance makers from the African Diaspora with the aesthetics of postmodern choreography. In 2016, he co-curated, with Will Rawls, Platform 2016—Lost and Found: Dance, New York, HIV/AIDS, Then and Now, which queried the effects of the loss of a generation of artists to AIDS on current dance creation.
Houston-Jones' work as a writer has been anthologized in several books, recently in Saturation: Race, Art, and the Circulation of Value (2020) and Writers Who Love Too Much: New Narrative Writing 1977–1997 (2017). His first book, FAT and Other Stories, was published in 2018.
He is the recipient of four New York Dance and Performance Bessie Awards (1984, 2011, 2017, and 2020) and has received support from United States Artists (2021), the Robert Rauschenberg Foundation (2018), the Herb Alpert Awards in the Arts (2016), the Doris Duke Charitable Trust (2015), and the Foundation for Contemporary Arts (2013). Houston-Jones is currently an adjunct professor at New York University's Tisch School of the Arts' Experimental Theatre Wing and a master lecturer at the University of the Arts School of Dance in Philadelphia.