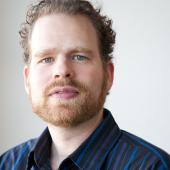 Jonathan Russell (b. 1979) leads an active and varied musical life as composer, clarinetist, bass clarinetist, conductor, writer, and educator. He has received commissions from ensembles such as the San Francisco Symphony, Peninsula Symphony, Symphony Number One, Woodstock Chamber Orchestra, Imani Winds, Empyrean Ensemble, ADORNO Ensemble, Wild Rumpus, New Keys, ZOFO piano duo, and the Great Noise Ensemble, and performances from numerous other ensembles and performers. His music has been recorded by the Sqwonk bass clarinet duo, the Kairos Consort, pianist Jeffrey Jacob, The Living Earth show, Imani Winds, the Twiolins, the NakedEye Ensemble, and Symphony Number One. He has also developed a reputation as a skilled arranger of canonical works for implausible combinations of instruments, such as the Rite of Spring, Scheherazade, and The Planets for woodwind quintet; J.S. Bach's Toccata and Fugue in D Minor for two bass clarinets; and the Rite of Spring for two bass clarinets, electric guitar, and percussion.
Jonathan approaches performing with the same curiosity and omnivorous appetite as composing. Originally trained as a classical clarinetist, he also plays klezmer and Balkan music and is especially known for his unique and innovative approach to the bass clarinet. He has been a member of two ground-breaking bass clarinet chamber ensembles: the legendary heavy metal-inspired Edmund Welles bass clarinet quartet and the Sqwonk bass clarinet duo, which has commissioned numerous new works and released three albums. He has appeared as soloist with the Hudson Valley Philharmonic, the West Point Military Academy Band, the Princeton University Orchestra, Harvard's Bach Society Orchestra, the Woodstock Chamber Orchestra, the San Francisco Composers Chamber Orchestra, the Great Noise Ensemble, the NakedEye Ensemble, the Omaha Symphonic Winds, and the Peninsula Symphony, among others. He was also a co-founder of San Francisco's Switchboard Music Festival, and has served as Music Director for five highly acclaimed dance productions with San Francisco choreographers Janice Garrett and Charles Moulton. 
He has written numerous concert reviews for the San Francisco Classical Voice and Bachtrack, and has taught Music Theory at San Francisco Conservatory, Harvard University, and Princeton University. His doctoral dissertation presents a new harmonic analysis of the entire Rite of Spring. He has a B.A. in Music from Harvard University, an M.M. in Music Composition from the San Francisco Conservatory of Music, and a Ph.D. in Music Composition from Princeton. His primary composition teachers have included Paul Lansky, Dmitri Tymoczko, Dan Trueman, Barbara White, Steve Mackey, Dan Becker, Elinor Armer, Eric Sawyer, John Stewart, and Eric Ewazen. His clarinet teachers have included Janet Greene, Alan Kay, and Jo-Ann Sternberg.