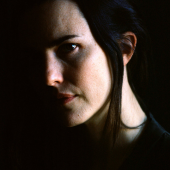 Katie Brook is a director, producer, and creative leader, rooted in the New York experimental theater. Her work focuses on collaborations with playwrights and composers in theater and audio. In 2020 she created and produced a serial audio play, The MS Phoenix Rising, which was released by Playwrights Horizons in March, 2021. As a theater director and producer, Katie has developed some of the most exciting new plays of recent years and has worked for world-class companies, including The Builders Association. Notable directing credits include Dr. Ride's American Beach House (by Liza Birkenmeier, Ars Nova, 2019) and How to Get Into Buildings (by Trish Harnetiaux, New Georges, 2017). Notable producing credits include Strange Window (The Builders Association, BAM, 2018) and O, Earth (by Casey Llewellyn, The Foundry Theatre, 2016). 
The innovative theatrical work she creates with her company, Televiolet, has been presented at venues in New York City and beyond, including The Public Theater's Under the Radar Festival, The Provincetown Tennessee Williams Theater Festival, Incubator Arts Project, Prelude NYC, and Boom Arts. Televiolet work is characterized by its use of dramatic texts and real-world content to experiment with acting and dramatic form in a collaborative context. The Power of Emotion: The Apartment was developed at Mount Tremper Arts and premiered at Abrons Arts Center in October 2017. Tragedy in Spades: A Crime Documentary was developed and presented at University Settlement in 2016. ISLANDER, which we created and directed with Liza Birkenmeier, will premiere at HERE in August, 2021.
Since 2007, Katie has been involved with the ground-breaking documentary work of StoryCorps, an oral history project that aims to record and broadcast the voices of everyday Americans in conversation with one another. She began as a facilitator, traveling across the United States to record people speaking with loved ones about whatever meant the most to them. In her current role, as Director of Production, she has led numerous projects, including a revamp of the StoryCorps podcast, an original music commissioning project, and a collaboration with Frontline.
Katie received her MFA in Directing from Carnegie Mellon University, and her BFA in Drama from New York University. She is originally from Toronto, Canada.