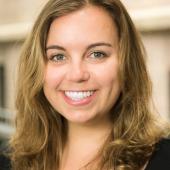 Manager of MTA Music Productions & Events Office
Lauren currently oversees MTA's Music Event Productions Office at MIT.
Lauren joined MIT in 2021 after more than five years managing and designing high profile large- and small-scale productions and events featuring musicians, visual artists, lecturers, activists, and politicians at Central Synagogue, a 6000 + member congregation and cultural hub in NYC. Prior, she oversaw the American University's Symphony Orchestra and worked on the communications and development teams at Wolf Trap Opera Company, Opera America, Salzburg Global Seminar, and the Intel Corporation in Munich Germany.
Lauren holds an MA in Arts Management from American University, a BM in voice performance from Oberlin Conservatory of Music, and a BA in German Studies from Oberlin College. In addition to her work as an Arts and Non-Profit organization manager, she remains a passionate musician, performing with various chamber ensembles and choirs in New York City; Washington, DC; and Munich, Germany.