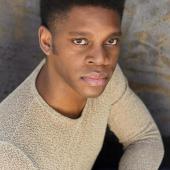 Mikéah Ernest Jennings is a First-generation Caribbean American art/theater/performance creator, from the rural Mojave Desert in California. Mikéah works primarily in the realms of contemporary American theater and live spectacle. Interested mainly in the inutility of the 4th wall, and the growing possibilities of integrating new media technologies into the theater, Mikéah has sought out collaborations with artists who reframe the traditional conventions of the audience/performer relationship as a way to highlight the performance of the audience as an equally vital component of the theatrical ritual. Additionally, Mikéah works to pioneer new and exciting contemporary theater work that engages conversations about inclusivity and intersectionality by increasing the visibility of marginalized communities, and devising strategies to improve possibilities of economic equity within the American theater.
Mikéah has shared his acting work across the country, and internationally collaborating with various artists such as Anne Washburn, Saheem Ali, Dave Malloy, Young Jean Lee, Jay Scheib, Caden Mansons/Big Art Group, Rachel Chavkin (The TEAM), Lila Neugebauer (The Signature Plays), Charlotte Brathwaite, Taibi Magar (The Foundry Theater), and Dan Rothenberg/Pig Iron Theater Company (I Promised Myself to Live Faster). He has also performed at REDCAT, Paramount Studios, Cal Performances in Berkeley, The Humana Festival at The Actors Theater of Louisville, OnTheBoards in Seattle, The Wexner Center, and Woolly Mammoth Theater in DC. Mikéahs performance experience in NY has included Lincoln Center Theater, Soho Rep, Dance Theater Workshop, The Performing Garage, New York Theatre Workshop, PS122, The Signature Theater, 3LD, Dixon Place, The Chocolate Factory in Long Island City, and The Kitchen.
Mikéahs international touring experience includes: The Sydney Opera House, The Deutches Theatre in Berlin, La Maison Des Arts in Paris, The Barbican and The Old Vic in Londons.
Mikéah was the 2021-2022 Mohr Visiting Artist Fellow at Stanford University and has created and taught classes for the theater departments of The New School, SUNY Purchase and Stanford University.