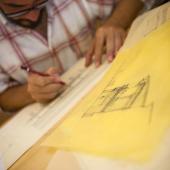 Nicola De Pace is an architect, designer, and urban speleologist whose research into the subterranean waterways of the ancient Roman world has recently led to exploration of the Historic Spring of Newport Rhode Island, a site of national interest which can be traced back to Newport's foundation in 1639.  De Pace's interest in ancient infrastructural systems, territorial land-water management and the 18th-century etchings of Giovanni Battista Piranesi led him to a Fulbright Fellowship in 2005 and to subsequent collaborations and publications on numerous archaeological projects, including Association Roma Sotterranea, the Villa Magna Project and the Petra Routes Project through Brown University's Joukousky Institute.
Between 1996 and 2001, De Pace was project designer for the of the National World War II Memorial in Washington, DC under design architect Friedrich St.Florian. Since 2002, he has designed numerous award-winning residential, commercial and institutional projects through his practice: Ad Hoc/Architecture in Providence, RI.
De Pace has taught in Architecture, Landscape Architecture, Interior Architecture and Foundational Studies at the Rhode Island School of Design since 1999 and also teaches at the Massachusetts Institute of Technology and Roger Williams University. In 2012 he was Chief Critic of RISD's esteemed European Honors Program in Rome where he frequently teaches courses in urbanism and architectural drawing.