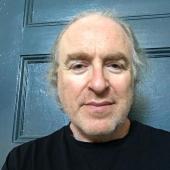 Russ Gershon has been an active presence in the Boston and international music scene since 1980, as player, composer, bandleader, disc jockey, record company founder, educator and presenter. He grew up in the New York area and took up saxophone after hearing Rahsaan Roland Kirk, Pharoah Sanders and Alice Coltrane play at Carnegie Hall. While earning a philosophy degree at Harvard, he worked as a jazz DJ and played in original rock bands at legendary venues like CBGB's, the Rat and the Mudd Club.
In 1985 Gershon formed the jazz ensemble the Either/Orchestra, which has released a dozen albums including many of his original compositions and arragements. Live performances have included Lincoln Center, Carnegie Hall, Merkin Hall, Moers Music, Barbican, Banlieues Blues, Teatro Manzoni, the Helsinki, Monterey and Chicago Jazz Festivals, as well as clubs including the Village Gate, Sweet Basil, Yoshi's, the Regattabar and Scullers. As well as leading a jazz trio to feature his multi-instruments and vocals, Gershon is also music director of the Latin band Lookie Lookie, popular in the Boston area. Gershon founded Accurate Records to put out work by the E/O and over 100 other artists.
Influenced by Elliington-Mingus-Sun Ra-Gil Evans in jazz, as well as Julius Hemphill, Sam Rivers and Ornette Coleman, Gershon has also written pop songs, chamber music and orchestral arrangements. For decades, he has been deeply immersed in Ethiopian music, working with the greats of that country in Ethiopia, Europe and America. Ethio-jazz legend Mulatu Astatke recorded Gershon's composition "Azmari" for his album Sketches of Ethiopia. Gershon has arranged approximately one hundred Ethiopian songs for the Either/Orchestra, often to accompany such key figures as Mahmoud Ahmed, Teshome Mitiku and Getachew Mekurya. Afro-Carribean music plays a strong role in his music, via its important place in jazz and pop traditions and directly from his work with Dominican, Puerto Rican, Surinamese and Venezuelan musicians.
Gershon played in improvisational funk outfit "Hypnosonics" with the late singer of the cult rock band Morphine, Mark Sandman. He has done extensive studio work as a player and arranger, and written for the Boston Pops, Handel and Haydn Society principal bassist Robert Nairn, new music groups Brave New Works and No Exit. Gershon has played or recorded with the Four Tops, Cab Calloway, Alan Dawson, John Tchicai, and Tanya Donnelly among many others.
Grants and awards include a Grammy nomination (Best Arrangement of an Instrumental Composition), Chamber Music America's "Jazz New Works," Meet the Composer and Somerville Arts Council Fellowships for music composition, and has served as Kayden Artist-in-Residence at Harvard. He has taught instruments and band at all levels, jazz, blues, pop and classical history at Lasell College, and has been a visiting clinician at innumerable colleges and high schools.