PRACTICE ROOMS
There are 8 practice rooms located in Building 4 (4-260).
4-260a - No access to a piano
4-260b - No access to a piano
4-260c (Yamaha Grand) - Reserved for Piano Students
4-260d (Yamaha Grand) - Reserved for Piano Students
4-260f (Yamaha Grand) - Reserved for Piano Students
4-260g - No access to a piano
4-260h - (Steinway Grand) - Reserved for Piano Students
4-260k - No access to a piano
Practice Room Hours: Monday - Saturday: 8am-10pm, beginning Monday, March 1
Please Note: To ensure that the practice rooms have time to properly recirculate air between reservations, only the times below will be available for reservation: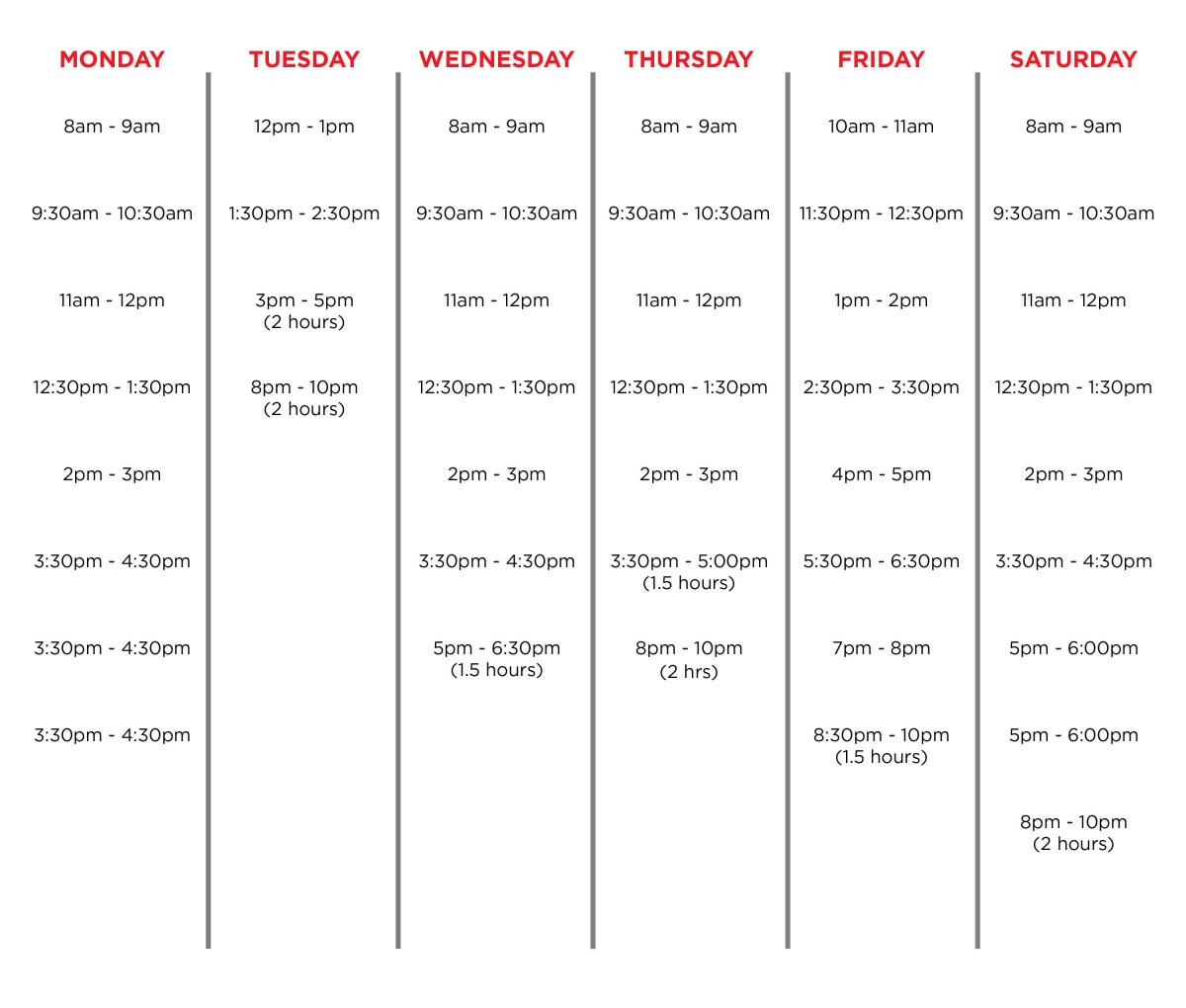 Note: 
C, D, F and H will be primarily used for piano students

A,B,G and K pianos will be off-line for the Fall semester.  Students will not have access to the pianos in these spaces. 

1.5-hour and 2-hour blocks should be reserved for the full available time.

The practice rooms will be off-line on Tuesdays from 8am-12pm for piano tuning.

MTA Ensembles have the practice rooms reserved Mondays from 6-9pm.

If students intend to use LLAMIT while rehearsing in the practice rooms they should first review the information at

https://mta.mit.edu/LLAMIT

For LLAMIT troubleshooting, reach out to:


Students should not use the equipment if not properly trained.
RESERVATIONS
-Who is eligible to reserve practice rooms for the 2020/2021 Academic Year?
For the Spring semester, MTA practice rooms are available to MTA students with Covid pass clearance for campus who: 
registered for Spring MTA performance classes
enrolled in a MTA ensemble for the Spring semester
-How do students reserve a MTA Practice Room?
STEP 1.
  Health and Safety is our number one priority.  Please take a moment to view the
Steinert Cleaning Video
in as well as the Health and Safety section of this page in order to familiarize yourself with proper cleaning protocol when using pianos.
STEP 2.  Students must complete the EMS Account Request Form below which will allow them access to the EMS space reservation system. 
STEP 3.  The Events Office will e-mail students an EMS log in and temporary password.  Once an account is created, students will have permissions to sign up for a specific room, day and time to use the practice rooms.
MTA Piano Students: Students may schedule 10 reservations per week in the practice rooms.
Students Enrolled in MTA Performance Classes and Ensembles: Students may schedule 4 reservations per week in the practice rooms.
PLEASE NOTE: Students may only book practice rooms for 7 days in advance at a time.
NOTE: Reservations will be monitored by MTA staff. Students found to be in violation of their scheduling limit will lose access to make reservations.
HEALTH AND SAFETY PROCESSES
-What measures will be put in place to keep the rooms clean and safe?
Each practice room will be supplied with disinfectant wipes. Students will be responsible for wiping down surfaces, music stands, chair, doorknobs, light switches, and other high-tough areas before and after use. It will be the student's responsibility to clean keys in Practice Rooms and Piano Maintenance staff will ensure that pianos are maintained throughout the week. There is half an hour built in after each reservation to allow for the air to clear.  It's imperative that you do not exceed your reservation time. 
-How will students avoid congestion in the hallways as others enter and exit the suite?
Exterior suite doors will be clearly marked as ENTRANCE and EXIT with signage in the suite to direct students in one direction to avoid crossing paths with other students when entering and exiting the practice suite. 
-Will students be allowed to remove their masks once inside the practice room?
Students must wear a mask when entering and exiting the practice room. A sign will be placed on the door of the room indicating that the occupant of the room is not wearing a mask. Please note: Each practice room must only have one student in the room at a time.
-Improper Use
Please report improper practice usage immediately to the MTA administration at mta-request@mit.edu. Failure to abide by these policies will result in revocation of card access.
The Practice Room Request Form will be available beginning 2/24.
Students may begin requesting space with the understanding that the practice rooms do not open until the week of March 1st.