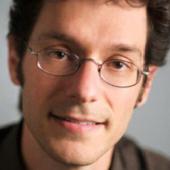 Professor of the Practice
Eran Egozy, Professor of the Practice in Music Technology, is an entrepreneur, musician, and technologist. He is the co-founder and chief scientist of Harmonix Music Systems, one of the pre-eminent game development studios in the world, having developed more than a dozen critically acclaimed music-based video games. Harmonix was founded in 1995 with the mission "to allow everyone in the world to experience the joy making music." Beginning in 2005, Harmonix developed Guitar Hero and Guitar Hero 2, fueling the explosive growth of the music games category to over $1 billion in sales. Harmonix then created the award-winning franchise Rock Band (including custom games featuring The Beatles, Green Day, and Pearl Jam) which sold over 13 million units. In 2010-2014, Harmonix released the Dance Central series, the first fully immersive, non-controller dance games for the Kinect. More recent titles include Fantasia: Music Evolved, a magical journey through worlds and songs inspired by the classic Disney film and BeatSports, a musical sports game for Apple TV. Eran and his business partner Alex Rigopulos were named in Time Magazine's Time 100, Fortune Magazine's Top 40 Under 40, and USA Network's Character Approved awards.
Eran is also an accomplished clarinetist, performing regularly with Radius Ensemble, Emmanuel Music, and freelancing in the Boston area. He serves on the Boards of several Boston-area non-profit organizations, and mentors and invests in a number of startups in the Boston area. Prior to co-founding Harmonix, Eran earned degrees in Electrical Engineering and Music from MIT, where he conducted research on combining music and technology at the MIT Media Lab.
His current research and teaching interests include interactive music systems, music information retrieval, and multimodal musical expression and engagement.