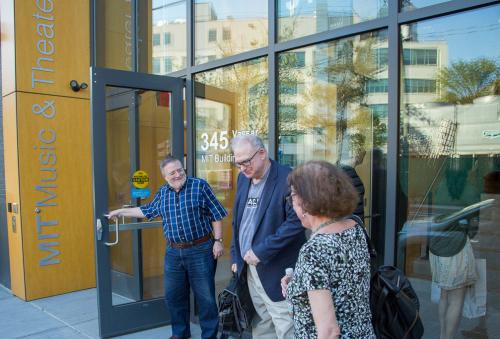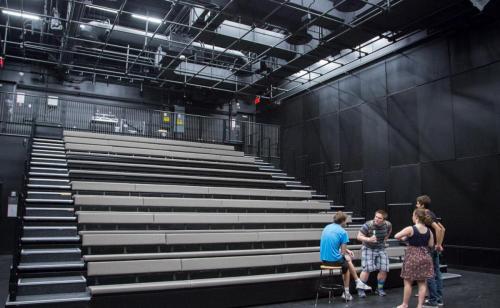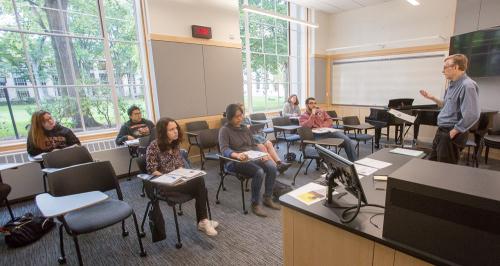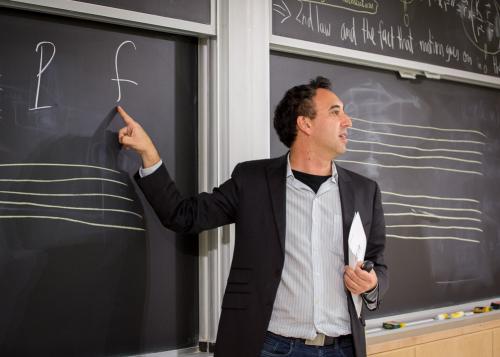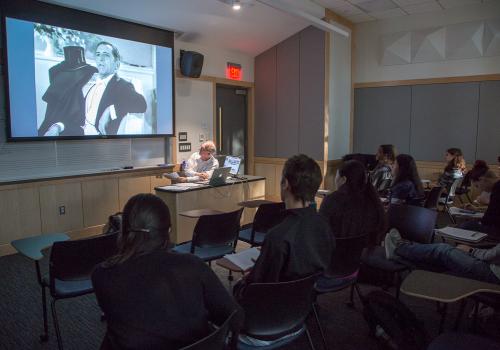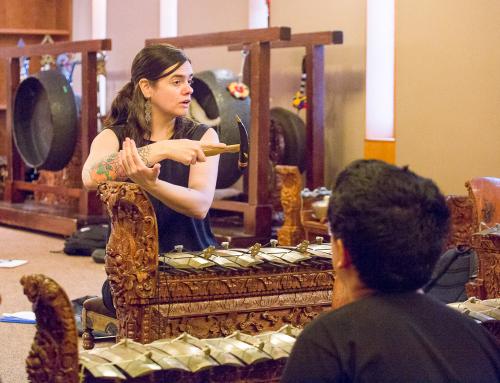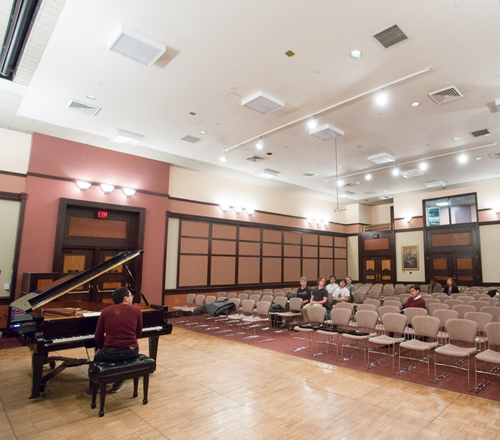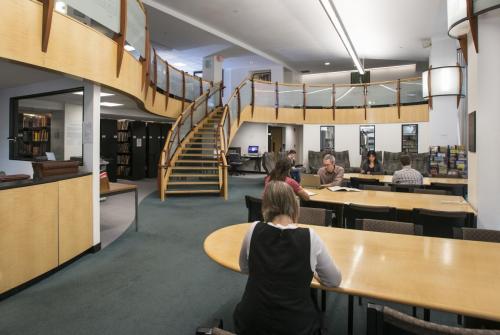 Theater Arts
As of the Fall of 2017, the Theater Arts program has moved to it's new home in W97. 
This newly completed space brings the energy and spirit of the Program in Theater Arts to the western edge of campus. It includes a mix of classrooms, studios and fabrication spaces with a performance space as the heart of the building. It expresses our belief in the idea of the continuous studio – a studio that includes theory, experimentation, innovation and practice.
If you have questions regarding the use of the spaces within W97, please contact 
mta-w97@mit.edu
. Tours of the building may be available upon request.
Classrooms
Five classrooms are located on the first and third floors of Building 4. Piano scholarship students and students enrolled in Chamber Music Society are granted access to these rooms for practice. All classrooms have pianos. Rm. 4-148: Yamaha C3 grand and Mason & Hamlin upright; Rm. 4-152: Steinway B grand; Rm. 4-156: Steinway B grand and Yamaha upright; Rm. 4-160: Steinway B grand; Rm. 4-364: 2 Yamaha grands and a Fisk single manual harpsichord; Rm. 24-033F: Yamaha Disklavier; Rm. 4-270: Kawai upright.
 
MTA academic classes and ensembles, curricular rehearsals and requests from MTA faculty and staff have priority to use the MTA music classrooms.  ASA recognized music groups may have access after 9pm. To requests use of the classrooms, please email mta-reserve.mit.edu.  Requests are processed several times throughout the business day, Monday through Friday, 9am-5pm. Weekend requests should be submitted no later than 1pm on Friday to facilitate confirmation.  Requests are processed on a first come, first serve basis.  If a submitted event request has priority over a confirmed event with low priority, the confirmed event may potentially to lose the confirmed space.  An alternate, space will be sought. There are no "guaranteed" reservations for events other than academic Music and Theater Arts events. MTA Headquarters reserves the right to adjust or deny room confirmations.
If you need to cancel your reservation, please email mta-reserve@mit.edu promptly.
Classroom Use Policy
No food or drinks are allowed in the classrooms.
Classrooms are to remain locked and with windows shut.  Do not prop the door open. 
Noise prohibitions: amplified instruments and rock band rehearsals are not allowed.
Classroom reservations are not transferable—all users must initiate the classroom reservation online. A change in occupancy must be approved and noted by MTA Headquarters and the reservation officially transferred to a new user.
 
Classroom access during IAP is restricted to approved Music and Theater Arts users.
Practice Rooms
There are 8 practice rooms located in a suite in Building 4 (4-260) that are available for practice for students participating in any of the performance ensembles (including CMS and Emerson). Each room has either an upright or baby grand piano. Access to the practice room suite is by ID card only. For access, contact: mta-request@mit.edu or visit the Music Office, 4-246.
Some of the campus dormitories have small practice rooms. Two practice rooms are located on the 4th floor of the Stratton Student Center and are available to all MIT community members with an MIT ID card. For information regarding the Student Center practice rooms, contact the Campus Activities Complex on the 5th floor of the Student Center, 253-3913.
Classroom and Practice Room Access
Access to Music Classrooms, Practice Rooms and Piano Lab is via MIT ID card only. 
Access to groups in the MIT Chamber Music Society will be given to one designated member.
Access to officially recognized ASA groups will be given only to the director of the group.
Computer Music and Piano Lab
The Piano Lab in building 24  (24-033a) contains a classroom space with 6 new digital pianos. In addition there is an office for the Lab Instructors as well as sound proof practice room with a well-maintained acoustic piano. The Piano Lab supports the work of students enrolled in 21M.051, 21M.301 and 21M.302. In addition students enrolled in a theory class are welcome to use the Lab to practice at time when Labs are not in session.
Killian Hall
Killian Hall is a 140 seat performance space used primarily for solo and chamber music recitals, lectures, and theater readings.  It is only reservable by faculty in Music and Theater Arts.  Reservations from outside the program will be considered on a case by case basis.   Use is subject to a rental fee.  For more information, contact mta-request@mit.edu.
 
The Rosalind Denny Lewis Music Library serves the instructional, research, and recreational needs of the MIT community. The collection contains books, journals, scores, CDs, DVDs, streaming audio and video, e-scores/e-books, and music databases. The library collects classical, world, jazz, popular, electronic, folk, and film music, among others.
 
There are listening/viewing areas, comfortable study spaces, equipment to digitize various audio formats, plus iMac stations with music software.  The library circulates audio and video equipment, such as handheld audio/video recorders and microphones. The library space hosts many music lectures and recitals.  A friendly and knowledgeable staff is ready to help you.
 
The library was renovated in 1996. Watch the Lewis Music Library 20th anniversary video here.