Announcing the CAST 2020-21 Virtual Visiting Artists 
In this present moment of global pandemic, racial injustice, and the economic devastation of the cultural sector, CAST introduces a new category of appointment for 2020-21, Virtual Visiting Artists. The three distinguished artists—Don Byron, Anat Cohen, and Luciana Souza—will bring breadth, scope, and energy to MIT during a period when most learning will be online and remote. Byron, Cohen, and Souza will offer masterclasses, small group sessions, and individual lessons, drawing upon wide-ranging facets of their artistry and cultural heritage.
All three artists bring expertise in specific musical cultures that are currently underrepresented in MIT's curriculum. Each artist will give a series of lectures covering areas of their own specialization, which are of significant interest to MIT students and the community, but not otherwise available. The appointments will offer them the creative and intellectual space to pursue the vital artistic research that is implicit in their approaches to composition and performance.
Video credit: MIT Music and Theater Arts Lecturer, Director of the Wind and Jazz Ensembles, and Acting Director of MIT Sounding Fred Harris speaks about the Virtual Visiting Artists.

Don Byron
Legendary clarinetist and composer Don Byron forges "a sound above genre"
Multifaceted clarinetist Don Byron will expand on his previous collaborations with MIT with presentations on klezmer, music for film, jazz, and more, weaving together these topics through the lens of the intersections of race and music throughout history and today.
Learn more.
Don Byron will be visiting Ensemble rehearsals, so if you are part of the MIT community and are interested in attending as a listener, please contact
lydiab@mit.edu
for more details.
Line/Improv Intro session with MIT Festival Jazz Ensemble
Tuesday, October 27, 2020 / 5:30-7:30pm
Image: Don Byron at MIT. Credit: L. Barry Hetherington.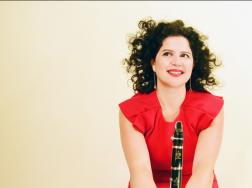 Anat Cohen
A virtuoso widely recognized as one of the most vital clarinetists working today
Israeli clarinetist Anat Cohen will expand on her previous collaborations with MIT with presentations on developing a personal approach to sound and improvisation through classical, jazz, and various world musics.
Learn more.
Anat Cohen will present a public lecture on October 2nd, demonstrating creative and flexible approaches to written and improvised music. The session includes an interactive masterclass on these techniques with MIT students musicians. 
Comprehensive Musicianship from the Page and Freedom From It!
Friday, October 2, 2020 / 2-3:30pm
Image: Anat Cohen. Credit: Shervin Lainez.
Luciana Souza
Brazilian-born vocalist and Grammy winner "organically crosses genre borders"
Luciana Souza returns to MIT to lead a year-long exploration of the music of Antônio Carlos Jobim, and delve into the rich history of cross-cultural exchange that has fueled Brazilian music across genres for generations.
Learn more
.
Luciana Souza will present a seminar series on:
The Musical Worlds of Antônio Carlos Jobim 
Session 1: Brazil and the making of Antônio Carlos Jobim
Friday, September 25, 2020 / 1-2pm
Session 2: Early influences and early work
Friday, October 16, 2020 / 1-2pm
Session 3: The birth of Bossa Nova
Friday, November 6, 2020 / 1-2pm
Virtual: Sessions will be streamed live on Zoom. Please register in advance to receive the streaming link and any associated materials.
Image: Luciana Souza. Credit: Kim Fox.