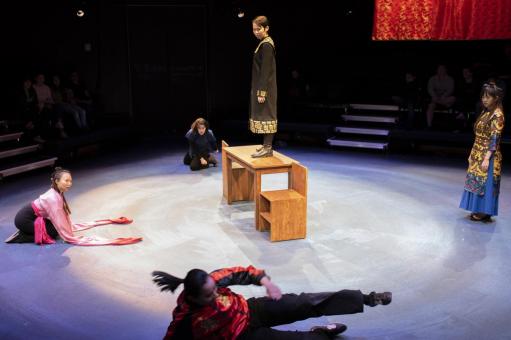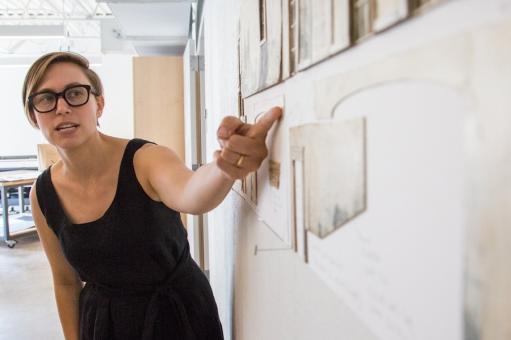 THE MINOR IN THEATER ARTS
Similar to the Major, The Minor in Theater Arts is designed to give students the opportunity to engage in advanced study of Theater Arts and to experiment broadly in the making of theater. The flexibility of the minor allows students either to explore several theatrical disciplines such as playwriting, acting, directing, or design or to concentrate more deeply in one. 
Please click here for a Theater Arts Minor Application form. Theater Arts uses a different form that the HASS application. 
To complete the Minor in Theater Arts students must complete either: five subjects across Areas I and II, and 9 units in Area III; or six subjects across Areas I and II, and 6 units in Area III.
Area I Theater and Performance Studies
Select between one and five of the following:
21M.690 Sport as Performance
21M.700 China on Stage
21M.706 Asian American Theater
21M.710 Script Analysis
21M.711 Production Seminar
21M.713 History of American and European Scenography
21M.714 Contemporary American Theater
21M.715 Topics in Theater Arts
21M.716 Play Translation and Cultural Transmission
21M.800 All the World's a Stage: Socio-Political Perspectives in Global Performance
21M.816 Advanced Play Translation
21M.846 Topics in Performance Studies
21M.848 Performance Studies: Advanced Theories of Sport
Area II Performance Practice
Select between one and five of the following:
21M.600 Introduction to Acting
21M.601 Drawing for Designers
21M.603 Introduction to Design for the Theater
21M.604[J] Playwriting Fundamentals
21M.605 Voice and Speech for the Actor
21M.606 Introduction to Stagecraft
21M.607[J] Playwriting Methods
21M.608[J] Screenwriting
21M.622 Physical Improvisation: Scores and Structures
21M.623 Physical Improvisation: Bodies in Motion
21M.624 Acting with the Camera
21M.645 Motion Theater
21M.702 Live Solo Performance: Monodrama and Composition
21M.704 Musical Theater Workshop
21M.705 Acting Intensive
21M.712 Choreography: Making Dances
21M.731 Sound Design for Theater and Dance
21M.732 Costume Design
21M.733 Set Design
21M.734 Lighting Design
21M.735 Technical Design for Performance
21M.737 Interactive Design and Projection for Live Performance
21M.780 Writing the Full-Length Play
21M.784 Writing and Producing Narrative Podcasts
21M.785 Playwrights Lab
21M.790 Director's Craft
21M.810 Creating the World We Want: Protest, Activism, and Performance
21M.820 Production Design Visualization
21M.830 Acting: Techniques and Style
21M.840 Performance Media
21M.842 Live Cinema Performance
21M.861 Topics in Performance Technique
21M.862 Topics in Performance Practice
21M.863 Advanced Topics in Theater Arts
Area III Applied Performance and Practica
Select between 6-9 units of the following:
21M.803 Performance and Design Workshop
21M.806 Applied Performance and Design Production
21M.809 Performance and Design Intensive
21M.851 Independent Study in Performance and Design
*It is strongly advised to consider when you will complete the required units in Area III