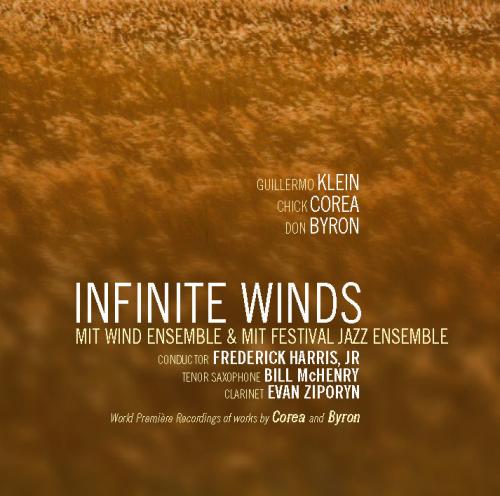 On their new musically diverse an critically acclaimed CD Infinite Winds, the MIT Wind Ensemble and the MIT Festival Jazz Ensemble present three long form compositions by three innovative and highly regarded composers: Guillermo Klein, Chick Corea and Don Byron. The Corea and Byron pieces are world première recordings on this Sunnyside release. Klein's Solar Return Suite and Byron's Concerto For Clarinet and Wind Ensemble feature special guest soloists, saxophonist Bill McHenry and clarinetist Evan Ziporyn, respectively. The recording "Infinite Winds" on Sunnyside Records, was awarded the highest rating in the June issue of Downbeat magazine (5 stars), and was chosen as one of Downbeat magazine's "Best Albums of 2015: Masterpieces."  Both of these honors are firsts.  It is unprecedented for student ensembles to be mentioned in Downbeat's highly selective "best of the year" list.  Download the Review here.
In 2004, MITWE released its first international professional recording, Waking Winds, on the American Composers Forum, Innova label. The CD is comprised of all world premiere recordings. Gramophone Magazine called the recording, "An exhilarating range of approaches to the modern wind band." In 2008, MITWE released its second international professional recording, Solo Eclipse, on the prestigious classical music label, Albany Records. It represents the first time an MIT student ensemble has released a professional CD of all world premiere recordings of works commissioned expressly for the group. Waking Winds can be purchased from Innova Recordings.
Solo Eclipse, the MIT Wind Ensemble's debut CD on Albany Records features world premiere recordings by three of today's most innovative performer-composers, all commissioned by the MIT Wind Ensemble. Long-time Empire Brass Quintet tuba player and internationally performed composer, Kenneth Amis performs his own Concerto for Tuba. The breadth and depth of the three-movement concerto represents one of the few ever composed for the instrument and is perhaps the longest on record. The New York Times has recognized Argentinean composer and pianist Guillermo Klein, as among the most important musicians of his generation. Influenced by Messiaen, Ellington and Piazzola, Klein has crafted Solar Return Suite, a beautifully organic composition featuring New York tenor saxophonist Bill McHenry, one of the freshest young jazz musicians working today. Third Stream pianist and composer and MacArthur 'Genius Grant' recipient, Ran Blake has been an icon of innovative improvisational music for over 40 years. His evocative short works Ghosts of Cimetière de Père Lachaise and Impresario of Death, transcribed for chamber wind ensemble by Kenneth Amis, are the first symphonic realizations of his piano compositions ever committed to disc.  Solo Eclipse can be purchased from Amazon, Albany Records, and many other retailers.
Stream tracks of the MIT Wind Ensemble and MIT Symphony Orchestra here.