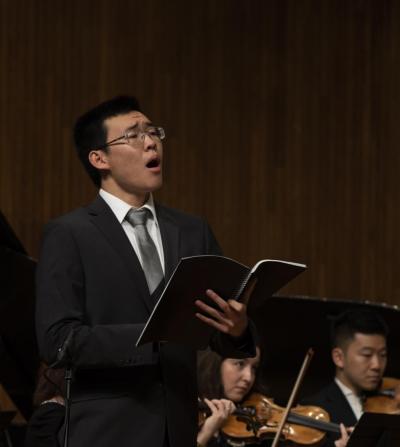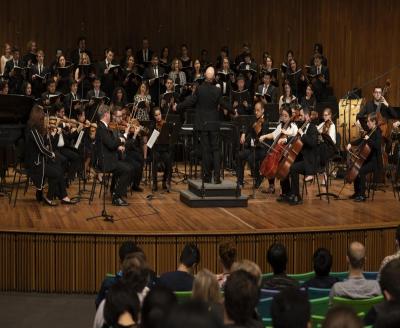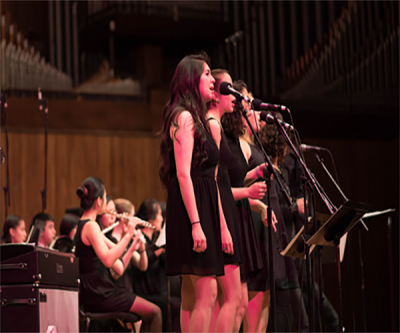 Dr. Willliam Cutter, Director
Concert Choir may be taken for credit: 21M.401
The MIT Concert Choir, directed by Dr. William Cutter, is a large choral group open by audition to both graduate and undergraduate students, and to members of the MIT community. The Concert Choir is a social, academic and musical ensemble in which students learn and perform major works from the standard repertoire, as well as selected shorter and lesser-known pieces.
Basic vocal technique, diction, and music reading skills are a part of every rehearsal. Rehearsals culminate in a public performance each semester that is often accompanied by a professional orchestra and soloists. When appropriate, student soloists are also featured. You can find a more detailed history of MIT's Concert Choir here.
REHEARSALS
M/W, 7-9:30pm
CONCERTS
Upcoming
April 10, 2020
An Evening of Musical Theatre
Join the MIT Concert Choir for an evening of musical theatre favorites, from My Fair Lady to Dear Evan Hansen, featuring choruses, solos, duets, and small ensemble music!
Past
November 15, 2019
Happy Birthday, Beethoven!
The Concert Choir celebrated Beethoven's upcoming 250th birthday with an all-Beethoven program, including his celebrated Choral Fantasy, featuring MIT faculty member David Deveau as piano soloist.
AUDITIONS
New members should attend the first rehearsal on Monday, February 3rd, 2019 from 7:00pm - 9:30pm
at 26-100. Auditions will be held for new members at the conclusion of the first rehearsal. 
Audition Format: Octet auditions of music just rehearsed.