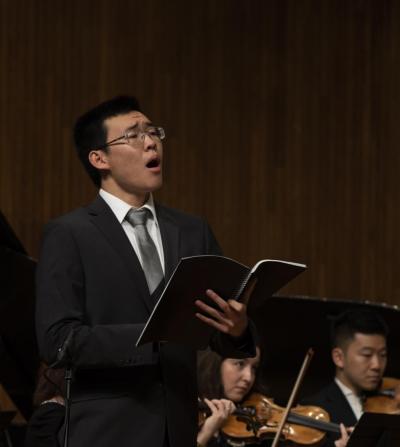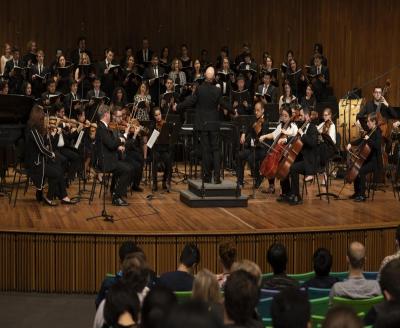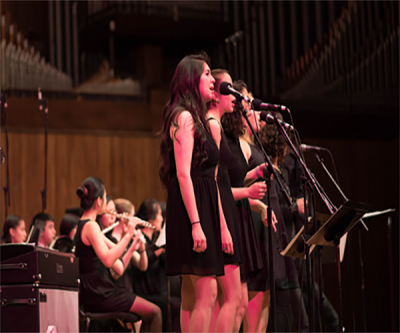 Dr. Willliam Cutter, Director
Concert Choir may be taken for credit: 21M.401
The MIT Concert Choir, directed by Dr. William Cutter, is a large choral group open by audition to both graduate and undergraduate students, and to members of the MIT community. The Concert Choir is a social, academic and musical ensemble in which students learn and perform major works from the standard repertoire, as well as selected shorter and lesser-known pieces.
Basic vocal technique, diction, and music reading skills are a part of every rehearsal. Rehearsals culminate in a public performance each semester that is often accompanied by a professional orchestra and soloists. When appropriate, student soloists are also featured. You can find a more detailed history of MIT's Concert Choir here.
REHEARSALS
M/W, 7-9:30pm
NOTE FOR AY 2020-21
Given that this course will be entirely online, the content will include a broader and more diverse look at ensemble singing with guest lecturers speaking on topics related to ensemble singing; topics that are germane to our two primary projects as well as lectures focusing on the role of arts in society. The following topics will be included:
INTRODUCTORY
Basic vocal technique –  Through various exercises, students will discover how body alignment, breath, and vocal placement contribute to ease in vocal production as well as enhancement of vocal tone and color.  Guest voice teachers will include Kerry Deal (Associate professor of voice, Boston Conservatory; Voice teacher for Emerson Vocal Scholars) and Michael Hanley (Assistant professor of voice, Boston Conservatory)
Diction – Through an introduction to the International Phonetic Alphabet (I.P.A.) students will gain a greater awareness and sensitivity to vowel sounds as well as an activation of articulators (lips, teeth, tongue) in producing clear consonants.  Guest lecture:  Eiji Miura (Instructor of voice and diction, Boston Conservatory) 
Principles of ensemble singing – discussion of blend and rhythmic precision through critical listening and awareness.
Developing stronger musicianship skills – with emphasis on sight reading, students will learn techniques to improve music reading skills.
REPERTOIRE
Chamber music – since technology cannot accommodate large ensemble singing, students will be placed in small ensembles (duos, trios, quartets) where they may explore this unique and intimate repertoire while practicing vocal technique,  applying principles of ensemble singing and reinforcing musicianship skills.   The repertoire will embrace a wide range of styles and time periods and be assigned according to the preferences and skills of each singer.
LONG RANGE PROJECT: "Building a performance of Beethoven's 9th symphony".  
With the goal of performing this important choral/orchestral masterpiece in the Spring of 2021, students will learn their individual choral parts with small group coachings led by either Bill Cutter or guest coach.  These coachings will be an opportunity for each singer to get feedback on their vocal technique, diction, and musicality as well as assessment of musical preparation.
As part of this project, guest lectures on Beethoven will be offered by

Teresa Neff (Senior Lecturer in musicology, MTA). 
Jan Swafford (composer and author of "Beethoven: Anguish and Triumph)
David Hoose (conductor, Cantata Singers)
ADDITIONAL GUEST LECTURES (some topics, TBA)
Craig Hella Johnson, founder and conductor of Grammy-winning "Conspirare". 
Judith Clurman, former director of choral activities, Julliard School of Music; artistic director of Essential Voices, NYC; editor, Hal Leonard Publishers
Randy Kikukawa, Managing Director, Golden Gate Men's Chorus
Dr. Emery Stephens, Assistant professor of voice, St. Olaf College
Members of Chanticleer
POSSIBLE TOPICS
Leading choral artists share their experiences, views, and ideas on the role of the arts in promoting social change.
Master classes in voice and performance led by professional musicians
Professional conductors and singers share their views on the Classical Music post pandemic.
Professional conductors speak about their rehearsal techniques; programming; and choral opportunities in their city and state.
CONCERTS
Upcoming
2020-21 Concert Season TBD
AUDITIONS
AUDITIONS will be held on Wednesday, February 17th from 7-10:00 pm on ZOOM.  Students should sign up for an individual audition (including returning members).  The first half hour will be an informational session for all returning and prospective members, with individual auditions beginning at 7:30pm.  The Audition will consist of:
Testing of vocal range
Recalling simple melodic patterns
If the student has some experience with sight reading, they will be asked to sight read a simple major or minor melody
If the student has a solo song prepared (folk song, musical theater song, or art song) a recording of that song may be submitted to Bill Cutter before February 17th.
REGISTER FOR AUDITIONS HERE
Note: If you were unable to sign up for an audition time, please come to the 7:00 informational session and let us know you're interested!