RAMBAX MIT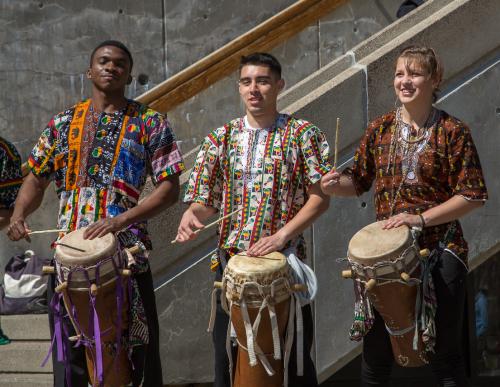 Lamine Touré, Director
Rambax Senegalese drumming ensemble (21M.460), Directed by Lamine Touré. Rambax MIT is an ensemble dedicated to learning the art of sabar, a vibrant drum and dance tradition of the Wolof people of Senegal, West Africa. Directed by master Senegalese drummer Lamine Touré, Rambax is open to MIT students, faculty, staff and alumni. The ensemble meets Monday/Tuesday evenings 7-8:30pm (beginners) or Monday/Thursday 8:30-10pm (advanced). Rambax may be taken for credit (21M.460). New members are accepted in the fall and spring semesters. Students must pre-register for 21M.460 and attend the auditions on Monday, Sept. 12 at 7pm, N52-199). To request an audition: http://tinyurl.com/MITauditions. For further information, contact: Patty Tang (Faculty Advisor to Rambax) at pjtang@mit.edu.
CONCERTS: December 3 at 8pm, Lobdell, Stratton Student Center and May 6 at 3pm, Outdoors on Stratton Student Center steps.
AUDITIONS: click here for information.