Keala Kaumeheiwa, coach
Jazz Combo may be taken for credit:  21M.445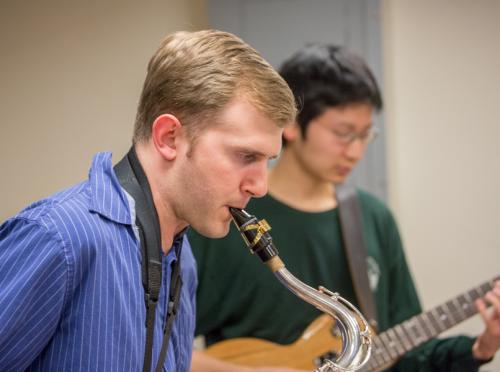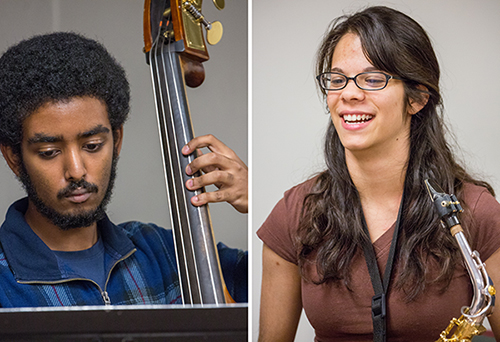 Three Jazz Combos are formed under the auspices of the
MIT Chamber Music Society. They include approximately
20 students ranging from intermediate to advanced levels.
Combos study and perform traditional and contemporary
small group jazz literature and improvisation. Each CMS
combo rehearses once weekly with Boston jazz bassist
Keala Kaumeheiwa, and is also expected to meet independently. The combos perform one concert
per semester. 
REHEARSALS
Groups meet twice per week, once with the coach.
CONCERTS
December 3, 2019
April 30, 2020
AUDITIONS
*NOTE:  Auditions for the Festival Jazz Ensemble, CMS Jazz Combos, and Emerson Jazz Program are all combined into one audition. Your interests in any or all of these opportunities are covered by ONE jazz audition.
Auditions for new and returning members are by appointment only. 
There are three parts to the audition:  
1. Chromatic scale through your entire range.
2. Sight-reading. Rhythm Section players (Piano/Vibes/Guitar/Bass/Drums) **see note below
3. Two short stylistically contrasting pieces (a ballad and a swing/bebop composition for example). You are encouraged but not required to demonstrate your improvisational ability. Please provide your own recorded accompaniments if possible. If you need playback equipment for recorded accompaniments, please note this request in your audition form and what exactly you need.
The whole audition will be approximately 10-12 minutes.
If you have any questions/concerns or need assistance with any facet of the audition, contact Dr. Harris (fharris@mit.edu).
If for some reason you are not able to audition the first week of September but are interested in participating in the MIT Wind Ensemble, contact Dr. Harris (fharris@mit.edu).
** Note for Rhythm Section players:
Piano/Vibes/Guitar:  Sight-reading of basic chord changes will be part of your audition.  Guitar and bass players should provide their own amps. If that is not possible, please inform the Events Office in advance of your audition day.
Bass:  Sight-reading of basic swing and funk/Latin charts and chord changes will be part of your audition.
Drum Set:  Sight-reading of basic swing and Latin/funk charts and performance of four/eight bars of time followed by four/eight bars of soloing in both swing and funk/Latin styles at a medium tempo will be part of our audition.
Register for CMS Jazz Audition Here
Register for Percussion-Jazz Audition Here