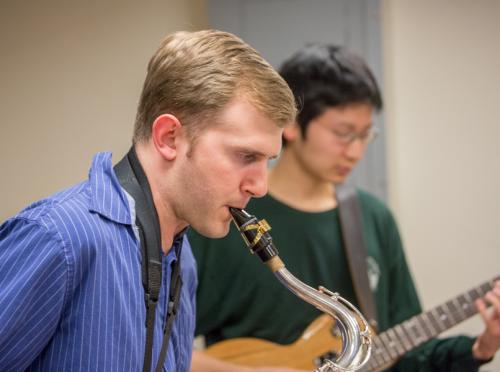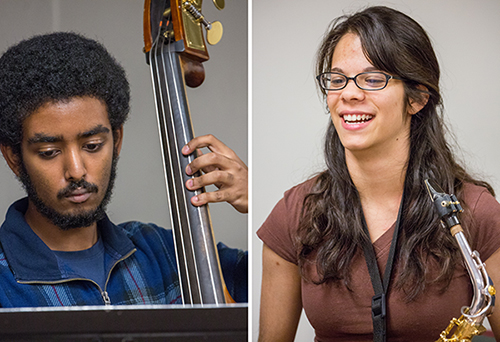 Keala Kaumeheiwa, coach
CMS Jazz Combos may be taken for credit: 21M.445
ABOUT MIT CMS JAZZ COMBOS
Three Jazz Combos are formed under the auspices of the
MIT Chamber Music Society. They include approximately
20 students ranging from intermediate to advanced levels.
Jazz Combos study and perform traditional and contemporary
small group jazz literature and improvisation, with opportunities for students to compose/arrange for the ensembles. Combos rehearse once weekly with renowned Boston jazz bassist, Keala Kaumeheiwa, and are also expected to meet independently. The combos perform one concert per semester. CMS Jazz Combos are coordinated and overseen by Dr. Fred Harris.
MIT CMS Jazz Combos    FALL 2020
Though adherence to Covid-19 safety precautions alters the typical MIT Jazz Combo offering for Fall 2020, the course remains committed to providing ALL participating students substantial educational experiences studying and performing small jazz ensemble repertoire. Three Jazz Combos are formed under the auspices of theMIT Chamber Music Society. They include approximately20 students ranging from intermediate to advanced levels.
Online experiences may include: live streamed rehearsals; virtual performances; study of audio/video instrumental recording production techniques; arranging/composing for small jazz ensemble; improvisation study; and masterclasses by internationally renowned musicians. 
On campus students' in-personexperience may include live rehearsals and streamed performances of traditional and newly composed works, in addition to the opportunity to participate in all online activities. 
Meeting times/Rehearsals
Groups meet twice per week, once with the coach: Monday, Evening Times TBD
90 minutes, a combination of synchronous and asynchronous, allowing for flexibility, with accommodations for Time Zones.
NOTE:  Meeting times subject to change
Virtual/Live Streamed Concerts TBD
Watch and listen to CMS Jazz Combo live performances:
Bounce by Nate Smith, arr. Sahin Naqvi, '18
AUDITIONS
MIT Jazz Combos auditions are ongoing. Please contact Fred Harris to arrange an audition.
MIT CMS Jazz Combos hold auditions, by appointment, in the Fall and Spring. 
All MIT saxophone, trumpet, trombone, string players, vocalists, and rhythm section instrumentalists, as well as ANY other instrumentalists with interest, are encourage to audition. Local students, MIT community members and alumni, and non-MIT community members also are welcome to audition. 
*NOTE: Auditions for the MIT Festival Jazz Ensemble, CMS Jazz Combos, and Emerson Jazz Program are all combined into one audition. Your interests in any or all of these opportunities are covered by ONE jazz audition.
MIT and Wellesley College students may take CMS Jazz Combos for 6 units of credit. 
RETURNING MIT CMS Jazz Combo students do NOT need to re-audition for 20-21 AY
However, they should contact  Keala Kaumeheiwa at kaumeheiwa@comcast.net by August 26 regarding their intention to continue.
NEW students auditioning for CMS Jazz Combos will do a Zoom audition w/ Fred Harris
Sign-ups are here. 
The Zoom audition will include:
1.    A three-minute example of a piece of your choosing of two short stylistically contrasting pieces (a ballad and a swing/bebop composition for example). You are encouraged but not required to demonstrate improvisation. 
2.     Excerpt from the piece Wyrgly by Maria Schneider (see Wyrgly details below).
NOTE: If you are ONLY interested in CMS Jazz Combos, the Wyrgly excerpt is optional.
3.    Brief sight-reading.  
(Bassist, Guitarist, and Drummers may be asked to demonstrate basic swing and funk/latin grooves/chord progressions)
*If none of the available audition times work for you, contact Dr. Harris (fharris@mit.edu) directly to set up a time.  
*If you wish to audition earlier than Aug. 19, you may contact Dr. Harris directly to set up a time.
*If access to instruments (particularly in the case of rhythm section players) is problematic for you to audition, you may share older video/audio examples of your playing. 
Wyrgly Excerpt Instructions
All saxophonists and brass players should prepare ONLY the first 64 measures of Wyrgly. You may choose any part you wish (i.e. Trumpet 1, 2, 3, etc.)
Pianists, bassists, guitarists, and vibes should prepare ONLY measures 65 through 102 of Wyrgly.    
Click here for parts to Wyrgly. 
Click here for a sample recording of Wyrgly.
If you have any questions/concerns or need assistance with any facet of the audition, questions about MIT FJE, need access to an instrument, etc., contact Dr. Fred Harris (fharris@mit.edu).
Register for CMS Jazz Audition Here