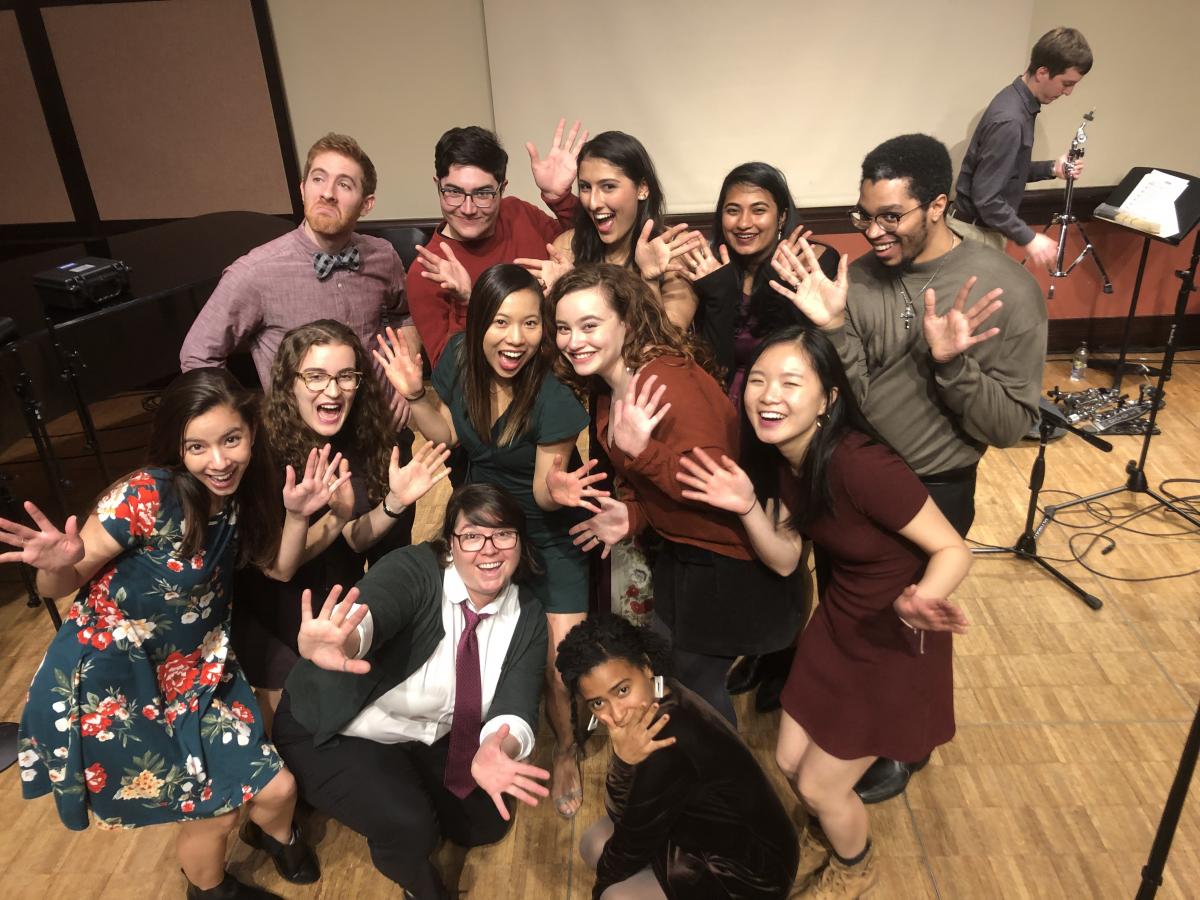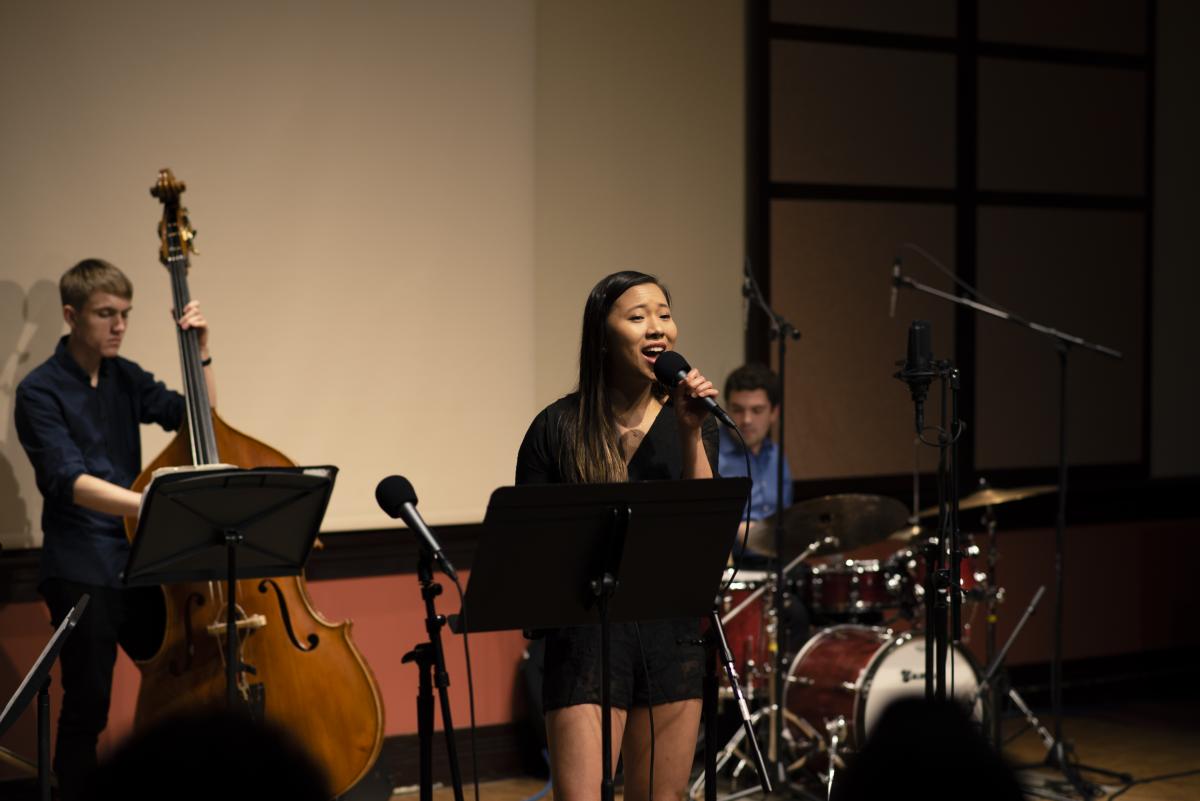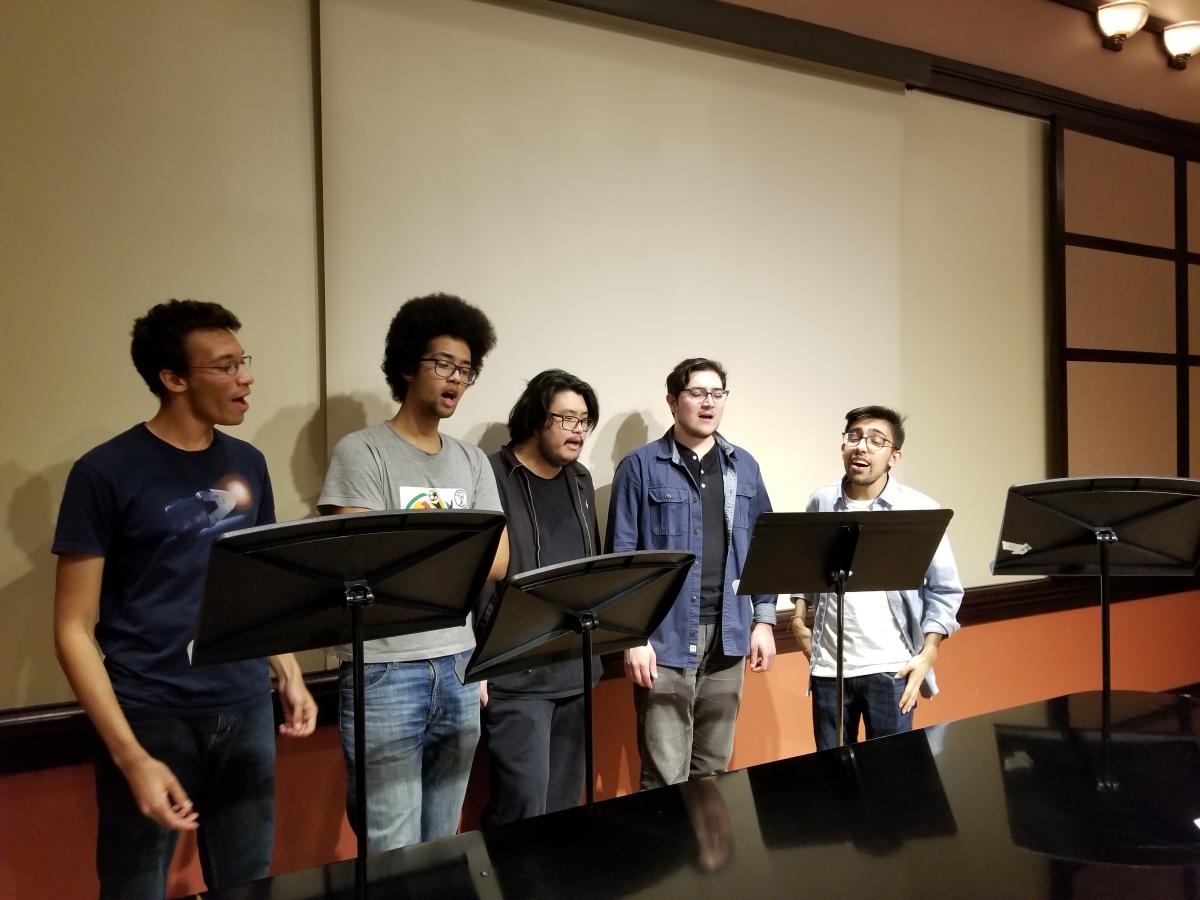 Laura Grill Jaye, Director
Vocal Jazz Ensemble may be taken for credit:  21M.445
ABOUT THE MIT VOCAL JAZZ ENSEMBLE 
The MIT Vocal Jazz Ensemble (VJE) was founded by Institute Professor John Harbison in the spring of 2011 as the first and only vocal jazz performance group at the Institute. Boston-based vocalist-arranger-composer Laura Grill Jaye is the current director and coach of VJE, which has quickly risen to high recognition not only on campus but throughout Boston. Performance opportunities have included a professional recording with the MIT Festival Jazz Ensemble of the MIT school song and "A Rhumba for Rafael Reif," as well as an appearance with the Boston Pops at Boston's Symphony Hall. Professor Harbison has arranged many pieces for VJE over the years.
VJE's debut recording Vocal Jazz at MIT: Store-Bought Hair, was released in 2015. Past collaborations have included performances with Jacob Collier, Dominique Eade, and Luciana Souza. Under the direction of Laura Grill Jaye, VJE has participated and earned high praise in a special residency with Audra McDonald, and has collaborated and recorded with The MIT Festival Jazz Ensemble.
VJE sings ensemble and solo jazz music. It performs with jazz instrumentalists on and off campus, including a concert in Killian Hall at the end of each semester. The ensemble also offers members opportunities for arranging and songwriting. The MIT Vocal Jazz Ensemble is coordinated and overseen by Dr. Fred Harris.
Listen to MIT Vocal Jazz Ensemble live performances:
I Hear Music - Lane, Loesser, arr. J. Harbison: 

A Dandy Line - Jack Montrose (as recorded by Chet Baker), arr. Laura Grill Jaye (Produced virtually in the Spring of 2020): 

Love You To - The Beatles, arr. Laura Grill Jaye: 

Afro Blue - Santamaria/Brown, arr. Laura Grill Jay: 

MIT VOCAL JAZZ ENSEMBLE FALL 2020
Though adherence to Covid-19 safety precautions alters the typical MIT VJE offering for Fall 2020, the course remains committed to providing ALL participating students substantial educational experiences studying vocal jazz ensemble repertoire and participating in a wide range of exciting group and individual project-based learning opportunities. 
Online experiences may include: live streamed rehearsals; virtual performances; small group and individual coaching/instruction; masterclasses by internationally renowned musicians; improvisation study; analysis of scat techniques and syllables; study and implementation of recording/production techniques; arranging/composing for voices; in depth study of specific jazz vocalists and their historical context. 
On campus students' in-person experience is TBD at this time. It may include live rehearsals and streamed performances of traditional and newly composed works, in addition to the opportunity to participate in all online activities. 
The course being divided into synchronous and asynchronous sections will allow students to dive further into specific areas of interest.  During asynchronous time, students can choose to complete projects in one of four areas; arranging, improvisation, theory, or history.
All MIT VJE students will have ample opportunities to bond musically and personally through regularly scheduled online sessions related to the course and other social opportunities such as jazz-based game and film nights. 
MIT VJE Meeting times/Rehearsals
TH, 7:00-9:00 p.m.
120 minutes (7:00-9:00pm or TBD) synchronous once per week with accommodations for Time Zones.
Remaining 2 hours, a combination of synchronous and asynchronous, allowing for flexibility. 
 NOTE:  Meeting times subject to change
Virtual/Live Streamed Concerts TBD
AUDITIONS
MIT VJE holds auditions, by appointment, in the Fall and Spring. 
MIT and Wellesley College students may take MIT VJE for 6 units of credit. 
New members should reach out to Laura Grill Jaye (lauragrilljaye@gmail.com) to schedule an audition before February 4th. Rehearsals will begin that weekend. Returning members do not need to audition.
Auditioning singers are expected to prepare two songs of contrasting styles.  One song must be "Smile" by Chaplin/Parsons/Turner. Many people have recorded this song, but Nat King Cole's is easy to find online if you're learning by ear.  The second song can be from any genre and should showcase your voice.  Please sing "Smile" a cappella.  Accompaniment is optional for the other song.
Audition Information For All Music Ensembles