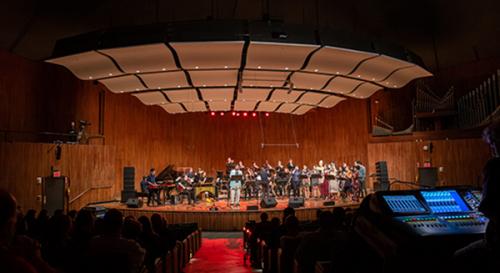 Dr. Frederick Harris, Jr., Director
MIT Festival Jazz Ensemble may be taken for credit:  21M.442
You are encouraged to take MIT FJE for credit, but it is not necessary in order to participate.
ABOUT THE MIT FESTIVAL JAZZ ENSEMBLE
The MIT Festival Jazz Ensemble (MIT FJE) was founded in 1963 by Boston jazz icon Herb Pomeroy and led since 1999 by Dr. Frederick Harris, Jr. This advanced 18 to 20-member big band/jazz ensemble is comprised of outstanding MIT undergraduate and graduate students studying a wide range of disciplines. An advanced combo is formed from the membership of the MIT FJE. MIT FJE performs traditional and contemporary jazz ensemble literature, including student compositions and new works written for the MIT FJE by major jazz composers. Improvisation is a prominent part of the MIT FJE experience. MIT FJE has released five professional recordings including its major jazz label debut on Sunnyside in 2015, Infinite Winds, which received a five-star review from DownBeat and was chosen by the magazine as one of its "Best Albums of 2015 Five-Star Masterpieces."
The FJE has a long history of performing original music by MIT students and composers from around the world. Since 2001, it has presented over 50 world premieres. Among others, Mark Harvey, Herb Pomeroy, Jamshied Sharifi, Ran Blake, John Harbison, Chick Corea, Joe Lovano, Gunther and George Schuller, Kenny Werner, Don Byron, Steve Turre, Magali Souriau, Guillermo Klein, Chris Cheek, Miguel Zenón, Dominique Eade, and Luciana Souza have collaborated with the MIT FJE. In January of 2019 the FJE participated in a highly successful cultural exchange, touring Puerto Rico with Miguel Zenón, presenting concerts in various venues and also STEM workshops in middle and high schools.
Learn about the MIT FJE's collaboration with Grammy-winner Jacob Collier in this Emmy-winning documentary. Watch the Emmy-nominated documentary The Great Clarinet Summit, featuring MIT FJE. See an overview of MIT FJE's recent tour of Puerto Rico. Watch MIT FJE and Sean Jones perform an original composition by MIT student Alan Osmundson and Warren Wolf perform Heal! by MIT pianist-composer Peter Godart. MIT FJE participated in MIT's 2021 virtual Commencement, performing Diary of a Pandemic Year. See an overview of MIT FJE's history here.
REHEARSALS
T/TH, 5:15-7:15pm, Killian Hall
CONCERTS
Fall 2021
Friday, October 29: MIT's Annual Family Weekend Concert
Saturday, November 6: Brazilian Project (MIT FJE as guest)
Saturday, November 13
Spring 2022
Saturday, March 5
Friday, April 8: MIT's Annual Campus Preview Concert
Friday, April 22
Saturday, May 7: It Must Be Now
AUDITIONS
Dr. Frederick Harris, Music Director, MIT Festival Jazz Ensemble, and MIT Jazz Performance Coordinator (fharris@mit.edu)
*NOTE:  Auditions for the MIT Festival Jazz Ensemble, CMS Jazz Combos, and Emerson/Harris Jazz Program are all combined into one audition. Your interests in any or all of these opportunities are covered by ONE jazz audition.
Auditions for Spring 2022 participation in MIT Festival Jazz Ensemble are by appointment with Fred Harris, January 10-28. Additional times may be arranged on January 31 and February  1. Contact Dr. Harris at fharris@mit.edu to set up a time.
There are four parts to the audition, lasting approximately 15 minutes:  
1. Chromatic scale through your entire range.
2. Sight-reading. Rhythm Section players (Piano/Vibes/Guitar/Bass/Drums) **see note below
3. Two short stylistically contrasting pieces (a ballad and a swing/bebop composition for example). You are encouraged but not required to demonstrate your improvisational ability. Please provide your own recorded accompaniments if possible. If you need playback equipment for recorded accompaniments, please note this request in your audition form and describe what exactly you need.
4. Prepare the posted piece, Oyelo, appropriate to your instrument here.  You will be asked to play excerpts from this piece. In some cases, you have choices as to which part to prepare (trumpet 1 or 2, trombone 1 or 3, etc.).  
If you have any questions/concerns or need assistance with any facet of the audition, or have questions about MIT FJE, or need access to an instrument, etc., contact Dr. Harris anytime (fharris@mit.edu).
*Note: students who register for an audition will be given access to the 4-260 practice room suite during the week leading up to auditions. You will receive an email from the Events Office with more information at that time.
** Note for Rhythm Section players:
Piano/Vibes/Guitar:  Sight-reading of basic chord changes will be part of your audition.  Guitar and bass players should provide their own amps. If that is not possible, please inform the Events Office in advance of your audition day.
Bass:  Sight-reading of basic swing and funk/Latin charts and chord changes will be part of your audition.
Drum Set:  Sight-reading of basic swing and Latin/funk charts and performance of four/eight bars of time followed by four/eight bars of soloing in both swing and funk/Latin styles at a medium tempo will be part of our audition.