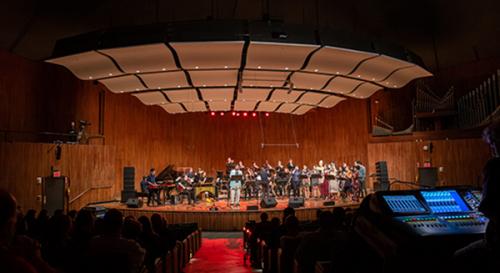 Dr. Frederick Harris, Jr., Director
MIT Festival Jazz Ensemble may be taken for credit:  21M.442
Founded in 1963 by Boston jazz icon Herb Pomeroy, this advanced 18 to 20-member big band/jazz ensemble performs traditional and contemporary jazz ensemble literature, including student compositions and new works written for the MIT FJE by major jazz composers.
Improvisation is a prominent part of the MIT FJE experience. The ensemble's instrumentation is 4-5 trumpets, 4 trombones, 5 saxophones, piano, guitar, vibraphone, bass, and drums/percussion. Other instrumentalists interested in auditioning are encouraged
to do so.
The MIT FJE performs four concerts per year and frequently features major jazz artists such as Chick Corea, Joe Lovano, Kenny Werner, Don Byron, Ran Blake, Steve Turre, Guillermo Klein, Jason Moran, Sean Jones and Miguel Zenón. 
Watch MIT FJE and Sean Jones perform an original composition by MIT student Alan Osmundson.
REHEARSALS
T/Th, 5:15-7:15 pm
CONCERTS
October 25, 2019
November 16, 2019
March 7, 2020
May 9, 2020
AUDITIONS
*NOTE:  Auditions for the MIT Festival Jazz Ensemble, CMS Jazz Combos, and Emerson Jazz Program are all combined into one audition. Your interests in any or all of these opportunities are covered by ONE jazz audition.
Auditions for new and returning members are by appointment only. 
There are four parts to the audition:  
1. Chromatic scale through your entire range.
2. Sight-reading. Rhythm Section players (Piano/Vibes/Guitar/Bass/Drums) **see note below
3. Two short stylistically contrasting pieces (a ballad and a swing/bebop composition for example). You are encouraged but not required to demonstrate your improvisational ability. Please provide your own recorded accompaniments if possible. If you need playback equipment for recorded accompaniments, please note this request in your audition form and what exactly you need.
4. Prepare the posted piece, When In Moscow, by Golovnev, appropriate to your instrument here.  You will be asked to play excerpts from this piece. In some cases, you have choices as to which part to prepare (trumpet 1 or 2, trombone 1 or 3, etc.).  Guitar and Vibraphone players use the piano part as is feasible for you (i.e. focus on the top line of the part if you wish).
Recording of When In Moscow is here.
** NOTE for Rhythm Section players:
Piano/Vibes/Guitar:  Sight-reading of basic chord changes will be part of your audition.  Guitar and bass players should provide their own amps. If that is not possible, please inform the Events Office in advance of your audition day.
Bass:  Sight-reading of basic swing and funk/Latin charts and chord changes will be part of your audition.
Drum Set:  Sight-reading of basic swing and Latin/funk charts and performance of four/eight bars of time followed by four/eight bars of soloing in both swing and funk/Latin styles at a medium tempo will be part of our audition.
The whole audition will be approximately 10-12 minutes.
If you have any questions/concerns or need assistance with any facet of the audition, contact Dr. Harris (fharris@mit.edu).
If for some reason you are not able to audition the first week of September but are interested in participating in the MIT Wind Ensemble, contact Dr. Harris (fharris@mit.edu).
Register for Festival Jazz Audition Here
Register for Percussion-Jazz Audition Here