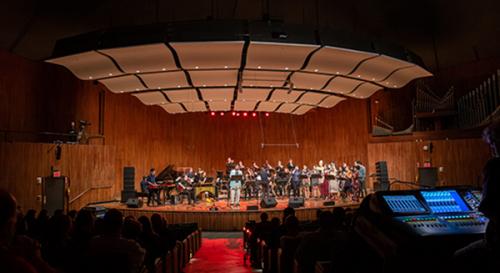 Dr. Frederick Harris, Jr., Director
MIT Festival Jazz Ensemble may be taken for credit:  21M.442
ABOUT THE MIT FESTIVAL JAZZ ENSEMBLE
The MIT Festival Jazz Ensemble (MIT FJE) was founded in 1963 by Boston jazz icon Herb Pomeroy and led since 1999 by Dr. Frederick Harris, Jr. This advanced 18 to 20-member big band/jazz ensemble is comprised of outstanding MIT undergraduate and graduate students studying a wide range of disciplines. MIT FJE performs traditional and contemporary jazz ensemble literature, including student compositions and new works written for the MIT FJE by major jazz composers. Improvisation is a prominent part of the MIT FJE experience. MIT FJE has released five professional recordings including its major jazz label debut on Sunnyside in 2015, Infinite Winds, which received a five-star review from DownBeat and was chosen by the magazine as one of its "Best Albums of 2015 Five-Star Masterpieces."
The FJE has a long history of performing original music by MIT students and composers from around the world. Since 2001, it has presented over 50 world premieres. Among others, Mark Harvey, Herb Pomeroy, Jamshied Sharifi, Ran Blake, John Harbison, Chick Corea, Joe Lovano, Gunther and George Schuller, Kenny Werner, Don Byron, Steve Turre, Magali Souriau, Guillermo Klein, Chris Cheek, Miguel Zenón, Dominique Eade, and Luciana Souza have collaborated with the MIT FJE. In January of 2019 the FJE participated in a highly successful cultural exchange, touring Puerto Rico with Miguel Zenón, presenting concerts in various venues and also STEM workshops in middle and high schools.
Learn about the MIT FJE's collaboration with Grammy-winner Jacob Collier in this Emmy-winning documentary. Watch the Emmy-nominated documentary The Great Clarinet Summit, featuring MIT FJE. See an overview of MIT FJE's recent tour of Puerto Rico. Watch MIT FJE and Sean Jones perform an original composition by MIT student Alan Osmundson and Warren Wolf perform Heal! by MIT pianist-composer Peter Godart. And see an overview of MIT FJE's history here.
MIT FJE SPRING 2021
Though adherence to Covid-19 safety precautions alters the typical MIT FJE offering for Spring 2021, the course remains committed to providing ALL participating students substantial educational experiences studying large and small jazz ensemble repertoire and participating in a wide range of exciting group and individual project-based learning opportunities.
Online experiences may include: live streamed rehearsals; virtual performances; small group and individual coaching/instruction; masterclasses by internationally renowned musicians; arranging/composing for small and large jazz ensemble; improvisation study; study of audio/video instrumental recording production techniques; study and analysis of jazz repertoire and its historical context; and opportunities for STEAM-related outreach to communities in need in the U.S. and abroad.
On campus students' in-person experience may include live rehearsals and streamed performances of traditional and newly composed works, in addition to the opportunity to participate in all online activities.
All MIT FJE students will have ample opportunities to bond musically and personally through regularly online sessions related to the course and other social opportunities such as jazz-based game and film nights.
Meeting times/Rehearsals
T/TH, 5:30-7:30pm
90 minutes (T/TH 5:30-6:15pm) synchronous per week with accommodations for Time Zones.
Remaining 2 and 1/2 hours, a combination of synchronous and asynchronous, allowing for flexibility. 
NOTE:  Meeting times subject to change
Virtual/Live Streamed Concerts TBD
SPRING 2021 AUDITIONS
*NOTE:  Auditions for the Festival Jazz Ensemble, CMS Jazz Combos, and Emerson Jazz Program are all combined into one audition. Your interests in any or all of these opportunities are covered by ONE jazz audition.
RETURNING MIT FJE students do not need to audition.
All MIT saxophone, trumpet, trombone, and rhythm section instrumentalists, as well as ANY other instrumentalists or vocalists with interest, are encourage to audition. Local students, MIT community members and alumni, and non-MIT community members also are welcome to audition.
MIT and Wellesley College students may take FJE for 6 units of credit.
NEW students auditioning for MIT FJE will do a Zoom audition w/ Fred Harris
Auditions will be 12 minutes, live over Zoom. They will be held January 28 & 29 and February 8. 
*If none of the available audition days/times work for you, or, if you wish to audition earlier than January 28, contact Dr. Harris (fharris@mit.edu) directly to set up a time. 
RETURNING MIT FJE students do not need to audition.
The Zoom audition will include:
A three-minute example of a piece of your choosing of two short stylistically contrasting pieces (a ballad and a swing/bebop composition for example). You are encouraged but not required to demonstrate improvisation.
 Prepare the given excerpt from the piece Wyrgly by Maria Schneider.

You may choose any part you wish (i.e. Trumpet 1, 2, 3, etc.)
NOTE:If you are ONLY interested in CMS Jazz Combos, the Wyrgly excerpt is optional.

Brief sight-reading.  
(Bassist, Guitarist, and Drummers may be asked to demonstrate basic swing and funk/latin grooves/chord progressions)
*If access to instruments (particularly in the case of rhythm section players) is problematic for you to audition, you may share older video/audio examples of your playing. 
If you have questions about the ensemble, concerts, or audition requirements, contact Fred Harris at fharris@mit.edu If you have any questions/concerns or need assistance with the virtual audition, submitting materials, needing access to an instrument, etc., contact FJE manager David Stevens at davidms@mit.edu.
NEW STUDENTS REGISTER FOR JAZZ AUDITIONS HERE