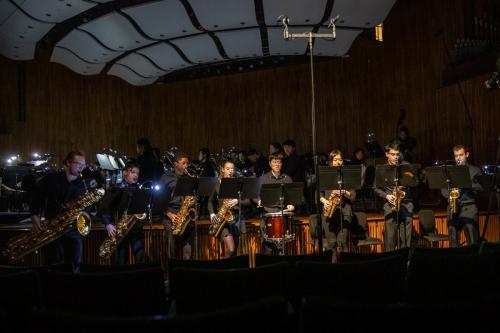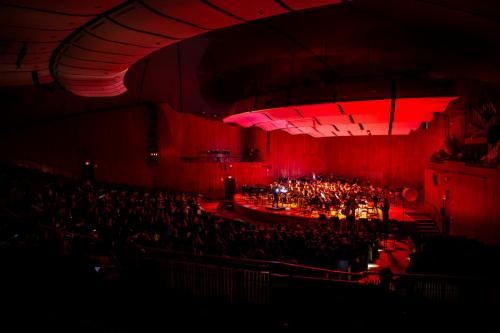 Dr. Fred Harris, Jr., Music Director 
Kenneth Amis, Assistant Conductor
MIT Wind Ensemble may be taken for credit:  21M.426
You are encouraged to take MITWE for credit, but it is not necessary in order to participate.
ABOUT THE MIT WIND ENSEMBLE 
Founded by Music Director Dr. Frederick Harris, Jr. in the fall of 1999, the MIT Wind Ensemble (MITWE) is one of the most innovative such ensembles of its kind. Comprised primarily of outstanding MIT undergraduates and graduate students studying a wide range of disciplines within science, engineering, and the humanities. Repertoire includes outstanding traditional works and new music for full wind ensemble, chamber winds, brass ensemble, percussion ensemble, and woodwind ensembles. MITWE has commissioned 45 original works from many prominent composers. MIT Affiliated Artist, renowned composer, and tuba player of the Empire Brass, Kenneth Amis, is the Assistant Conductor of MITWE. 
MITWE has been featured on NPR and was the subject of the 2014 Emmy-winning documentary Awakening: Evoking the Arab Spring Through Music, aired on PBS. MITWE is also featured in the 2019 Emmy-nominated documentary The Great Clarinet Summit, and Call and Response: Creativity at MIT.  MITWE's joint recording with the MIT Festival Jazz Ensemble, Infinite Winds, received a five-star review from DownBeat and was chosen by the magazine as one of its "Best Albums of 2015 Five-Star Masterpieces" — the first such recognition of its kind for a collegiate wind ensemble. The Boston Globe called the recording "one of the most compelling of 2015."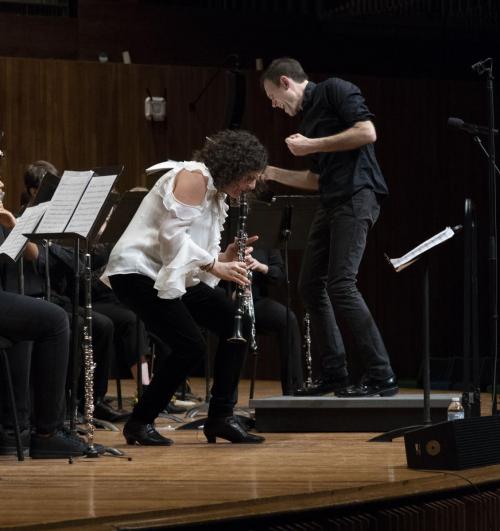 Throughout its 21-year history, MITWE has collaborated with elementary, middle and high school students throughout Massachusetts. In March of 2019, MITWE embarked on its first tour, spending a week in the Dominican Republic, presenting four concerts, many STEAM presentations for middle, high school and college students, and premiering the eco-music piece In Praise Of The Humpback.   
In May of 2020, MITWE had the honor of opening MIT's virtual Commencement with To The Light, To The Flame. MITWE also participated in MIT's 2021 virtual Commencement, performing Diary Of A Pandemic Year.
In March 2023 the MIT Wind Ensemble, along with the MIT Festival Jazz Ensemble and MIT Vocal Jazz Ensemble, toured and performed in the Brazilian Amazon. The project was focused on cultural and environmental sustainability and music's power as a vehicle for change.
REHEARSALS
M/W, 7-9:30pm, Kresge Auditorium
CONCERTS
Fall 2023
Saturday, October 28: MIT's Annual Family Weekend Concert
Friday, December 8: 9th Annual Prism Concert
Spring 2024
Friday, March 8: MITWE with Boston Symphony Orchestra guest soloist
Friday, April 12: MIT's Annual Campus Preview Weekend Concert
Saturday, April 20: MITWE 25th Anniversary Celebration Concert
AUDITIONS Fall 2023
Dr. Frederick Harris, Music Director (fharris@mit.edu)
Kenneth Amis, Assistant Conductor
Auditions for Fall 2023 participation in MIT Wind Ensemble (21M.426) are Sept. 1-8. Auditions are also held Spring 2023 but students are strongly encouraged to audition in the fall for participation for the full AY.  Accepted students may take MITWE for credit (6 units) but may also participate not for credit. Those not taking MITWE for credit should register as a listener.
Early Auditions: If you would like to audition earlier than Sept. 1, you may do so on zoom with Dr. Harris. Email him directly (fharris@mit.edu) to set up a day/time.
MITWE is comprised of MIT undergraduate and graduate students but all local college students, MIT community members, and non-MIT community members are welcome to audition.  The audition will take approximately 15 minutes.  Pianists, string bassists, and harpists interested in participating in MITWE should Dr. Harris directly.
First MITWE rehearsal of the Fall semester will be Monday, September 11, 7:00-9:30pm, Kresge Auditorium.
REGISTER FOR MITWE AUDITION here
There are four parts to the audition:
1.  Chromatic scale through your entire range.
2.  Sight-reading.
3.  Two short contrasting sections of any solo(s) or etude(s) of your choice that demonstrate your musicianship. Your choices should include passages that are slow and lyrical and ones that demonstrate your technical facility.  
(Percussionists, NOTE: For this portion of the audition you are encouraged (but not required) to play at least two of the three major percussion instruments (timpani, mallet instrument, snare drum). Timpani auditions will include basic tuning, snare drum auditions will include basic rudiments, and mallet auditions will include scales).
4.  Prepare the Hindemith Symphony in Bb excerpts for your instrument, and percussion/mallet excerpts by following the links below, and finding the excerpt for your instrument on the Instrument Excerpt Information or Percussion Excerpt Information pdf. Percussionists will not prepare the Hindemith Symphony. See the note below regarding percussion audition pieces.
Hindemith Excerpts HERE
Sample recording of the Hindemith is HERE
Snare drum, Timpani, and Mallet Excerpts HERE
Snare and Timpani sample recording is HERE
Mallet sample recording is HERE
NOTE: 
*Clarinets may choose either the Clar. 1 or Clar. 2 part.
*Flutists also interested in piccolo should prepare the piccolo part. Oboists also interested in English Horn should prepare any short excerpt they wish on English Horn.
*Trumpets may choose either Solo Cornet or Cornet 2; Horns may choose either Horn 1 or Horn 2; Trombones may choose either Trombone 1 or 2.
*Percussion:  Snare and Timpani parts to prepare are from Clifton Williams' Symphonic Dance #3 (Fiesta). 
*Mallet percussion part to prepare is from Jamshied Sharifi's Awakening (Mvt 1, vibes parts). 
If you have any questions about auditions/MITWE in general, contact Dr. Fred Harris (fharris@mit.edu). If you need access to an instrument, fill out the Instrument Request Form, then contact Jacob Means (jmeans@mit.edu). 
Note: students who register for an audition and need access to the MTA 4-260 practice room suite during the week leading up to auditions, may request access by emailing mta-request@mit.edu. Percussionists will be given access to the Kresge Percussion Studio, and can also request access by emailing mta-request@mit.edu.