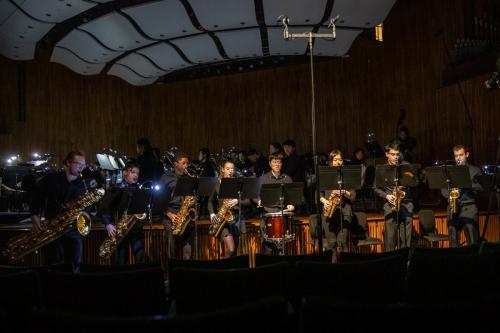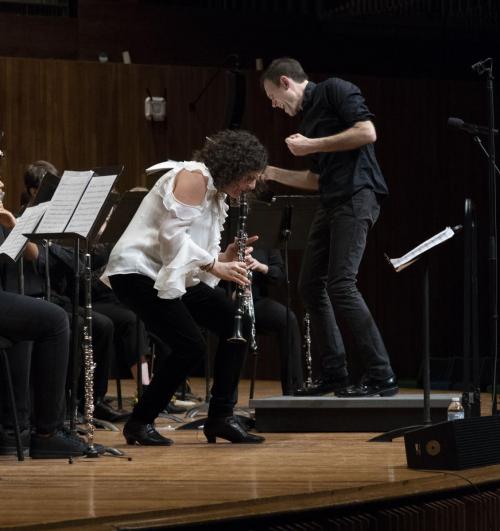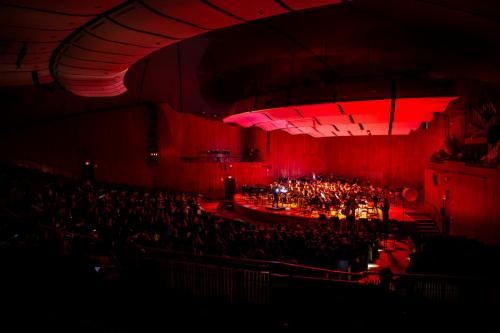 Dr. Fred Harris, Jr., Director 
Kenneth Amis, Assistant Conductor
MIT Wind Ensemble may be taken for credit:  21M.426
Founded by Dr. Frederick Harris, Jr. in the fall of 1999, the MIT Wind Ensemble is comprised of advanced undergraduate & graduate MIT students from a wide range of disciplines. MITWE performs four concerts per year on the MIT campus and one off-campus. Repertoire includes standard outstanding wind repertoire and new music for full wind ensemble, chamber winds, brass ensemble, percussion ensemble, and woodwind ensembles.
Since 2001, the MIT Wind Ensemble has commissioned dozens of original works and has worked with Pulitzer Prize-winnners, the late Gunther Schuller, John Harbison, Michael Colgrass, and many other composers. MITWE has two professional CDs, Waking Winds (2004, Innova Records) and Solo Eclipse (2008, Albany Records). MITWE has been featured on PBS and NPR. Soloists with MITWE have included Kenneth Amis (tuba player of the Empire Brass), Don Byron, Evan Ziporyn, Kenny Werner, Bill McHenry, and numerous student soloists. "[MITWE performs with] a tremendous amount of passionate music-making and artistry . . . [it] plays at a consistently mature, aesthetically engaging level," notes Boston's The Art Fuse in a 2013 MITWE concert review.  
REHEARSALS
M/W, 7-9:30pm
CONCERTS
October 25, 2019
December 6, 2019
March 14, 2020
April 25, 2020
AUDITIONS
Kenneth Amis, Acting Music Director (kamis@mit.edu)
Auditions will be held by appointment only for the Spring semester. Contact Ken to request an audition.
There are four parts to the audition:
1. Chromatic scale through your entire range.
2. Sight-reading.
3. Two short contrasting sections of any solo(s) or etude(s) of your choice that demonstrate your musicianship. Your choices should include passages that are slow and lyrical and ones that demonstrate your technical facility.  Percussionists, NOTE: For this portion of the audition you are encouraged (but not required) to play at least two of the three major percussion instruments (timpani, mallet instrument, snare drum). Timpani auditions will include basic tuning, snare drum auditions will include basic rudiments, and mallet auditions will include scales.
4. Prepare the posted pieces appropriate to your instrument here. You will be asked to play excerpts from these two pieces. In some cases, you have choices as to which part to prepare (solo clarinet or clarinet 2, trumpet 1 or 2, etc.). Recordings of pieces are included in the dropbox folder.
The whole audition will be approximately 10-12 minutes.
If you have any questions/concerns or need assistance with any facet of the audition, contact Dr. Harris (fharris@mit.edu).
If for some reason you are not able to audition the first week of September but are interested in participating in the MIT Wind Ensemble, contact Dr. Harris (fharris@mit.edu).
Flute players who play Piccolo are welcome to play a short
piccolo passage from any piece or solo or etude.
Oboe players who play English Horn are welcome to play
a short English Horn passage from any piece or solo or etude.
Register for Wind Ensemble Audition Here
Register for Percussion-Wind Ensemble Audition Here