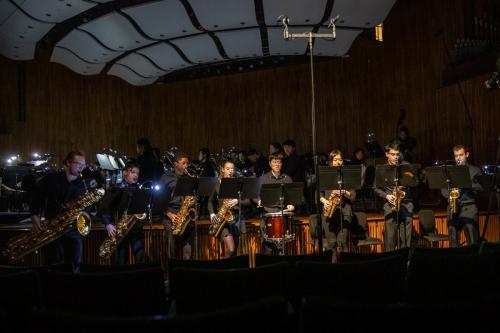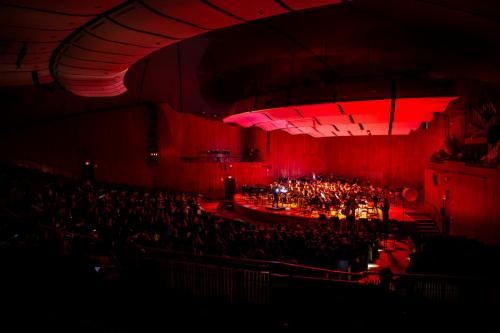 Dr. Fred Harris, Jr., Director 
Kenneth Amis, Assistant Conductor
MIT Wind Ensemble may be taken for credit:  21M.426
ABOUT THE MIT WIND ENSEMBLE 
Founded by Music Director Dr. Frederick Harris, Jr. in the fall of 1999, the MIT Wind Ensemble (MITWE) is one of the most innovated such ensembles of its kind. Comprised primarily of outstanding MIT undergraduates and graduate students studying a wide range of disciplines within science, engineering, and the humanities. Repertoire includes outstanding traditional works and new music for full wind ensemble, chamber winds, brass ensemble, percussion ensemble, and woodwind ensembles. MITWE has commissioned 45 original works from many prominent composers. MIT Affiliated Artist, renowned composer, and tuba player of the Empire Brass, Kenneth Amis, is the Assistant Conductor of MITWE. 
MITWE has been featured on NPR and was the subject of the 2014 Emmy-winning documentary Awakening: Evoking the Arab Spring Through Music, aired on PBS. MITWE is also featured in the 2019 Emmy-nominated documentary The Great Clarinet Summit, and Call and Response: Creativity at MIT.  MITWE's joint recording with the MIT Festival Jazz Ensemble, Infinite Winds, received a five-star review from DownBeat and was chosen by the magazine as one of its "Best Albums of 2015 Five-Star Masterpieces" — the first such recognition of its kind for a collegiate wind ensemble. The Boston Globe called the recording "one of the most compelling of 2015."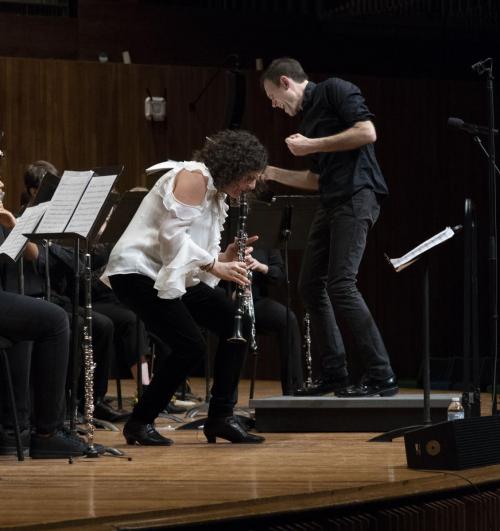 Throughout its 21-year history, MITWE has collaborated with elementary, middle and high school students throughout Massachusetts. In March of 2019, MITWE embarked on its first tour, spending a week in the Dominican Republic, presenting four concerts, many STEAM presentations for middle, high school and college students, and premiering the eco-music piece In Praise Of The Humpback.   
In May of 2020, MITWE had the honor of opening MIT's virtual Commencement with To The Light, To The Flame. 
MITWE SPRING 2021
Though adherence to Covid-19 safety precautions alters the typical MITWE offering for Spring 2021 the course remains committed to providing ALL participating students substantial educational experiences studying large and small ensemble repertoire and participating in a wide range of exciting group and individual project-based learning opportunities.  
Online experiences may include: live streamed rehearsals; virtual performances; small group and individual coaching/instruction; masterclasses by internationally renowned musicians; arranging/composing for wind and percussion instruments; study of audio/video instrumental recording production techniques; study of related jazz and world music instrumental techniques including improvisation; and opportunities for STEAM-related outreach to communities in need in the U.S. and abroad.  
On campus students' in-person experience may include live rehearsals and streamed performances of traditional and newly composed works, in addition to the opportunity to participate in all online activities.  
All MITWE students will have ample opportunities to bond musically and personally through regularly online sessions related to the course and other social opportunities such as music-based game and film nights.  
REHEARSALS
M/W, 7-9:30pm 
2 hours (M/W 7-8pm) synchronous per week with Time Zone accommodations. 
Remaining 3 hours a combination of synchronous and asynchronous, allowing for flexibility.  
For those not on campus and not on EST, we will find solutions to accommodate you. 
NOTE:  Meeting times subject to change 
CONCERTS
Virtual/Live Streamed Concerts TBD 
SPRING 2021 AUDITIONS
Dr. Frederick Harris, Music Director (fharris@mit.edu)
MIT community members and non-MIT community members also are welcome to audition. MIT and Wellesley College students may take MITWE for 6 units of credit.
NEW students auditioning for MITWE will do a Zoom audition w/ Fred Harris. They will be held January 28 & 29 and February 8. 
*If none of the available audition days/times work for you, or, if you wish to audition earlier than January 28, contact Dr. Harris (fharris@mit.edu) directly to set up a time. 
RETURNING MITWE students do not need to audition.
The Zoom audition will include:
A three-minute example of a piece of your choosing (excerpts from a longer work, an etude, etc.) demonstrating—if possible—slow and legato playing, and faster, articulated playing.
Excerpt from the piece Firefly​

Prepare the given pages (trumpet players can choose between 1st and 2nd parts).

Brief sight-reading
*PERCUSSIONISTS: It's ONLY necessary for you to prepare a three-minute example of your playing. As most of you won't have access to a mallet instrument or to timpani, it is fine to only play snare drum. However, if you have older videos/audio examples playing those instruments, please feel free to share those with me.
If you have questions about the ensemble, concerts, or audition requirements, contact Fred Harris at fharris@mit.edu If you have any questions/concerns or need assistance with the virtual audition, submitting materials, needing access to an instrument, etc., contact MITWE manager David Stevens at davidms@mit.edu.