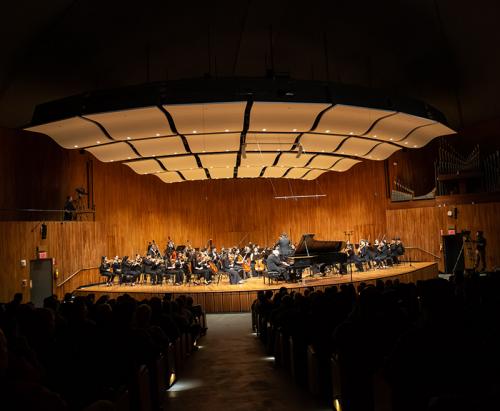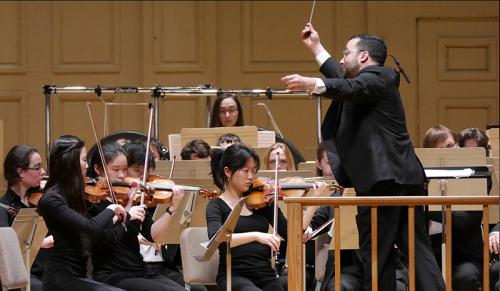 Evan Ziporyn, Acting Director for 2019-20 Academic Year
Adam K. Boyles, Director
Symphony Orchestra may be taken for credit: 21M.421
Spring Auditions
Interested in becoming a member of MITSO for the Spring? Auditions will take place in Kresge Auditorium on Tuesday, February 4th between 4:00-7:00pm. Sign up using the red link at the bottom of this page. Questions about auditions? You can contact Andy Wilds at awilds@mit.edu or Evan Ziporyn at zipo@mit.edu.
REHEARSALS
T/Th, 7:30-10pm (Held in Kresge Auditorium)
Past Concerts This Season (2019-20)
October 10, 2019
The Heart is a Bell
• Vitezslava Kapralova, Suita Rustica
• Evan Ziporyn, Frog's Eye
• Iva Bittova, Zvon (US premiere)
November 22, 2019​ - 8:00pm
Ambient Classical
• Erik Satie / Ziporyn, Gymnopedies XYZ
• Richard Wagner, Preludes from Das Rheingold and Lohengrin
• Felix Mendelssohn, Capriccio Brillant (Jansson, piano soloist)
• Pauline Oliveros, Meditation for Orchestra
• Robert Fripp and Brian Eno, Evening Star  (US Premiere)
March 13, 2020
MITSO & Film
MIT Sounding Series: Annual Rick & Terry Stone Concert
Join MITSO for an evening of film music by John Williams, Angelo Badalamenti, and Harry Manfredini, plus the world premiere of new settings of classic film noir title sequences by Don Byron (with film). The second half will feature the US premiere of Tod Machover's Toronto City Symphony, with new sections created in collaboration with MITSO members!
Program:
Harry Manfredini, Friday the 13th Suite
Angelo Badalamenti, David Lynch Suite (Blue Velvet, Mulholland Drive, Twin Peaks)
John Williams, Devil's Dance from Witches of Eastwick
Don Byron, Saul Bass Title Sequences *World Premiere*
Tod Machover, Toronto City Symphony (MIT Version)
AUDITIONS
The MIT Symphony Orchestra holds auditions, by appointment, in the fall and spring. MIT and Wellesley students may take MITSO for 6 units of credit. All local students, MIT community members, and non-MIT community members are welcome to audition.
Auditions for new and returning members will be held by appointment only during the first week in September. 
Audition Requirements
There are three parts to the audition:
1. Prepare a one-minute example of a piece of your choosing (an excerpt from a longer work, an etude, anything is fine). 
2. You will be asked for the memorized execution of scales in any key, selected from Major, Natural Minor, Melodic Minor, or Harmonic Minor. You can perform them at your own pace, articulation, bowing, etc. provided it remains steady in tempo.
3. Please choose and prepare any 2 pages of the 4th movement from Beethoven Symphony no. 9. Use the following link for access to free parts:
https://imslp.org/wiki/Symphony_No.9%2C_Op.125_(Beethoven%2C_Ludwig_van)
I'm looking to see how well you independently prepare a new piece. All matters of interpretation are up to you.
If your instrument does not participate in Beethoven 9 (i.e. Tuba, Saxes, Piano, Harp), then please prepare a longer work of your choosing.
The whole audition should be approximately 12 minutes.
*Emphasis is balanced toward execution of good fundamentals over virtuosity*
Register for Symphony Orchestra Audition Here