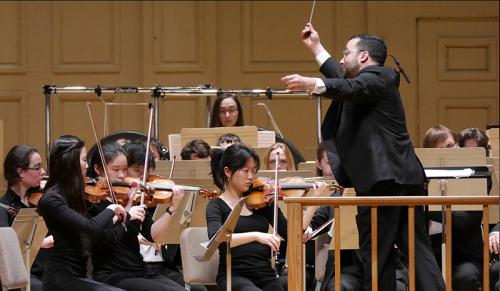 Adam K. Boyles, Director
akboyles@mit.edu
Symphony Orchestra may be taken for credit: 21M.421
REHEARSALS
T/Th, 7:30-10pm (Held in Kresge Auditorium)
AUDITIONS
The MIT Symphony Orchestra holds auditions in both fall and spring. MIT and Wellesley students may take MITSO for 6 units of credit, but one need not take MITSO for credit to fully participate. All local students, MIT community members, and non-MIT community members are welcome to audition. 
Please read the following carefully as there are two ways to audition.
-----
For potential new orchestra members:
Auditions will be in person September 6th and 7th. You will be asked the following:
 
- A solo of your choosing (concerto, etude, etc.) to be no longer than 2 minutes. Pick the spot which shows off your fundamental skills the best.
 
- 4-5 scales of the MD's choosing (to be chosen from all major, harmonic minor, natural minor, melodic minor, chromatic). You can perform them at your own pace, articulation, bowing, etc. provided it remains steady in tempo. Do not schedule an audition if you don't know your scales - I take these very seriously.
 
- Short sight reading(s), mostly focusing on rhythm.
 
The whole audition is approximately 10-12 minutes. 
 
First MITSO rehearsal is Thursday September 8, 7:30pm, Kresge Auditorium.
 
New Winds/Strings Players: Register for a MITSO Audition Here
New Percussionists: Register for a MITSO Audition Here
-----
For members of MITSO in 2021-2022:
- Prepare the entirety of Bartok's BLUEBEARD'S CASTLE, and be ready to execute any section. These parts are still available on Canvas. You will be expected to be close to tempi where printed, and reasonably interpret tempi where a metronome mark is not specified. Strings, please do the bowings. For everyone, audition on the 1st part of your instrument.
- Please submit this interest form, prior to September 2 at 4pm that you will be submitting an audition video. On Sunday September 4, I will send you an email with the sections I'd like you to perform. These are to be filmed in one continuous take skipping many bars of rest but counting exactly just a few beats of rest in any given passage. Your video must be submitted by Monday September 5 at 11:59pm.