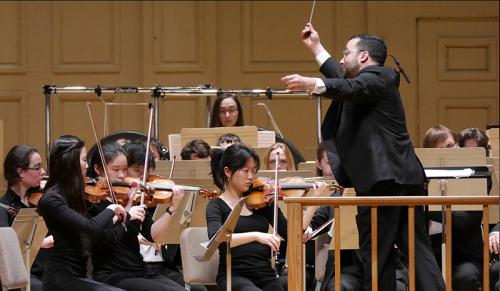 Adam K. Boyles, Director
akboyles@mit.edu
Symphony Orchestra may be taken for credit: 21M.421
REHEARSALS
T/Th, 7:30-10pm (Held in Kresge Auditorium)
Watch MITSO's Spring 2020 concert: Re-Awaken (April 30, 2020)
AUDITIONS
The MIT Symphony Orchestra holds auditions in both fall and spring. MIT and Wellesley students may take MITSO for 6 units of credit, but one need not take MITSO for credit to fully participate. All local students, MIT community members, and non-MIT community members are welcome to audition. 
For Fall 2021, auditions will be done almost entirely by video submissions. Video links must be submitted via the Video Submission Form by September 1 at 11:59pm.
For the video, please fully prepare the first ("Circenses") and last ("La befana") movements of Respighi's Feste Romane (parts available here). For instruments with more than one option, please prepare the 1st part (i.e. 1st violin, 1st flute, 1st trombone, etc.). Videos must be unedited, one-shot takes.
Percussion: Your auditions will be slightly different. Please prepare the timpani parts from the first and last movements as above, but please also prepare one etude on snare drum, and one on marimba or xylophone. If you do not have access to appropriate instruments, please let us know, and we can try and procure access to the percussion studio, if possible by that time. In lieu of that, please be in touch with the Andy, and we'll figure something out.
Following video submission, you might be asked to give an in-person audition. These would take place on Tuesday Sep. 7 or Wednesday Sep. 8. You will be provided with a link to sign up for a callback if requested. This audition would consist of the following:
- Selections from the previously prepared work as requested by the Music Director
- 3-4 scales of the MD's choosing (to be chosen from all major, harmonic minor, natural minor, melodic minor, chromatic). You can perform them at your own pace, articulation, bowing, etc. provided it remains steady in tempo
- Short sight reading
The whole audition would be approximately 10-12 minutes. Results will be emailed upon completion of the final audition.
First MITSO rehearsal is Thursday September 9, 7:30pm, Kresge Auditorium.
Please direct questions or concerns to MITSO Manager, Andy Wilds at awilds@mit.edu.