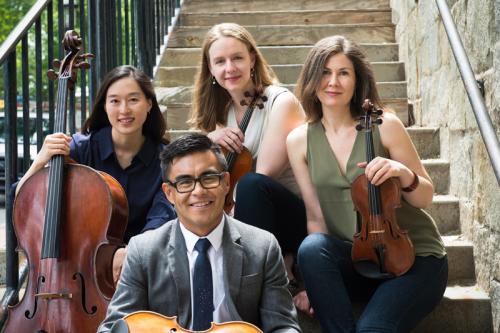 David Kravitz, baritone, and the Arneis String Quartet perform works for baritone and string quartet based on the poetry of Walt Whitman.  The program will include: Being Music, for baritone & string quartet with text by Walt Whitman, excerpted from Song of Myself; music by Charles Fussell; Two settings of A Supermarket in California, for baritone and string quartet with text by Allen Ginsberg; music by Andy Vores and Elena Ruehr (both settings composed for David Kravitz and the Arneis Quartet); Howl, for speaker & string quartet with text by Allen Ginsberg; music by Lee Hyla.
A Note about the program
This program centers on the numerous connections between two great American poets: Walt Whitman (1819-1892) and Allen Ginsberg (1926-1997).  Whitman has been described as the "father of free verse" and as "its first universally recognized master"; whether or not those descriptions are strictly accurate, he was certainly among the earliest and most influential American practitioners of it.  Among the many poets inspired and influenced by Whitman was Ginsberg, one of the 20th century masters of free verse.  Indeed, one writer (Jonah Raskin, in American Scream) argues that Ginsberg saw himself "as the successor to Whitman" and "seemed to think that if Whitman had been alive in 1955 he might have written Howl."  And Boston University professor Bonnie Costello writes that "Ginsberg is the closest we have to a modern Whitman.  He borrowed the incantatory lines, the lists and litanies.  Like Whitman, Ginsberg yokes the sacred and the profane. Ginsberg's expansiveness, his transcendental defiance of space and time, link him to Whitman."
In addition, although Whitman and Ginsberg lived almost exactly 100 years apart and therefore knew profoundly different Americas, both poets were deeply interested in America and the American experience – Whitman somewhat more optimistically than Ginsberg, it seems fair to say.  And both found themselves accused of obscenity by writing explicitly about homosexuality in their poetry.  (Ginsberg was openly gay; whether Whitman actually had sexual relations with men remains a topic of debate, but there seems to be little doubt that he at least inclined toward homosexuality.)
The text for Being Music is a brief excerpt (selected by the composer) from Whitman's epic Song of Myself.  It begins "Now I will do nothing but listen, to accrue what I hear into this song," and then launches into a litany of sounds that the narrator hears, seemingly as he is walking around America (text: http://www.poetryfoundation.org/poem/174745 (section 26)).  
A Supermarket in California is a short work by Ginsberg, roughly contemporaneous with Howl, that describes an imaginary encounter Ginsberg has with Whitman (text: http://www.poetryfoundation.org/poem/177128).  
Finally, Howl is Ginsberg's most famous poem and probably defines the "Beat generation" of American writers as much as any single work does.  The Poetry Foundation's biography of Ginsberg describes Howl as "a long-lined poem in the tradition of Walt Whitman"; Costello says that "we might call it the anti-Song of Myself"(text: http://www.poetryfoundation.org/poem/179381 and http://www.poetryfoundation.org/poem/240700).  
The musical settings of Being Music and Howl are both late-20th century and have both been recorded (Sanford Sylvan/Lydian Quartet (Koch International Classics 1993) and Allen Ginsberg/Kronos Quartet (Nonesuch 1996), respectively).  I thought that A Supermarket in California would nicely tie the other two works together, since it imagines an actual meeting between Whitman and Ginsberg, so I asked Boston composers Andy Vores and Elena Ruehr to set the poem.  The two settings are quite different, adding an additional layer of interest. http://andyvores.com/, http://www.elenaruehr.org/. 
It should be noted that Howl contains sexually explicit language, and also deals frankly with the use of illegal drugs.
 
About the Arneis String Quartet
With "a conviction that commands attention" (Fanfare), the Arneis Quartet performs an eclectic range of programs from the standard to contemporary, including commissions of new works and interdisciplinary collaborations in New England and throughout the world. Playfully named after the Arneis grape—a varietal that is difficult to grow, but which yields an exquisite white wine—the Boston-based Arneis Quartet has brought their energetic approach and programming to traditional concert venues as well as salon style concerts and community outreach since 2009. Winners of the 2010 John Lad Prize and silver medal at the 2012 International Chamber Music Ensemble, the Quartet has received fellowships throughout the United States. Committed to new music, they have received a grant from Meet the Composer and performed at the Beijing Modern Music Festival and the Shanghai Conservatory of Music. The Quartet has been featured at the Modulus Festival in Vancouver and Lively Arts Series at Stanford University. A recording of the chamber music of composer John H. Wallace, called "Arneis Quartet and Friends", was released in 2016 on Centaur Records.
Since 2014, the Quartet has received critical acclaim for their ongoing Poetry and Music Series, performing musical works inspired by poetry and song with singers Tony Arnold, Charles Blandy, David Kravitz, and Krista River. They have performed all or portions of the series at Boston University, American Academy of Arts and Sciences, and Swarthmore College, with upcoming performances at MIT and the Portland Chamber Music Festival . The Quartet also collaborates often in presentations with author M.T. Anderson, having performed at the Brookline (MA), Providence (RI), and Middlebury (VT) Public Libraries.  
Committed to community outreach and music education, the Quartet has worked with music students at the Boston Arts Academy, Perkins School for the Blind, and the Boston Public Schools. Outside of their Boston home, the Quartet has taught master classes and served as a residency quartet at Point Counterpoint, Swarthmore College and Lyceum Music Festival. They have brought musical outreach to communities in California, Michigan, Ohio, and Reggio Emilia, Italy. All alumni of Boston University, the Quartet members are on the faculties of Boston University, St. Anselm College, and the Chestnut Hill School, and are the resident chamber music coaches for the Boston Youth Symphony Orchestra.
Arneis Quartet Photo Credit: Liz Linder