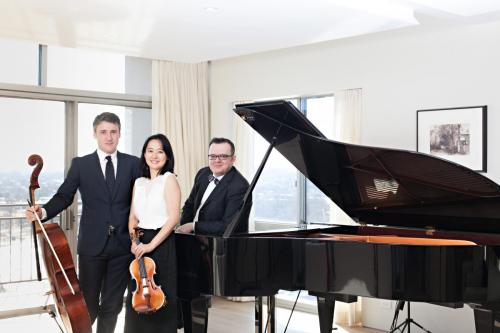 Ellipsis Trio, one of New England's premier piano trios, will be performing works by Ives, Foote, and Iwanek on Saturday, March 21 at MIT's Killian Hall. The concert program is Charles Ives' Piano Trio, Arthur Foote's Piano Trio No. 1, Op. 5, in C minor, and a new piece for piano trio by Polish­-American composer Igor Iwanek, commissioned by Ellipsis.
Come enjoy this evening of music by New England composers, spanning from the late 19th century to the present day. The two trios by Arthur Foote and Charles Ives represent a cross­section of American music at the turn of the 20th century. Contrast Foote's lush piano trio, which is full of old world romance, with the distinctly American idioms of Ives' trio that launched a new tradition of musical experimentation in America. Polish­American composer Igor Iwanek is greatly interested in the mystical relationship between music and geometry. His trio, to be named, was written for Ellipsis Trio and will be given its world premiere in this fourth part of MIT's American Experiment series.
Ellipsis Trio, Amanda Wang '03, violinist, Patrick Owen, cellist, and Konstantinos Papadakis, pianist, will perform at 7:30pm at MIT's Killian Hall, 160 Memorial Drive, Cambridge, Mass. on Saturday, March 21.
Tickets: http://ellipsistriomit321115.brownpapertickets.com/