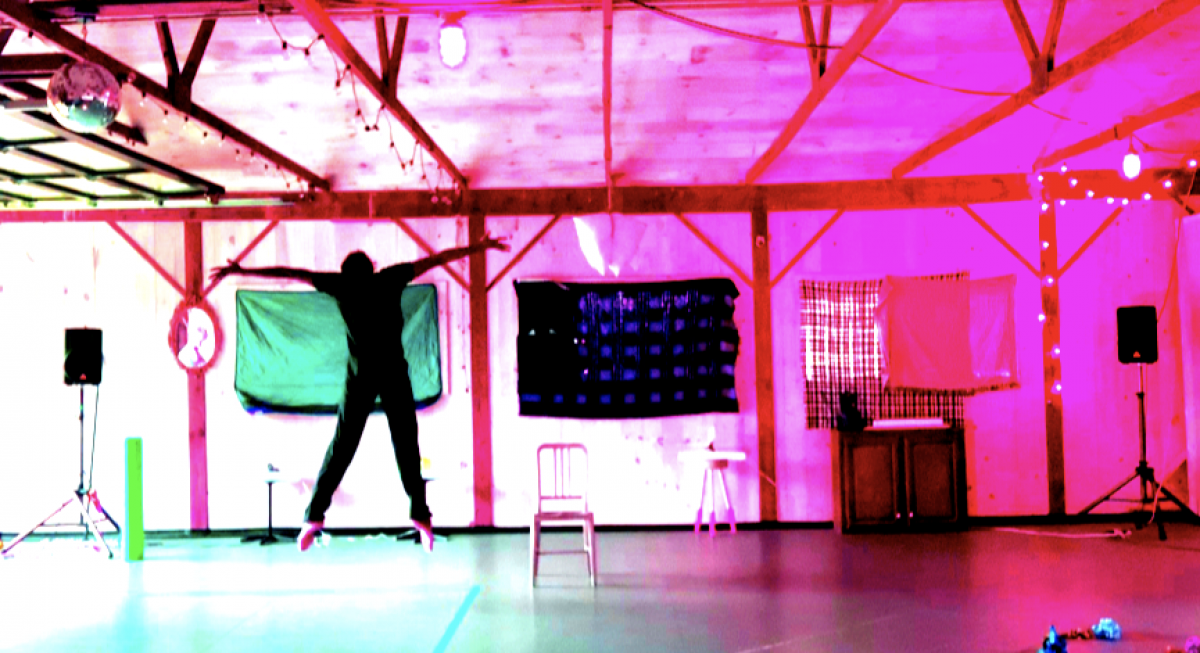 ---
A Witness Relocation Production
The House of Cards
Text by: Chuck Mee
Performer / Co-Choreographer: Marcus McGregor
Director / Choreographer: Dan Safer
Original Music / Sound: Christian Frederickson
Voice Over: Kevin Mambo and Angela Winkler
Projections: Tom Kalin
Artist Talk moderated by:  Prof. Jay Scheib following the performance, with Marcus, Dan, and Christian in person, Chuck on Zoom, and possibly more TBA.
A solo for performer Marus McGregor, acclaimed dancer, former member of both Dance Theater of Harlem and Feld Ballet, NY.
Directed/ co-choreographed by Dan Safer (MIT Theater Arts faculty), director of Witness Relocation, an NYC based, internationally performing dance/theater company (www.witnessrelocation.org). Dan's work has been seen everywhere from the back rooms of bars in NYC to Théâtre National de Chaillot in Paris to a giant leaky warehouse at a dance festival in Poland where a light fell off the grid halfway thru a show and almost killed him. He recently choreographed "Jedermann" at the Salzburg Festival.
Sound and Music by Christian Frederickson (MIT Theater Arts faculty), Christian is a violist, composer, and sound designer who specializes in live music performance for theater and dance. He was a founding member of the instrumental band Rachel's, who released 6 albums between 1995 and 2003 and toured extensively in North America and Europe. As a solo artist, Frederickson has released 7 albums since 2011 which are all available on bandcamp. He teaches sound design and podcasting at MIT.​
Script by Chuck Mee. His plays have been performed at Signature Theatre, Brooklyn Academy of Music, New York Theatre Workshop, The Public Theater, Lincoln Center, the Humana Festival, Steppenwolf, American Repertory Theater, and other places in the United States as well as in Berlin, Paris, Amsterdam, Brussels, Vienna, Istanbul and elsewhere. Among other awards, he is the recipient of the Award of Merit Medal for Drama, given for outstanding achievement from the American Academy of Arts and Letters.
Voice Over by Kevin Mambo (acclaimed stage and film actor, the lead in "Fela" on Broadway, Lynn Notage's Pulitzer winner "Ruined", "Luke Cage" on Netflix, currently filming "Rustin", George C. Wolfe's follow up to "Ma Rainey's Black Bottom") 
Voice Over by Angela Winkler (star of German New Wave Cinema including Volker Schlondorff's "The Tin Drum", Netflix show "Dark", stage productions at the Berliner Ensemble, Schaubühne, and frequent collaborator with directors Robert Wilson and Romeo Castalucci)
Projections by flim maker Tom Kalin, a leading artist of the New Queer Cinema, director of "Swoon", "Savage Grace" (starring Juliane Moore and Eddie Redmayne), original member of ActUp and Gran Fury.
This piece has been developed over the pandemic, starting in early September of 2020. Dan and Marcus added each other to their "pods" and began meeting to rehearse once/week. More artists joined as the work developed. We have been fortunate to have in person rehearsals with Dan, Marcus, and Christian, and to work remotely with Tom Kalin and Kevin Mambo. Angela Winkler's voice over was recorded on an iPhone in a dressing room in Austria before a show at the Salzburg Festival that Dan was choreographing this past summer. Kevin recorded his VO in Maryland and several other locations. It has been a mix of methods, with the original goal of just finding ways to make something together and has taken on a life of its own. Chuck Mee is a close collaborator with Dan Safer/ Witness Relocation, and has written three scripts the company has World Premiered. He often writes about love and the end of the world, so is the perfect person to give words to this.