Following the success of his 2016 MIT large-scale concert and subsequent New England Emmy-winning documentary about that event, two-time Grammy winner Jacob Collier returns to MIT for a new concert experience including music yet to be heard along with selections from his celebrated debut album "In My Room."
With the MIT Festival Jazz Ensemble, three MIT choirs (Concert Choir, Chamber Chorus, William Cutter, Director, and Vocal Jazz Ensemble, Laura Grill Jaye, Director), a symphony orchestra comprised of MIT and area music students, and Collier's new band, this premiere event includes innovative collaborative arrangements.
Co-produced by MIT's Center for Art, Science & Technology (CAST) and MIT Music and Theater Arts, Music Director Frederick Harris, Jr. collaborates with Ben Bloomberg, Peter Torpey, and the MIT musical community and beyond exploring Jacob Collier's latest creative wonders.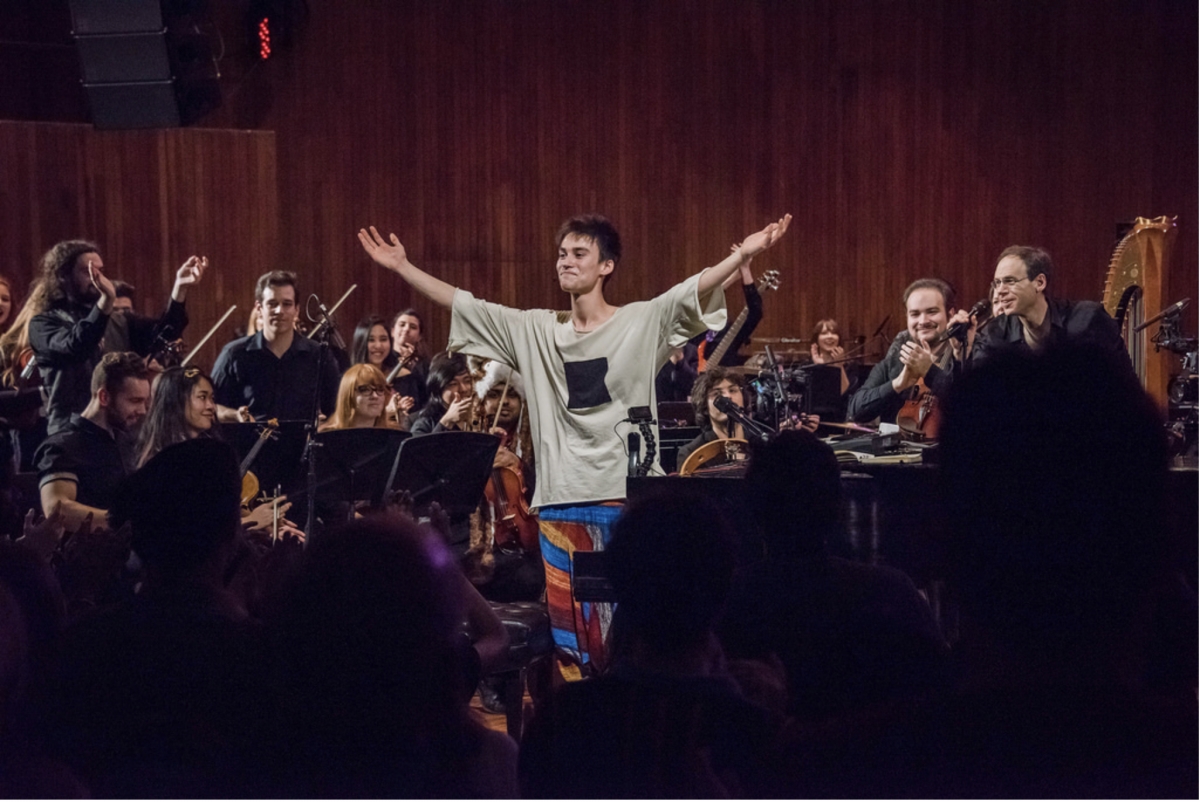 Jacob Collier is a multi-instrumentalist, singer, arranger, composer and producer, based in London, England. Hailed by many as one of the most prodigious and innovative musicians and thinkers of his generation, Jacob has proven himself worthy of every superlative that has been used to describe him. Spreading joy amongst a multitude of generations with a glorious child-like energy, an old soul, a knowledge of music that is second-to-none, and a tremendous warmth of humanity, Jacob's style is flabbergastingly unique, combining elements from every genre under the sun — and his world is easy to get lost in.
Jacob, who is mostly self-taught, has been creating music for all of his 23 years. In 2012, he began to share some of these creations with the world via YouTube. These self-produced multi-layered multi-tracked audio-visual creations, borne from his family home in London, began to attract ears from all over the world, racking up tens of millions of views. One day in 2013, Quincy Jones' ears reached Jacob's sounds, and he signed Jacob to his management label, to help bring some of his ideas to life.
In 2016, Jacob released his debut album, "In My Room", which was entirely self-recorded, arranged, performed and produced in his home in London.
Jacob then set out to bring his room to the stage. With the help of MIT PhD student Ben Bloomberg, he designed and built a groundbreaking one-man live performance vehicle which defies the musical laws of nature, featuring a circle of musical instruments, six simultaneous multi-instrumental loopers, a custom-designed vocal harmoniser instrument, a real-time reactive multi-Jacob video screen, and one Jacob in the centre of it all, The first ever performance was held at the Montreux Jazz Festival, 2015, where Jacob opened for Herbie Hancock and Chick Corea. Minds were blown; goosebumps were risen. Jacob set out to tour the world.
From winning two Grammy awards for his debut album, to playing 150 shows in 26 countries on his One-Man-Show World Tour; to collaborations with Hans Zimmer, Herbie Hancock, Pharrell, Tori Kelly, Snarky Puppy, Metropole Orkest, Samsung and Apple; to speaking at the TED Conference 2017; to harmonising hundreds of fans' #IHarmU melodies to crowdfund his musical adventures; to teaching masterclasses and confounding music theorists around the globe with chords and rhythms that shouldn't exist; to improvising circlesongs with musicians on the streets of the world; to simply walking through the rain