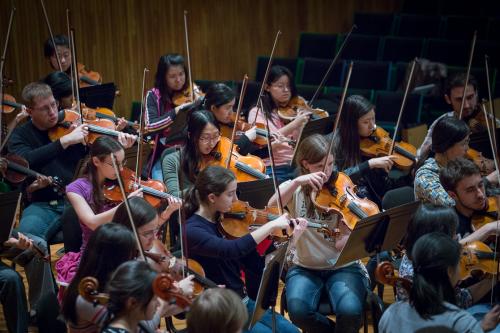 MIT Symphony Orchestra, Adam K. Boyles, director. 
The program will include a performance of Schumann, Piano Concerto, Movt. 1 by pianist Sarah Rumbley (G)
 winner fot he 2015 MITSO Concerto Competition. Also on the program is Mahler, Symphony No. 4 with guest conductor Prof. Kevin Noe, and soprano Catherine O'Rourke Martin. 8pm, Kresge Auditorium.  General admission $5; Free, in advance via Eventbrite, to MIT community with MIT email address. Tickets at mitmta.eventbrite.com and at the door.
Kevin Noe Professor of Music, Director of Orchestras and Graduate Orchestral Conducting at Michigan State University College of Music. has commissioned and premiered more than 50 new works for orchestras and ensembles in the last ten years. Noe serves regularly as conductor, stage director, actor, writer, and filmmaker for a wide range of mixed-media, operatic, and theatrical productions. He is the executive artistic director and conductor of the Pittsburgh New Music Ensemble and works regularly at the Jacobs School of Music at Indiana University as a conductor of opera, symphony, and ballet.
Catherine Noe'Rourke is a lyric soprano who has enjoyed seasons with the Opera Theatre of Saint Louis, Central City Opera, Wexford Opera in Wexford, Ireland, Opera Boston, and here in Pittsburgh at Opera Theatre of Pittsburgh. She holds a Bachelors in Voice from the University of North Carolina at Greensboro, two Masters Degrees from the New England Conservatory in Boston, and continued graduate work at both the University of Michigan and Indiana University, where she met her now husband, and 15 year Artistic Director of PNME, Kevin Noe.