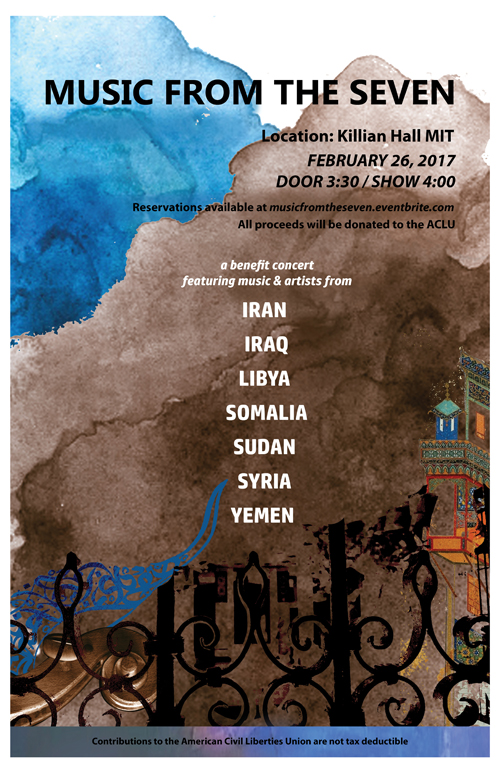 Brooklyn Nomads presents a benefit concert featuring music and artists from the 7 countries affected by the recent immigration executive order.   (Iran, Iraq, Libya, Somalia, Sudan, Syria, and Yemen).
The concert will feature Hadi Eldebek, Ramzi Edlibi, Nick Chbat, Naseem Al-Atrash, Navid Kandelousi, Mohamad Eldebek & more. 
The Program:
I. Botorai, Iran
II. Gul Nishan, Iran
III. Meye Naab, Iran
IV. Khatar Ghosn, Yemen
V. Samara, Yemen
VI. Eh Sar, Iraq
VII. Ya Mhammad, Iraq
VIII. Fogel Nakhel, Iraq
IX. Talaa men beit, Iraq
- Intermission -
X. Azaa, Sudan
XI. Sidaad ii ogeyd baan, Somalia
XII. Can't Take Our Freedom, Libya
XIII. Moher, Original
XIV. Deggol Mahabij, Lebanon, Syria
XV. Mayyil, Syria
XVI. Dizzani, Syria, Iraq
Performers (In alpha order by first name; formatted: First Name Last Name, Instrument - Country[ies] of Origin):
Abdalla Moussa, Vocals - Lebanon, US; Ahmed Al Shaiba, Oud - Yemen, US; Eylem Basaldi, Violin - Turkey, US; Firas Zreik, Qanun - Palestine; Hadi Eldebek, Oud - Lebanon, US; John Murchison, Bass - US; Khaled M., Vocals - Libya, US; Marie Kamal, Vocals - Egypt, US; Michael Ibrahim, Nay - Syria, US; Mohamad eldebek, Percussion - Lebanon, US; Mohamed Araki, Keys - Sudan; Navid Kandelousi, Violin, Kamancheh - Iran; Nourhan Kamal, Vocals - Egypt, US; Nick Chbat, Percussion - Lebanon, US; Ramzi Edlibi, Percussion - Lebanon, US; Sawsan Kizy, Vocals - Iraq, US; Shelley Thomas, Vocals - US; Zubin Hensler, Trumpet - US
All proceeds will be donated to the American Civil Liberties Union (ACLU), a national organization that works to defend and preserve the individual rights and liberties guaranteed by the Constitution and laws of the United States.  Please note: Donations to the ACLU are not tax-deductible.
The Brooklyn Nomads
was formed in 2014 by 
Hadi Eldebek
 to explore multicultural music from the diverse perspective of New York City. This concert is an expression of support and gratitude towards the rich melting pot of our city – and that of the entire United States – which enabled this group to come to life. We perform in solidarity with those affected by the Executive Order and seek to preserve the dignity, respect, and compassion of the United States.
In conjunction with this concert, Associate Professor Azra Aksamija is leading the following cultural awareness campaign: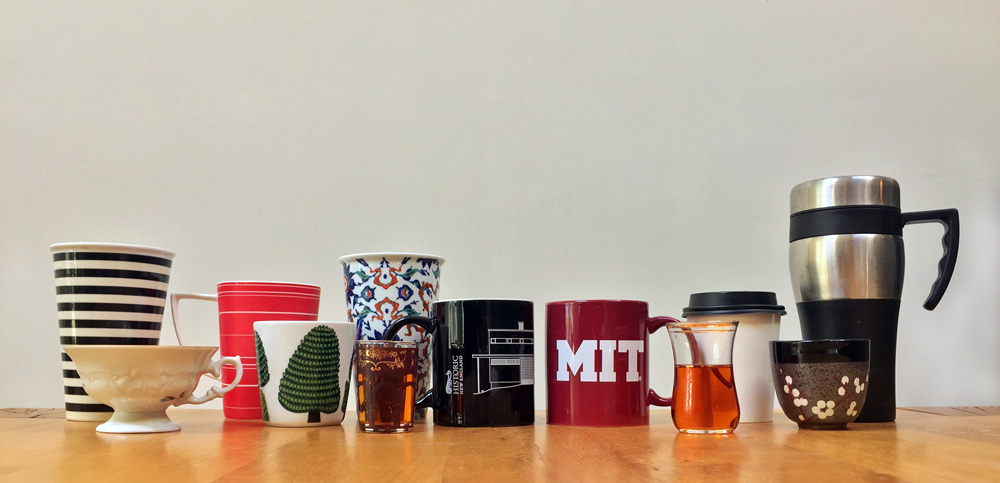 #onecommuniTEA –
aimed at promoting friendships across borders through transcultural tea parties. I invite you and your friends to enjoy the taste of different cultures by sharing a cup of tea. This campaign is created as a collaboration between a group of MIT students, faculty and staff, and is organized in support of this upcoming benefit concert
Music from the Seven
, by Brooklyn Nomads.  
Why am I doing this? As a member of the MIT community, I believe that what makes our university, this city, and this country great is its diversity, inclusion and openness to different cultures. I call on you to celebrate and cultivate this diversity by enjoying tea with your friends and sharing this experience with us. Images and messages from your participation in the #onecommuniTEA project will be used as a backdrop for this benefit concert.
 
Participate!
1. Have a tea party with your friends this week (2/20-2/25)
Invite your friends to a tea party, regardless how small or large, formal or informal. Enjoy drinking a tea from different cultures, mugs, and social situations – the main point is to celebrate your existing friendships and create new ones through joyful transcultural infusions.
 
2. Post images and messages of your tea party by 2/25
Document your tea party with captivating images and short statements about friendships across borders. Be a creative photographer: you can choose how you would like to document your tea party – for example, featuring various cups, messages on mugs, hand gestures, portraits of your friends, etc. – the main point is to create strong visual and textual messages. Post your images on your Instagram and our Facebook page using the following hashtags: #onecommuniTEA, #musicfromtheseven and #teaparty (this way, your images will also diversify the messages of the Tea Party). Your images will be used as a visual material for the " Music from the Seven" concert at MIT and its subsequent iterations in other places.