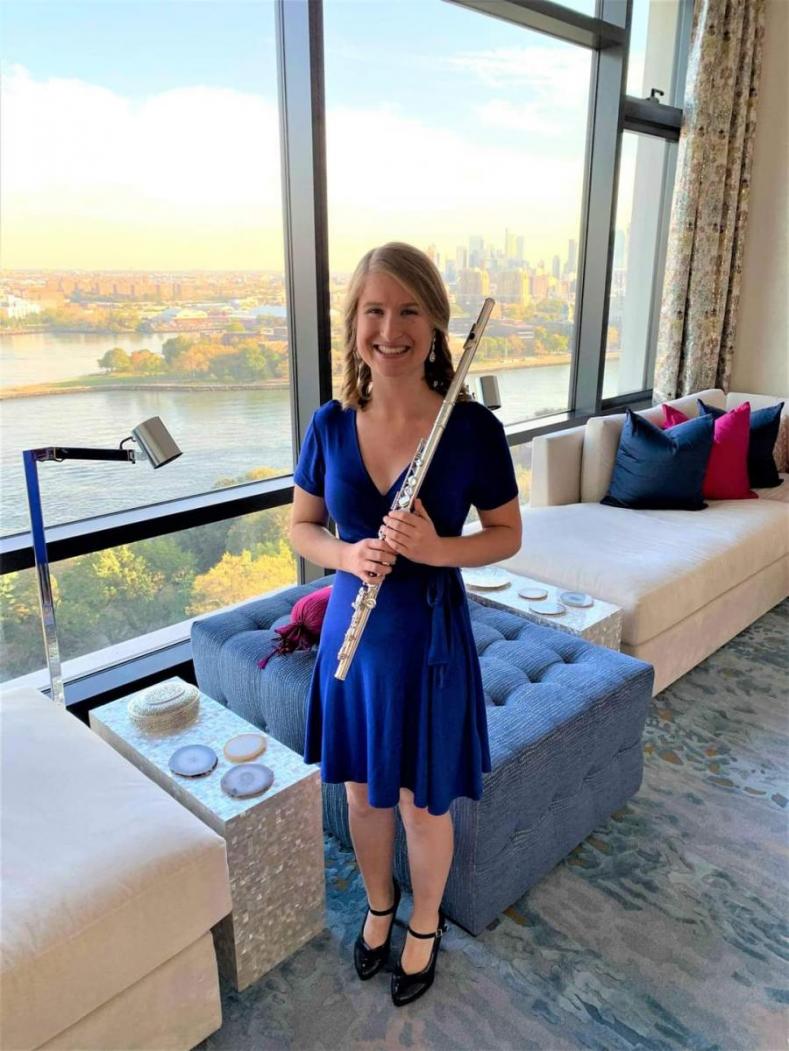 About the Performers
Sara Kornfeld Simpson is a third year PhD candidate in Brain and Cognitive Sciences at MIT. A recipient of the NSF Graduate Research Fellowship, she studies how experience affects the activity of neurons in the visual system. She graduated Summa Cum Laude from Boston University (BU) in 2018 with a dual degree, triple major in Neuroscience, Flute and Oboe Performance. She was named the BU Harry Hung Sheng Chou Trustee Scholar and a Davidson Fellow Laureate. Sara served as vice president of Nu Rho Psi, BU's Neuroscience Honor Society and published in two BU journals, The Nerve and the WR: Journal of the CAS Writing Program.In 2016, Sara conducted her first neuroscience research at an NSF REU program at the Scripps Research Institute and was funded to present her poster at the Association for Chemoreception Sciences 39thAnnual Conference, where she was named a finalist for the AChemS Undergraduate Research Award. She received the Mary Erskine Undergraduate Research Award from BU's UROP program to fund her study of learning and memory in Jeffrey Gavornik's lab, and successfully defended her senior thesis on this research. She received the Dean's Award for Academic Excellence (highest GPA in the graduating class) from BU's College of Fine Arts, and in 2017 was inducted into Pi Kappa Lambda, the music honor society. In her free time, Sara enjoys exploring Boston and Cambridge on foot, playing tennis, and, most recently, learning to bake sourdough bread. 
Sara began studying piano at age 4, flute at age 10, and oboe at age 11. Throughout high school, she performed in the San Diego Youth Symphony and many honor bands and orchestras, including the National Honor Concert Band, which was her Kennedy Center debut. She returned to this stage in summer 2014 as a member of the NSO's Summer Music Institute. At BU, Sara studied flute with Linda Toote and oboe with Mark McEwen, performed with the BU Wind Ensemble, Chamber and Symphony Orchestras, and chamber music ensembles, and presented junior and senior recitals on both instruments. Sara was a YoungArts winner in Classical Music/Flute in both 2014 and 2015, toured Europe with the Boston Philharmonic Youth Orchestra in summer 2015 (which included performing in the Berlin Philharmoniker), and performed with the Nova Scotia Symphony in the summers of 2015 and 2016. In 2017, she made her Jazz at Lincoln Center debut as the invited soloist for Society for Science and the Public's Alumni Event. She is now privileged to study flute with Elizabeth Klein, associate principal flute of the Boston Symphony Orchestra.
Pianist Eileen Huang is a frequent collaborator with the Boston-area's finest instrumentalists and vocalists. In recent seasons, Ms. Huang made her Rockport Chamber Music Festival debut alongside Boston Symphony Orchestra principal bass Edwin Barker and violinist Yevgeny Kutik, and appeared at the Tanglewood Music Festival with the Tanglewood Festival Chorus and BSO Associate Concertmaster Alexander Velinzon. Ms. Huang is a rehearsal pianist for Emmanuel Music and an accompanist for the Boston City Singers. She teaches on the music performance faculty at the Massachusetts Institute of Technology, where she has been an Affiliated Artist since 2010. Also an accomplished soprano, Ms. Huang has appeared as soloist with the Tanglewood Festival Chorus, Wellesley Choral Society, and Nahant Music Festival. Raised in New Jersey, Ms. Huang made her concerto debut at age 11 with the Battleground Arts Center Symphony Orchestra and was featured as a chamber musician at Alice Tully Hall at age 17. She received her training at the Juilliard School and the Aspen Music Festival and School, where she studied with the late Herbert Stessin, and holds a degree in chemistry from MIT.
About the Emerson Program
Funded by the late Mr. Cherry L. Emerson, Jr. (SM, 1941) the Emerson Program offers merit-based financial assistance for private lessons to MIT students of outstanding achievement on their instrument or voice in classical, jazz or world music via competitive auditions. Each academic year, the Emerson program for private study offers half scholarships and full scholarships to approximately 50 qualified students out of about 100 who apply and audition for scholarships and fellowships. Auditions are held at the start of the fall semester. Private teacher selections, made in consultation with the music faculty, may include instructors from MIT or from the greater Boston musical community. ​
Program
Sonata for Flute and Piano (1936)                                                            Paul Hindemith
                                                                                                                       (1895-1963)
I. Heiter Bewegt
II. Sehr Langsam
III. Sehr lebhaft - Marsch
Fantaisie brillante sur 'Carmen' (1877)                                                      François Borne
                                                                                                                        (1840-1920) 
Piéce pour Flûte Suele (1937)                                                                     Jacques Ibert
                                                                                                                       (1890-1962) 
Sonata for Solo Flute in A minor, Wq. 132, H 562 (1747)                             C.P.E. Bach
                                                                                                                      (1714-1788)
I. Poco adagio
II. Allegro
III. Allegro
Image pour Flûte Suele (1940)                                                                 Eugène Bozza
                                                                                                                     (1905-1991)