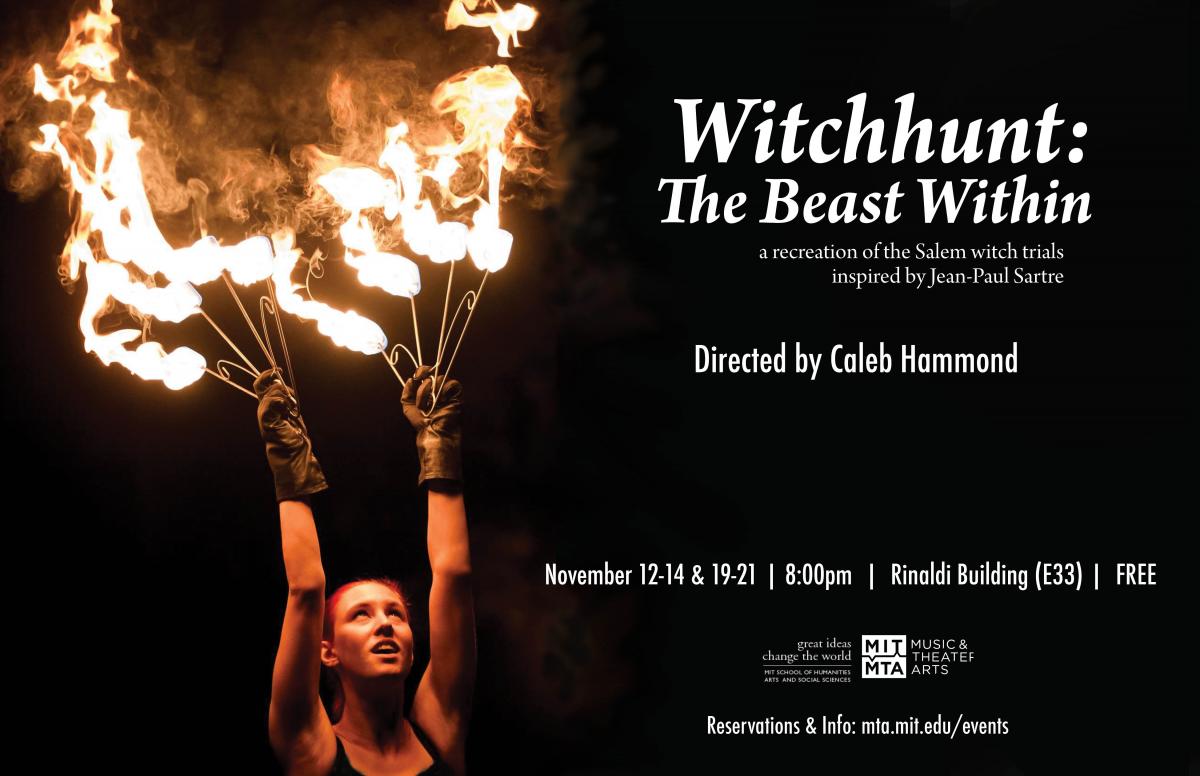 Dramashop Fall Production features Witchhunt: The Beast Within directed by Caleb Hammond
Witchhunt: The Beast Within is a stark, harrowingly real recreation of the Salem witch trials inspired by Jean-Paul Sartre's cinematic reaction to the chilling effects of both American McCarthyism and Soviet Stalinism. Under a web of suspicion and guilt by association, torrid affairs, political maneuvering and the terror of trial by fire interrogations ensue. The production team includes: Caleb Hammond, Director; Jennifer Compton, Assistant Director; Abra Shen, Assistant Director; Rachel Yang, Producer; Sara Brown, Scenic Design; Oana Botez, Costume; Design; Erik Lawson, Sound Design; Allison Schneider, Lighting Design; Susan Wilson, Stage Manager.
About the Director
Caleb Hammond has taught theater and art at Eugene Lang College (The New School), Carnegie Mellon University and the Hartford Art School. He has been a guest lecturer at Colgate University, Kingswood-Oxford and Toyama Glass Institute in Japan. Current projects include In the Night, a performance work premiering in Miami December 2015; direction of Anna Kohler's MYTHO?...or the lure of wildness, premiering in NY in 2016; and The Elegies, an ongoing series of video installations in collaboration with Japan-based glass artist Sean Salström. Recent work includes The Irresistible, adapted from Ibsen and Euripides at Immersive Gallery in Williamsburg; Exposure, a dance video screened at Norte Dance Festival in Porto, Portugal; a related dance performance: Live Exposure, presented by TSA and Transmitter galleries in Bushwick. Other works written and directed by Hammond have been presented at Highways Performance Space in Santa Monica; HERE Arts, NYC; The Incubator at St. Marks Church, NYC; The New Haven International Festival of Arts and Ideas; Underground Zero Festival, NYC; Divaldo Kampa in Prague, and ATA gallery in San Francisco. As an actor he has worked with John Jesurun, Jay Scheib, Shannon Sindelar and Hal Hartley. He has performed at The Kitchen, The Public Theater and PS122, Dixon Place and Surf Reality in NY; Maison des Arts, Paris Festival in Paris, The National Theater of Hungary, Budapest and The ICA Boston. He has been assistant director for several projects to MacArthur Fellow John Jesurun. His visual art as been exhibited at the Nishida Art Museum, Toyama Japan; Gallery 825, Los Angeles; The Copley Society, Boston; Visual Research, New Haven; Real Art Ways, Hartford and Vaudeville Park, NYC.