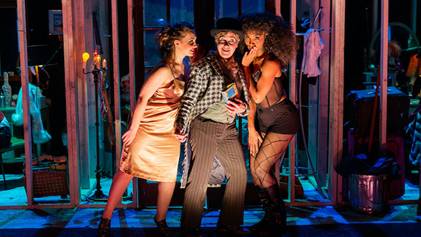 PHOTOS: Top- The Stone | Bottom - Vanity Fair
Lecturer in Theatre David R. Gammons has been nominated for several 2020 Elliot Norton Awards, the top honor for Boston-area professional theatre, which are hosted annually by the Boston Theatre Critic Association.
Gammons directed and designed the scenery for Kate Hamill's stage adaptation of William Makepeace Thackeray's novel Vanity Fair with Underground Railway Theatre at Central Square Theatre in Cambridge, which ran from January 23 - February 23, 2020.  The production was honored with four nominations: Outstanding Production, Outstanding Director, Outstanding Design (Gammons, Leslie Held, Jeff Adelberg, and David Wilson), and Outstanding Actress (Debra Wise). 
Gammons was also nominated for Outstanding Design for his scenic design for The Stone, directed by Igor Golyak at Arlekin Players last fall.
https://www.arlekinplayers.com/the-stone/
Gammons last took home the Elliot Norton Award for Outstanding Director in 2017 for his productions of Hand to God at SpeakEasy Stage and Edward II with Actors' Shakespeare Project.  MIT Director of Design Sara Brown also won that year for her Scenic Design for Edward II.