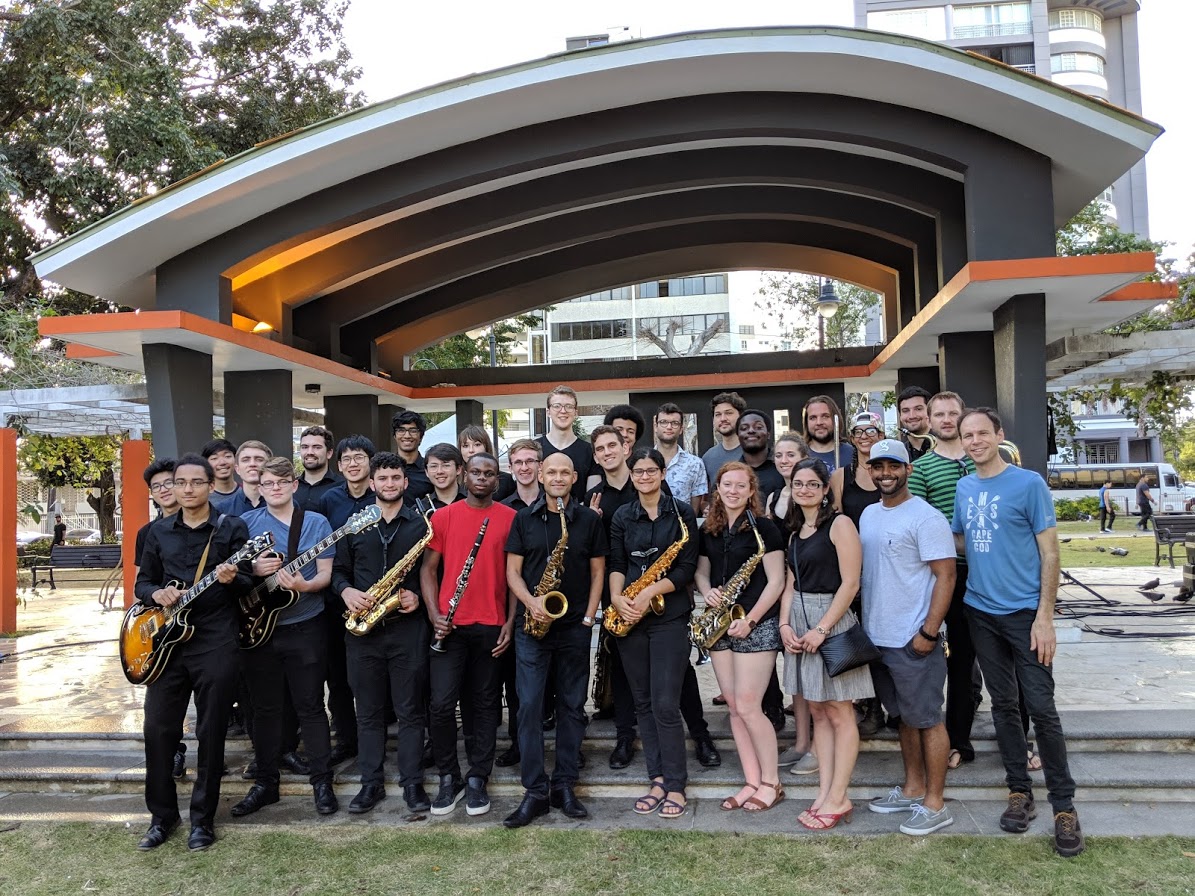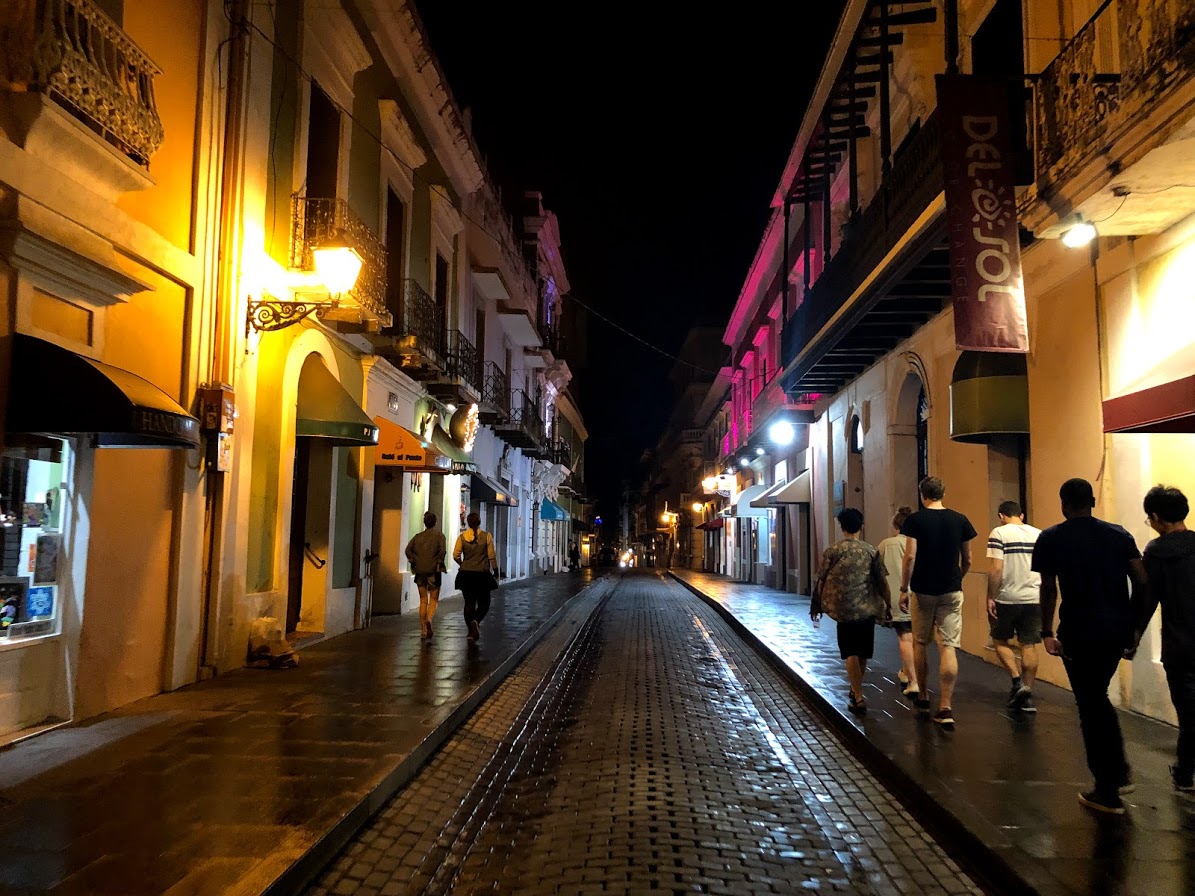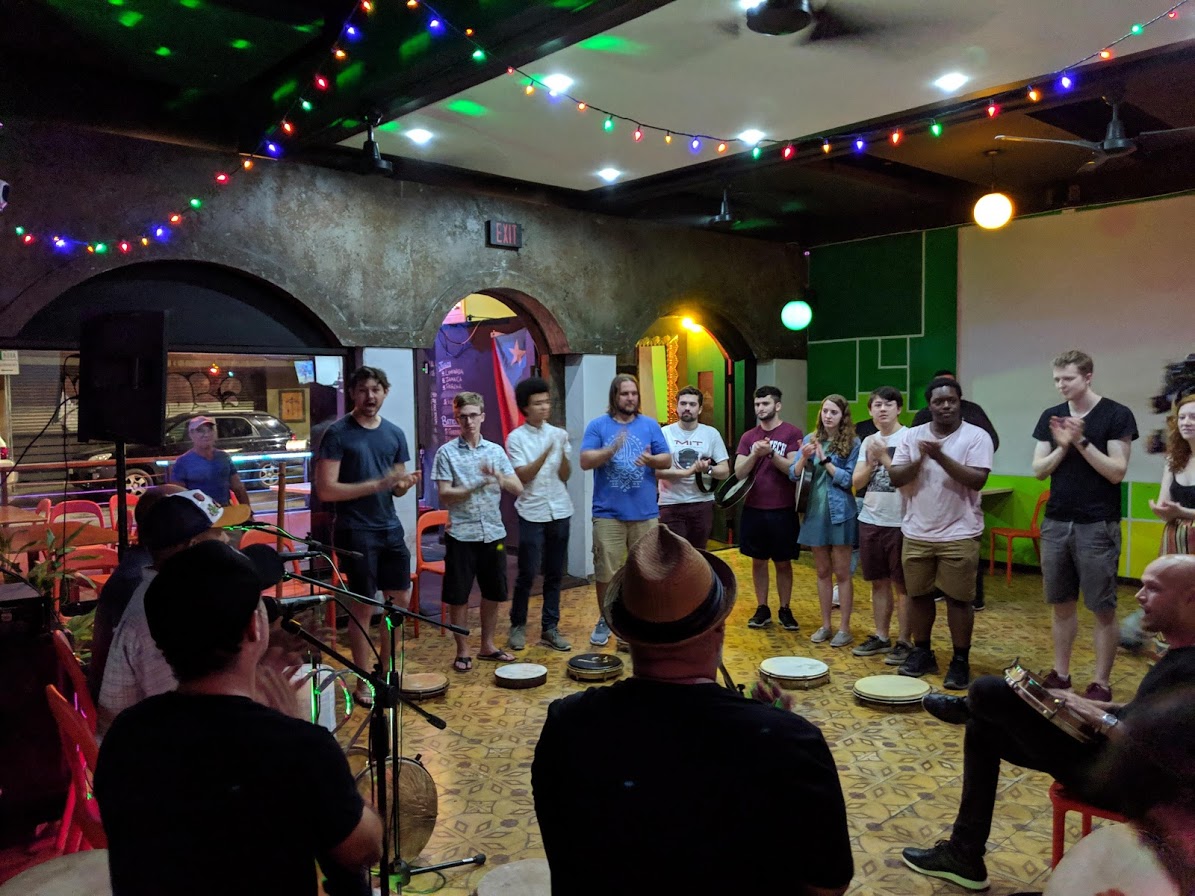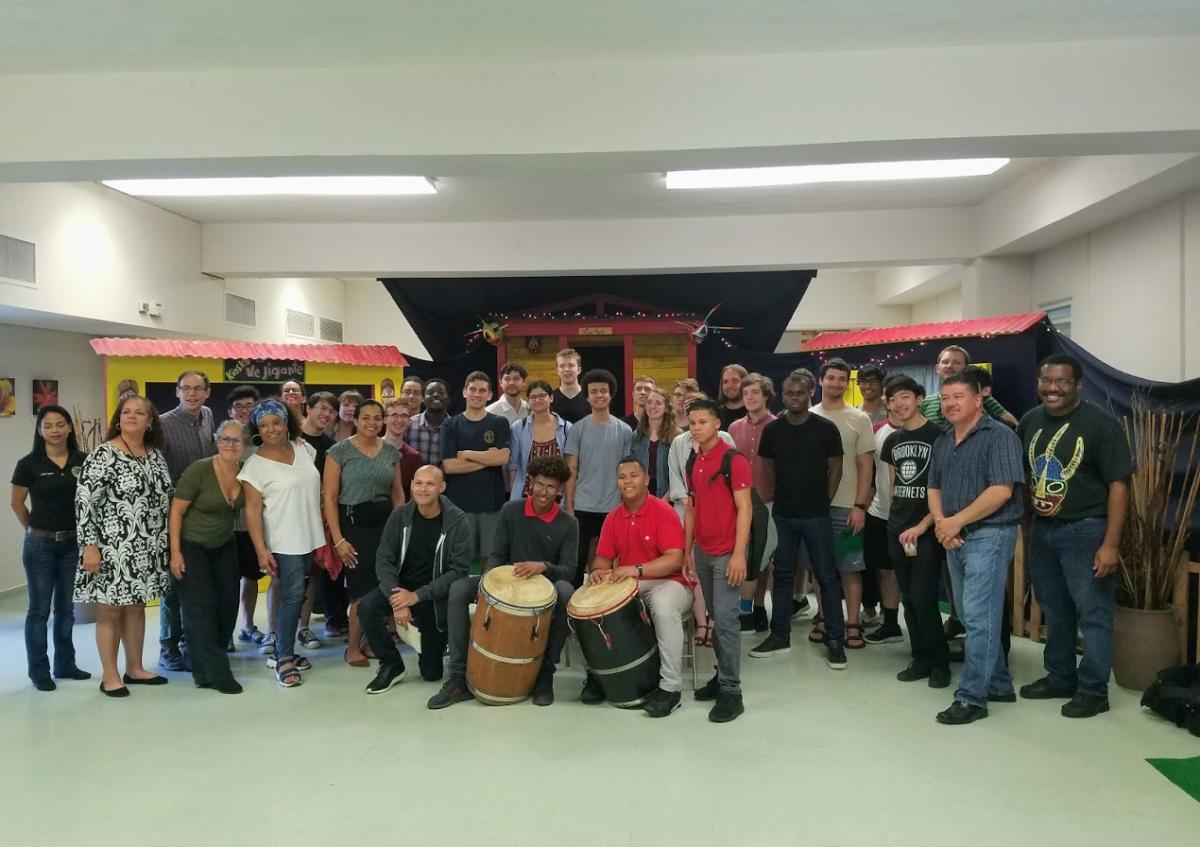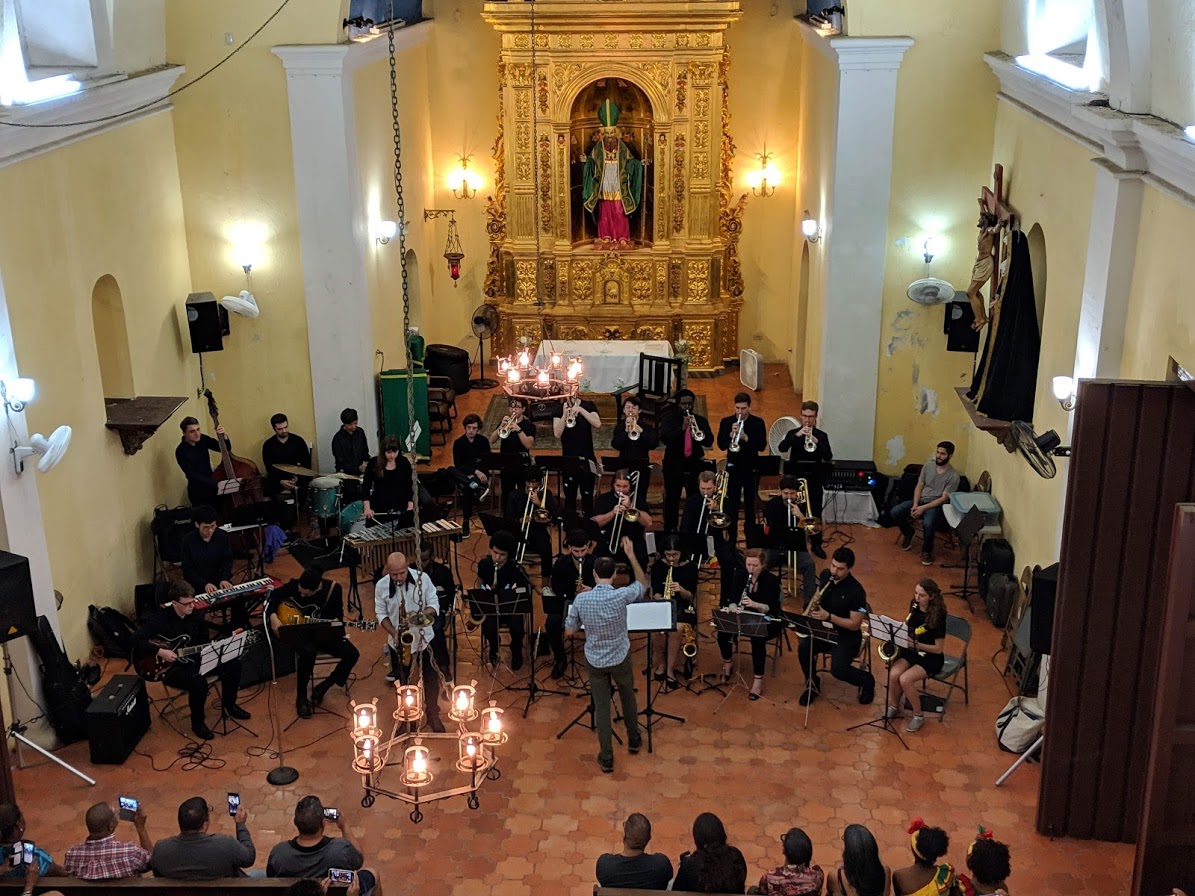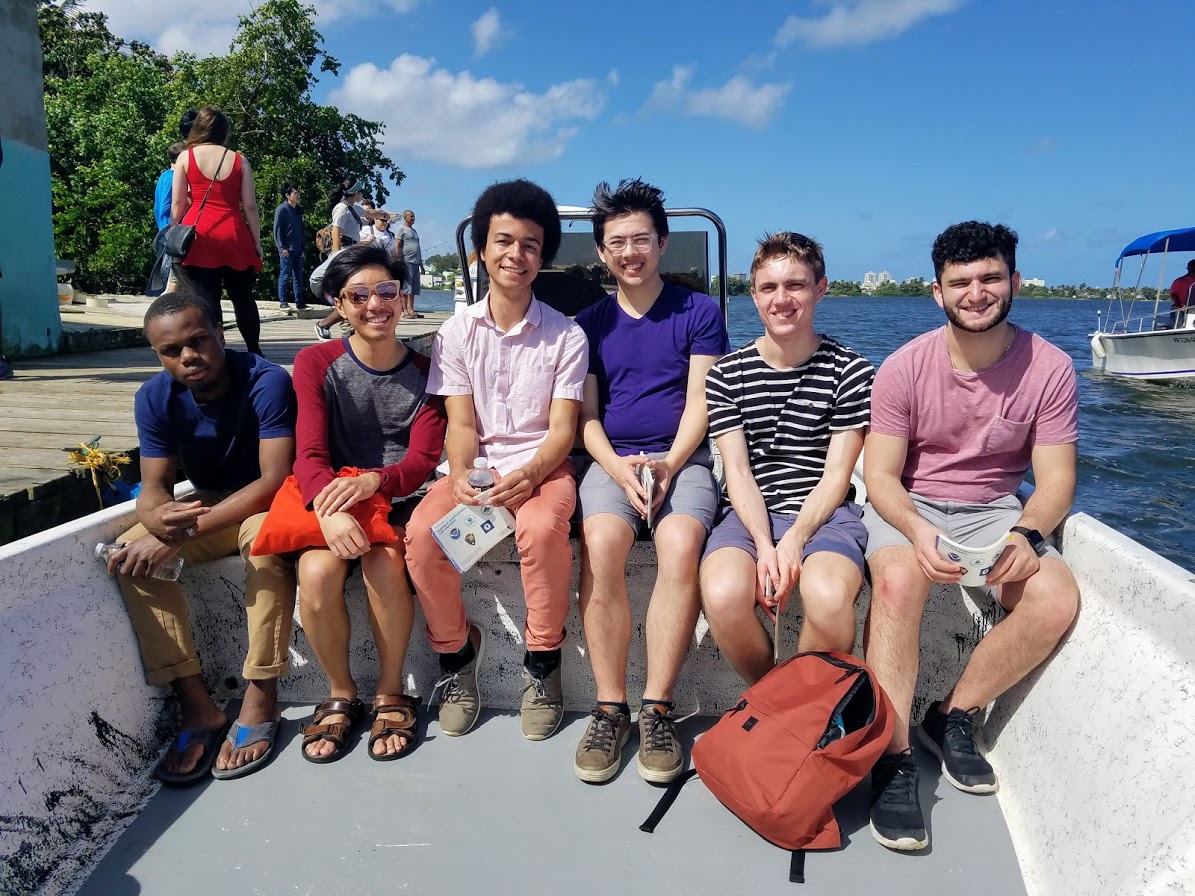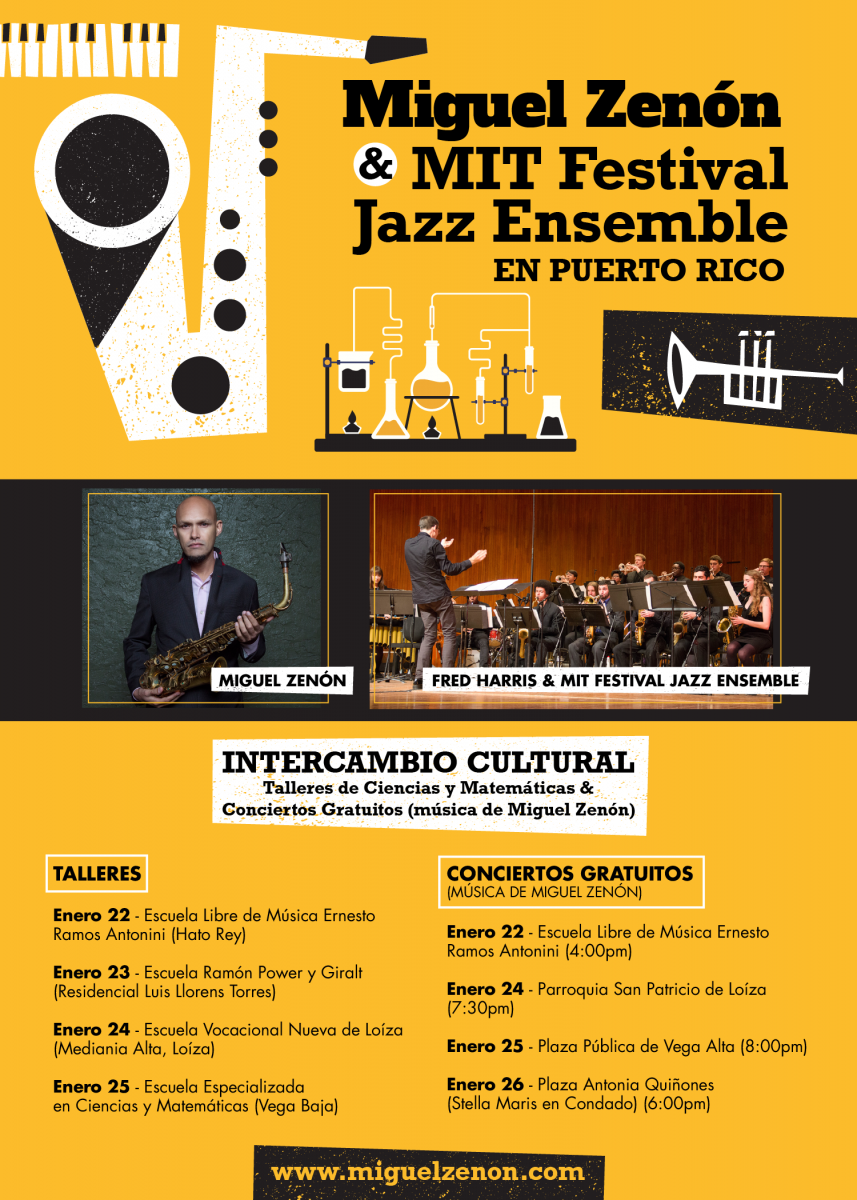 "The trip to Puerto Rico with the FJE exceeded all my expectations—I couldn't be happier about how everything turned out." 

—Miguel Zenón, renowned saxophonist-composer and MacArthur "Genius Grant" Fellow
January 21-27, 2019, the MIT Festival Jazz Ensemble engaged in an ambitious cultural exchange with Puerto Rico involving concerts, workshops on Puerto Rican music, classroom presentations in four high schools, and environmental explorations. "It was an incredible experience for all involved," noted FJE music director Fred Harris, "deep, emotional, and highly enlightening."
The trip had been planned since the fall of 2017 but was delayed because of hurricane Maria. For months, the Puerto Rican-born Grammy nominated saxophone giant Miguel Zenón, and Mariana Reyes, a Puerto Rican journalist, producer, and community activist shaped all the details of the tour.
It began with a day at Libre de Música San Juan Ernesto Ramos Antonini (grades 6-12), the only such school in Puerto Rico focused on music and other academic studies. After music workshops in the morning, MIT students gave ten different presentations on topics ranging from Math, Physics, and Climate Change, to Computer Science, A.I., Game Theory, Women in STEM, and Technology for Disaster Aftermath. The day ended with a joint concert before a packed auditorium, the first of four concerts that the FJE performed on different areas of the island. All concerts consisted of Zenón's music with the saxophonist as soloist.
FJE students continued their presentations at the Escuela Ramón Power y Giralt (a public high school in San Juan), Escuela Superior Vocacional de Loíza, on the northeastern coast, and Escuela Especializada en Ciencias y Matemáticas Brígida Álvarez in Vega Baja, in north-central Puerto Rico. The presentations were beautifully conceived and delivered by FJE members and enthusiastically received by students and teachers at all the schools.
Peter Godart, FJE pianist and Ph.D. candidate in mechanical engineering, presented his research on using locally available resources for emergency relief from natural disasters to professors at the Polytechnic University and to leaders from Puerto Rico's Waste Management Authority. Godart plans a return trip to connect with INESI (National Institute of Island Energy and Sustainability) in Mayagüez. 
Exposure to and participation with some key elements of Puerto Rican culture included masterclasses on plena by Tito Matos, director of the Grammy-nominated plena band Viento de Agua; a history of bomba drumming and dancing (a traditional Afro-Puerto Rican drumming and dancing genre) by Marcos Peñaloza, director of Majestad Negra; and jíbaro music, a genre of the countryside by Tony Mapeyé, a well-known jíbaro music performer. A private visit to Samuel Lind's Art Studio in Loíza—led by the artist himself—provided further insight into the art and culture of Puerto Rico.
Visiting some of Puerto Rico's natural environments and San Juan neighborhoods facing challenges were among the highlights of the trip. Hiking in El Yunque National Forest—the only tropical rain forest in the United States Forest System—and exploring the polluted and clogged Martín Peña Channel by boat, gave FJE members pause but also hopefulness upon learning of the positive efforts to dredge the troubled waterway. The opportunity to meet with community leader Cecilia Collazo in Santurce and learn of the damage hurricane Maria caused to an area already plagued with poor infrastructure and lack of leadership, was a stark and important experience.
A visit to Centro Esperanza, a community institution offering education, music lessons, and counseling services to people of Loíza and nearby towns, afforded some real-time brainstorming and problem-solving opportunities for FJE members. Topics ranging from acoustical treatments of music rooms to solar energy implementation to ideas to prevent the invasive iguanas from destroying the center's gardens were all explored. Similar brainstorming occurred back in San Juan at the site of the Goyco School Project, an effort by Mariana Reyes and others in her community to turn this abandoned school on Loíza street into a cultural and civic center.
The inspiration for Harris' dream of bringing the FJE to Puerto Rico was the music and artistry of Miguel Zenón. He and MIT/Harris have been collaborating since 2013. In 2016, the MIT Wind Ensemble premiered Zenón's Music as Service, the subject of the documentary film Call and Response: Creativity at MIT. In 2018, Zenón composed En Pie de Lucha (For the Resilient People of Puerto Rico), which was first performed at MIT and Hunter College in New York City.
Performing En Pie de Lucha four times in Puerto Rico had special meaning. "We'll all never forget how it felt to play that piece with Miguel on the soil of Puerto Rico," explained Harris. From playing in Parroquia del Espíritu Santo y San Patricio (constructed in 1645)—one of Puerto Rico's oldest Catholic parish churches—to headlining at the outdoor Vega Fest, in Vega Alta, the hometown of Lin-Manuel Miranda, to FJE's final concert in San Juan to a packed audience at Plaza Antonia Quinones, each concert was a passionate and meaningful event.
At the heart of the entire trip was connecting with the people of Puerto Rico. "Again and again we all experienced this incredible gratitude, kindness, passion, and pride that the people of the island possess," noted Harris. "We all gained so much from this experience. It enlarged our perspective and gave us renewed hope and energy for what resilience really looks like."
Special thanks to MIT Music and Theater Arts administration staff members Alexa Torres and Zachary Cadman (trip managers), and MTA Administrative Officer Michelle Carmichael for all of her support and logistical efforts.
A video crew from MIT Video Productions traveled with the FJE throughout and documented various aspects of the trip, including performances.  A video will be produced and shared during the spring semester.