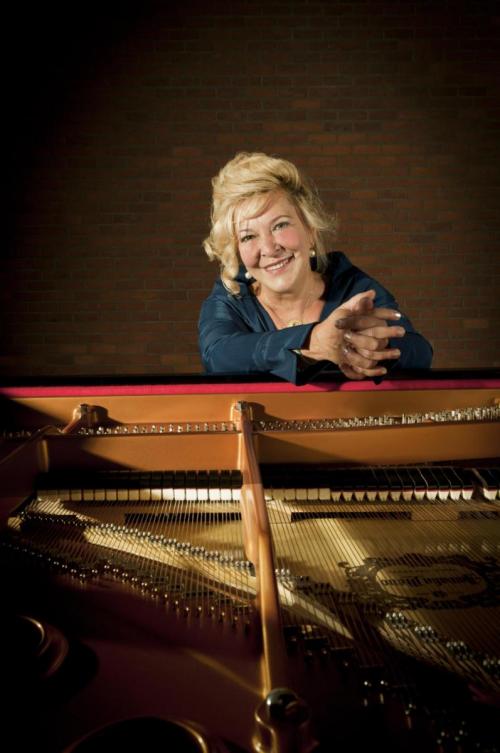 Turkish pianist Gülsin Onay will appear in recital at Killian Hall (14W-111) on Sunday, April 26 at 4pm.  Admission is free.
The program will include: Bach, Partita No. 1 in B-flat Major, BWV 825; Mendelssohn, Variations Serieuse, Op. 54;  Chopin,  Ballade No. 3 in A-flat Major, Op. 54, Nocturne in E-flat Major, Op. 9, No. 2, Mazurka in A minor, Op. 17, No. 4 and Sonata no. 2 in B-flat Minor, Op. 35.  In addition she will perform two preludes by Ahmed Adnan Saygun, Op. 45 Nos. 4 and 12. 
About Ahmed Adnan Saygun:
Saygun (1907 –1991) was a Turkish composer and musicologist. whose works show a mastery of Western musical practice, while also incorporating traditional  Turkish folk songs and culture.  His extensive output includes five symphonies, five operas, two piano concertos, one dedicated to Onay, concertos for violin, viola and cello, and a wide range of chamber and choral works. The Times (of London) called him "the grand old man of Turkish music, who was to his country what Sibelius is to Finland, what de Falla is to Spain, and what Bartok is to Hungary."
About Gülsin Onay
Turkish pianist Gülsin Onay graduated from the Paris Conservatory at the age of 16, winning the prestigious "Premier Prix du Piano." Prizes in top international competitions, including the Marguerite Long-Jacques Thibaud (in Paris) and the Ferruccio Busoni (in Bolzano), quickly followed. Her international, career has spanned 68 countries across all continents, from Venezuela to Japan with performances at the major musical centres of the world including: Amsterdam's Concertgebouw, the Berlin Philharmonic Hall, the Vienna Konzerthaus, London's Queen Elizabeth Hall and Wigmore Hall, the Salle Gaveau in Paris, the Washington DC National Gallery of Art and the New York Miller Theater. She has performed as a soloist with such leading orchestras as Dresden Staatskapelle, Philharmonia Orchestra, English Chamber Orchestra, Royal Philharmonic, Japan Philharmonic, Munich Radio Symphony, St Petersburg Philharmonic, Tokyo Symphony, Warsaw Philharmonic and Vienna Symphony Orchestras. Conductors with which she has performed include Vladimir Ashkenazy, Erich Bergel, Michael Boder, Andrey Boreyko, Jorg Faerber, Vladimir Fedoseyev, Edward Gardner, Neeme Jarvi, Emmanuel Krivine, Ingo Metzmacher, Esa-Pekka Salonen, Jose Serebrier, Vassily Sinaisky, Stanislaw Wislocki and Lothar Zagrosek. Ms. Onay's many festival appearances include Berlin, Warsaw, Granada, Mozartfest Würzburg, Newport, Schleswig-Holstein and Istanbul.An exceptional Chopin interpreter, Gülsin Onay was honored with the award of a State Medal by the Polish nation in 2007. She is also acknowledged worldwide as the finest interpreter of the music of A.Adnan Saygun, whose works feature prominently in her concerts and recordings.