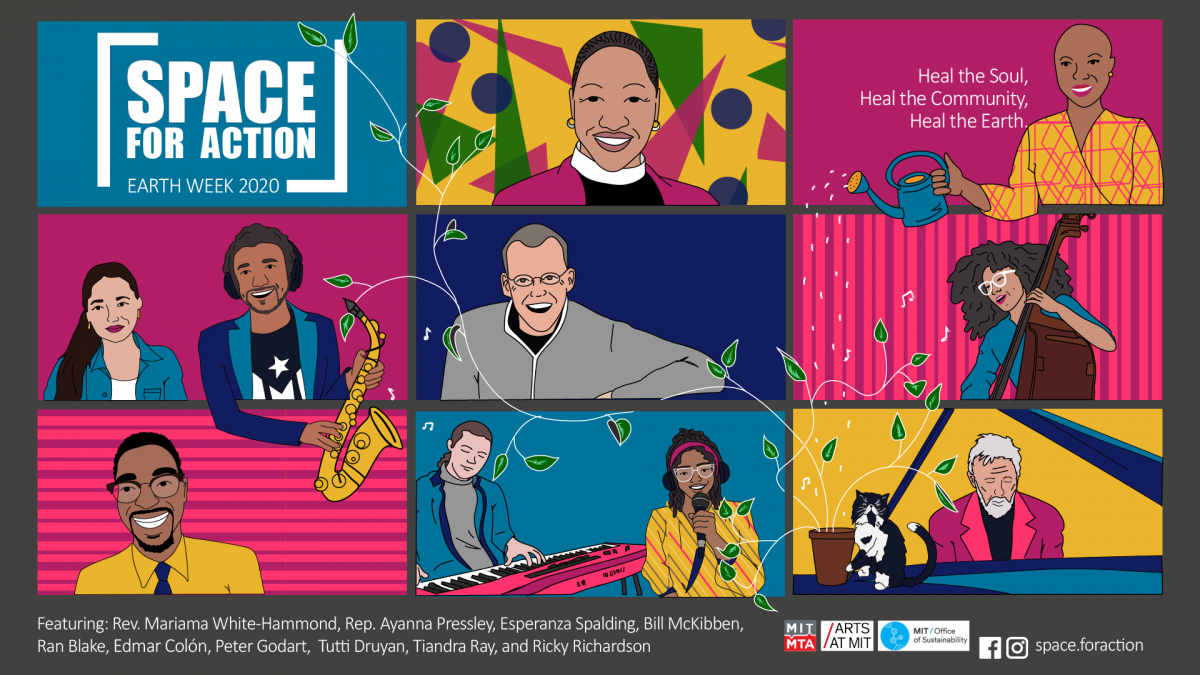 Space for Action:
Rebuilding a Sustainable World
A collective reflection through music and conversation
Featuring:
Rev. Mariama White-Hammond, Esperanza Spalding, Bill McKibben,
Rep. Ayanna Pressley, Ran Blake, Peter Godart, Edmar Colón, Tutti Druyan, Tiandra Ray, and Ricky Richardson
This 90-minute performance-conversation originally aired on April 25, 2020, brought together leading musicians, scientists, politicians, and activists to reflect on how the pandemic is reshaping our relationship with the earth and the opportunity to rebuild. The event also included moderated breakout sessions for attendees, sparking discussion about taking control of our trajectory and imagining what a sustainable and equitable future looks like in our post-pandemic world. 
The event was presented in collaboration with the MIT Office of Sustainability, Arts at MIT, and MIT Music and Theater Arts.
Space for Action artists Peter Godart and Tiandra Ray are featured in The New Yorker here.
Space for Action Facebook page here.
Space for Action Mission:
"Heal the soul, Heal the community, Heal the earth"
Space for Action is a call for all humans to convene, process, and make progress on the existential threat posed by climate change through curated collective experiences at the intersection of art, science, and culture. As a format, Space for Action aims to:
1) address and de-stigmatize the feelings of isolation and powerlessness that accompany this threat, thereby making space in our hearts and minds for action, and
2) provide literal (and virtual) space for people to engage with one another, the issues, and their cultural implications to foster real innovation and to re-imagine our society post-climate change.
PARTICIPATING ARTISTS
Rev. Mariama White-Hammond is an advocate for ecological & social justice, youth engagement, and Spirit-filled organizing. She is the founding pastor of New Roots AME Church in Dorchester. Rev. Mariama is a fellow with the Green Justice Coalition which brings together eight social/environmental justice groups from around Massachusetts. She is a frequent speaker throughout the United States.
Esperanza Spalding is a multi-Grammy winning, internationally renowned composer-vocalist-bassist whose diverse performances inspire, heal, and transcend genres. Spalding's recent recording 12 Little Spells has earned wide recognition from The New York Times, NPR, and The Boston Globe, among others. She is a professor of music at Harvard University. 
Author and environmentalist Bill McKibben is a founder of 350.org and is the Schumann Distinguished Scholar in Environmental Studies at Middlebury College. A fellow of the American Academy of Arts and Sciences, he's the winner of the Gandhi and Thomas Merton Prizes, and the 2014 Right Livelihood Prize, sometimes called the 'alternative Nobel.'
Rep. Ayanna Pressley is an advocate, a policy-maker, and activist representing Massachusetts' 7th Congressional District in the U.S. House of Representatives, making her the first woman of color to be elected to Congress from the Commonwealth of Massachusetts. In 2016, Congresswoman Pressley was named one of The New York Times' 14 Young Democrats to Watch.
Pianist-educator-composer and MacArthur and Guggenheim Fellow Ran Blake has been a dominant figure in Third Stream music for over half a century. He has recorded over 40 albums and has served on the faculty of the New England Conservatory since 1967.
Pianist-composer and PhD candidate at MIT in the department of mechanical engineering Peter Godart is focused on how to make life better in the Anthropocene. He has performed with musicians such as Miguel Zenón, Anat Cohen, and Don Byron.
Edmar Colón is a saxophonist-pianist-composer from Coamo, Puerto Rico, and currently on the faculty of the Berklee College of Music. He has appeared at major jazz venues throughout the world performing with artists such as Joe Lovano, Danilo Pérez, Esperanza Spalding, and Terri Lyne Carrington, among others across musical genres. In addition, Colón wrote the orchestration for the title track of Esperanza Spalding's Grammy Award-winning album, 12 Little Spells. Most recently, Edmar arranged and orchestrated a commission consisting of 16 orchestral pieces for the National Symphony Orchestra at The Kennedy Center celebrating the centennial of Nat King Cole on a show entitled Nat King Cole at 100. 
Tutti Druyan is a singer, songwriter, actor, and voiceover artist who has performed throughout the world, including the Edinburgh Fringe Festival, The Dominican Republic Jazz Festival, the JFK Presidential Library, and the Massachusetts State House. In her home country of Israel, she has worked extensively in theater and television.
Upon graduation from MIT, Tiandra Ray has worked in the architectural field and is currently exploring the intersection of design, equity, and education. As a member of MIT's Vocal Jazz Ensemble, she performed extensively under the direction of Pulitzer Prize-winning composer John Harbison.
Jazz vocalist Ricky Richardson graduated from MIT with a focus on mathematics and music, performing in the school's primary vocal ensembles, including the MIT Vocal Jazz Ensemble under the direction of Pulitzer Prize-winning composer John Harbison. He has performed at Harbison's Token Creek Music Festival and dozens of concerts throughout the Boston-area and his home city of Memphis.