Eran is a Visiting Artist during this spring semester and will teach 21M.359 Interactive Music Systems. Eran Egozy is Co-Founder and CTO of Harmonix Music Systems, most famously known for the games Guitar Hero, Rock Band, and Dance Central. Eran graduated from MIT with an M.Eng. in EECS and also plays clarinet.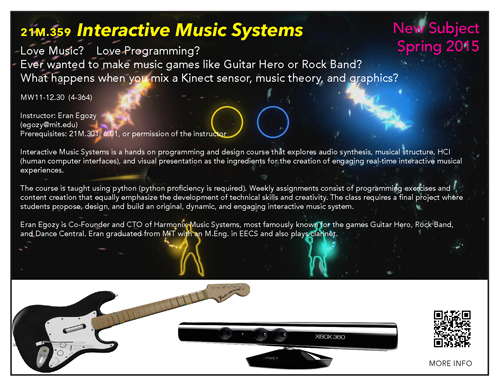 About the Artist
Eran Egozy is the co-founder and chief technical officer of Harmonix Music Systems, one of the pre-eminent game development studios in the world, having developed more than a dozen critically acclaimed music-based video games. Harmonix was founded in 1995 on the principle that non-musicians should be able to experience the joy of making music. Beginning in 2005, Harmonix developed Guitar Hero and Guitar Hero 2, fueling the explosive growth of the music games category to over $1 billion in sales. In 2006, Harmonix launched the innovative and award-winning title Rock Band. The blockbuster franchise grew to include Rock Band 2, Rock Band 3, and The Beatles: Rock Band. Harmonix is also the creator behind the ground-breaking hit titles, Dance Central and Dance Central 2, the first fully immersive, no-controller dance games for the Kinect. Eran and his business partner Alex Rigopulos were named in Time Magazine's Time 100 in 2008, Fortune Magazine's Top 40 Under 40 in 2009, and USA Network's Character Approved awards in 2010.
Eran brings extensive technical and musical expertise to Harmonix's management team. He manages the company's engineering staff, directs intellectual property development, contributes to game design and helps drive corporate strategy. Prior to co-founding Harmonix, Eran conducted research on combining music and technology at the MIT Media Lab under the direction of Tod Machover.
Eran is also an accomplished clarinetist, a member Boston's eclectic chamber music group Radius Ensemble, and performs regularly as a freelance musician in the Boston area. Eran earned his B.S. and M.S. degrees in Electrical Engineering and a Minor in music performance from the Massachusetts Institute of Technology. His studied clarinet with Jonathan Cohler and William Wrzesien.
---