November 16, 2014, Killian Hall and April 18, 2015, Kresge Auditorium
Cahill performed in recital music from her recent CD 'A Sweeter Music,' Terry Riley's 'Be Kind to One Another,' and works by Evan Ziporyn and others. She will also perfom in a concert with Terry Riley, Eviyan, Gamelan Galak Tika and others on April 18.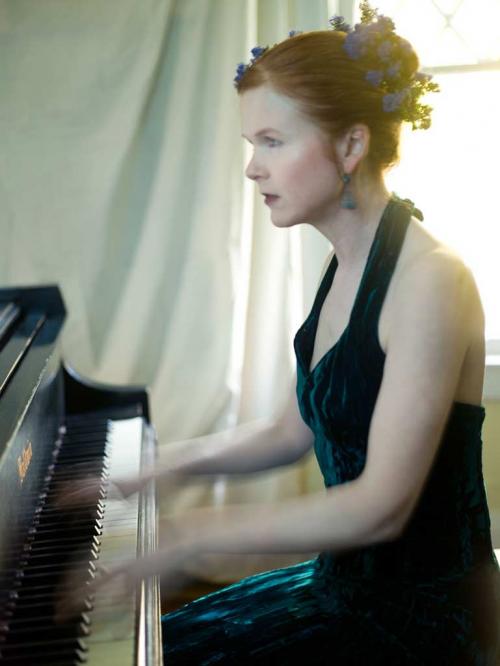 About the Artist
Sarah Cahill, recently called "fiercely gifted" by the New York Times and "as tenacious and committed an advocate as any composer could dream of" by the San Francisco Chronicle, has commissioned, premiered, and recorded numerous compositions for solo piano. Composers who have dedicated works to her include John Adams, Terry Riley, Frederic Rzewski, Pauline Oliveros, Annea Lockwood, and Evan Ziporyn.
Sarah's most recent project, A Sweeter Music, premiered in the Cal Performances series in Berkeley in January 2009 and continued to New Sounds Live at Merkin Hall, Rothko Chapel, the North Dakota Museum of Art, Le Poisson Rouge, and venues around the country, with newly commissioned works on the theme of peace by Terry Riley, Meredith Monk, Yoko Ono, Frederic Rzewski, Phil Kline, and many others. The San Francisco Chronicle wrote that "the music, helped along by the impassioned force of Cahill's playing, amounted to a persuasive and varied investigation of the subject," and London's Financial Times called it "a unique commissioning programme that unites artistic aspirations with moral philosophy."
She is working on two new commissioning projects: one explores our relationship to nature, and the other celebrates the eightieth birthday of Terry Riley in 2015. Most of Sarah's albums are on the New Albion label. She has also recorded for the CRI, New World, Other Minds, Tzadik, Albany, Cold Blue, and Artifact labels. Her album A Sweeter Music is on the Other Minds label, and Pinna Records will release her two-CD set of Mamoru Fujieda's Patterns of Plants. Her radio show, Revolutions Per Minute, can be heard every Sunday evening from 8 to 10 pm on KALW, 91.7 FM in San Francisco. She is on the faculty of the San Francisco Conservatory, hosts a new music series at the Exploratorium, and curates a monthly series of new music concerts at the Berkeley Art Museum. Visit: Sarahcahill.com