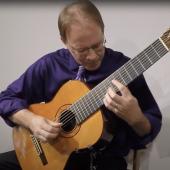 Guitar - Emerson/Harris Program
David Newsam grew up in Connecticut where he was a student of Robert Shaw. He is a graduate of Berklee College of Music in Boston where he studied with Jim Kelly, Larry Baione and William Leavitt. 
David currently works as an associate professor in the guitar department at Berklee where he has taught since 1989. He created the online course, Fundamentals of Classical Guitar for Berklee Online. David created the guitar program at the University of New Hampshire where he teaches private lessons, directs the UNH Guitar Ensembles and coaches jazz ensembles. He is a former faculty member of Phillips Exeter Academy, and Dartmouth College.