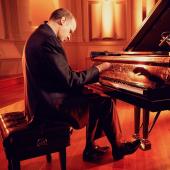 Jazz Piano - Emerson/Harris Program
Doug Johnson is a pianist and an educator and is Associate Professor of Piano at Berklee College of Music in Boston.
Doug has performed or recorded with Esperanza Spalding, Luciana Souza, Phil Woods, Terry Lynne Carrington, Jerry Bergonzi, Hal Crook, Ingrid Jensen, Jason Palmer, Marty Erlich, the Jazz Composer's Alliance, and Grace Kelly. Doug has performed in London (Ronnie Scotts), Paris, Berlin (A-Train), Vienna (Jazzland, Porgy and Bess, Joe Zawinul's Birdland), Madrid, Barcelona, Copenhagen and Warsaw, Montreal, Toronto, Boston, Los Angeles and New York (Dizzys Club Coca Cola, Jazz Standard, Birdland); also Kennedy Center, Lincoln Center and the Newport Jazz Festival.
As an educator Doug has done workshops and masterclasses at the University of Vienna, the Vienna Music Institute, the Krakow Jazz Academy, the Freiburg Rock and Jazz Hochschule, American Scociety of Alexander Technique Teachers, (AmSAT) National Convention, the Performing Arts Medicine Association National Conference (PAMA) and Wellesley College and Boston University.
Doug is a Licensed Andover Educator (Body Mapping Certification) and a founding member of the Berklee Performance Wellness Institute. He earned his Masters degree in Music from the New England Conservatory.