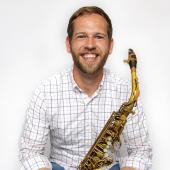 Productions & Events Office, Music Program
Days on Campus: Tuesdays, Wednesdays, Thursdays
Biography:
Andy Wilds is a saxophonist and music administrator based in Boston, Massachusetts. He has performed professionally with ensembles such as the Rhode Island Philharmonic Orchestra, the San Antonio Symphony Orchestra, the Austin Symphony Orchestra, the Tanglewood Music Center Orchestra, the Round Top Festival Orchestra, the New Bedford Symphony Orchestra, Symphony New Hampshire, and others. In 2018, Andy gave the world premiere of Joan Tower's solo saxophone piece, Second Flight, after assisting the composer in editing the work. He was also recently featured as part of the Celebrity Series public art project, Concert for One. Wilds' recent concerto performances include the Alexander Glazunov Concerto with Kendall Square Orchestra and the Narragansett Bay Symphony, Giovanni Santos' I Dream Awake with the MIT Wind Ensemble, and the Ingolf Dahl Concerto with the Metropolitan Wind Symphony. He is currently the alto saxophonist for the Jamaica Plain Saxophone Quartet, the principal saxophonist in the Metropolitan Wind Symphony, and the saxophonist in Mischief Mile, a 5-piece cover band. Wilds can be heard on several recordings, including the most recent TexSax album, Over the Rainbow and Bach Again, the debut album from the Austin Saxophone Ensemble, Plunge, as well as the 2016 release from the University of Texas Wind Ensemble, Wine-Dark Sea. 
In addition to his performance career, Wilds works actively as a music administrator in the Boston area. He currently holds the position of Program Manager for Music at the Massachusetts Institute of Technology, as well as Operations Manager for Kendall Square Orchestra. He has also managed ensembles and operations for Jamaica Plain Saxophone Quartet, Austin Saxophone Ensemble, and the University of Texas Saxophone Studio. Andy is also a published arranger, including publications for saxophone quartet with RC Editions, and for saxophone and piano with Murphy Music Press.
Andy earned his Bachelor's degree in Music Performance from the University of Texas at Austin in 2012. He earned a Master's Degree in Music Performance in 2014, also from the University of Texas, where he studied with Professor Harvey Pittel, serving as Teaching Assistant for the saxophone studio. In 2019, he completed his Doctorate of Musical Arts at the New England Conservatory, where he studied saxophone with Ken Radnofsky.