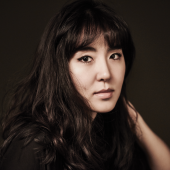 Binna Kim has been described as a composer of "fantastic imagination and great depth." Her inspiration often comes from various forms of art, recent influences include artists Lee Ufan, Sarah Sze, and Doris Salcedo.
Ms. Kim's work has been commissioned and performed in the United States, Korea, and Europe by numerous ensembles, including the New Fromm Players, Aspen Contemporary Ensemble, Boston Modern Orchestra Project, Seattle Metropolitan Chamber Orchestra, Governor's School of North Carolina Orchestra, Flux Quartet, MOKO Musik, LoadBang and Ensemble Court-Circuit. She has been invited to attend major music programs and festivals, including the Tanglewood Music Festival, Aspen Music Festival, Chelsea Music Festival and Santa Fe Chamber Music Festival. She has also participated in master classes with Steven Stucky, George Tsontakis, John Corigliano, John Harbison, Stephen Hartke, and Michael Finnissy. Teaching appointments have included New England Conservatory and MIT.
Currently based in Boston, Kim recently earned her Doctor of Musical Arts degree from New England Conservatory, studying with Michael Gandolfi. She received her Bachelor's degree from Seoul National University and her Master's degree from Carnegie Mellon University, where she studied with Leonardo Balada.