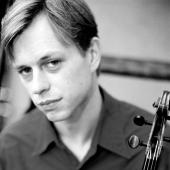 Christian Frederickson is a violist, composer, and sound designer who specializes in live music performance for theater and dance.
He was a founding member and one of the principal songwriters (along with Jason Noble and Rachel Grimes) of the Louisville, KY-based instrumental band Rachel's, who released 6 albums on Quarterstick Records between 1995 and 2003. The 2016 re-issue of 'systems/layers', the final Rachel's album, garnered a "Best New Reissue" on Pitchfork and was called "a truly synthesized mesh of chamber music and electronics that sounded like little else…a godfather record to the nascent (post-classical) genre…" A core ensemble of viola, cello, piano, guitar/bass, drums, and percussion was surrounded by many other orchestral instruments, tape manipulation, cinematic sound design, found sounds and electronic elements in their studio albums. Rachel's toured widely in North America and Europe, and played a concert performance of their album 'Music For Egon Schiele' in Seoul, South Korea. Music by Rachel's has been used in countless films, theater, and dance performances, the most well-known of which include the 2014 Oscar-winning foreign film 'The Great Beauty', 'Hancock' directed by Peter Berg, 'Any Given Sunday' directed by Oliver Stone, and both of the Gasland films, directed by Josh Fox. Rachel's also performed on the BBC, NPR's "Weekend Edition Sunday", WNYC's "New Sounds" including a special live performance at Merkin Hall in New York in 2005, as well as the national radio networks in Belgium, Italy, and South Korea.
As a solo artist, Frederickson has released seven albums since 2011: "The Painted Bird | Bastard", "The Painted Bird | Amidst", and "Custodians of Beauty" are scores for contemporary dance; "Death Metal Angola" was written for a documentary film by Jeremy Xido about the rock music scene and the aftermath of decades of war in Angola; "Teratogeny", "The Starving Season", and "Islands of Light" are collections of music from various film, dance, and theater projects. In 2010 he formed a group called The Young Scamels with Jason Noble and Greg King of Rachel's. Their album "Tempest" was the score for a production of the Shakespeare play at Actors Theatre of Louisville. He has recently played concerts of his own music in New York City, Seattle, Louisville, Nashville, and Zilina, Slovakia. As a guest artist he has recorded viola with Rodan, Shipping News, Seluah, Rachel Grimes, Occurrence, Greg King, Rivulets, Mission of Burma, The For Carnation, Per Mission, Samara Lubelski, and Shannon Wright.
Since 2004 Frederickson has worked primarily in theater and dance, continuing collaborations with Anne Bogart's SITI Co. which began with the Rachel's/SITI theater collaboration 'systems/layers' and continued as he wrote and performed music for Antigone, Trojan Women, Hanjo, and designed sound for Steel Hammer, a production featuring the Bang on a Can All-Stars performing the music of Julia Wolfe. He is a perennial guest artist at the SITI Company's annual training intensive at Skidmore College in Saratoga Springs, NY. Frederickson also has a long-standing collaboration with the choreographer and director Pavel Zuštiak and his Palissimo Company, creating and performing music for six evening-length pieces since 2010. Palissimo has toured widely in the United States and Europe, with highlights of presenting the entire Painted Bird Trilogy at the Wexner Center and La MaMa ETC. and performing The Painted Bird | Bastard at the State Theater in Bratislava, Slovakia. He has received commissions for new music from the Nantucket Atheneum Dance Festival and Of Moving Colors dance company with the Baton Rouge Symphony Orchestra which resulted in a full-length adaptation of The Tempest. He has worked at a long list of theaters in New York City, notably the Brooklyn Academy of Music, Classic Stage Company, The Public Theater, Playwright's Horizons, Cherry Lane, Rattlestick Playwrights Theater, Atlantic Stage 2, as well as regional theaters, such as The Old Globe (San Diego), Woolly Mammoth, Hartford Stage, On The Boards, and especially Actor's Theatre of Louisville where he has worked on over 20 productions and is a regular designer at the Humana Festival of New American Plays.
Frederickson was trained as a classical musician, and holds a Bachelor's degree in performance from The Peabody Conservatory of Johns Hopkins University and a Master's degree from The Juilliard School. His principal viola teachers were Paul Coletti and Eugene Becker. From 2000 to 2004 he was the viola instructor at the University of Louisville, also teaching chamber music and orchestral playing. He performed four seasons as a member of the Louisville String Quartet, as well as with the Kentucky Center Chamber Players, the Louisville Bach Society, and other chamber music ensembles.