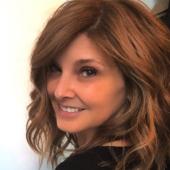 Quanta Professor of Chinese Culture
Claire Conceison (康开丽) is Quanta Professor of Chinese Culture and Professor of Theater Arts. She is a scholar, translator, and director. Her areas of research and teaching include contemporary Chinese theater, contemporary French theater, cross-cultural exchange and performance, Asian American theater, translation studies, and sport as performance. She is faculty advisor of Wuming Theater Club, China Development Initiative, and the MIT football team.
She earned her A.M. in Regional Studies—East Asia from Harvard University and her Ph.D. in Theater Studies from Cornell University. Publications include the books Significant Other: Staging the American in China (2004) examining representations of Americans on the Chinese stage from 1987-2002, and Voices Carry: Behind Bars and Backstage During China's Revolution and Reform (2009), the autobiography of the late Chinese actor and cultural diplomat Ying Ruocheng (Chinese version 水流云在:英若诚自传). She is editor of the anthology I Love XXX and Other Plays by Meng Jinghui (2017), a collection of representative works by China's leading theater director. She recently wrote the introduction to the new student edition of Arthur Miller's Death of a Salesman (2022) and the introduction to the publication of Wu Shiliang's 1963 Chinese translation of Lorraine Hansberry's 1959 play A Raisin in the Sun (2020). She also wrote the introduction to the latest edition of Miller's 1984 book 'Death of a Salesman' in Beijing (2015) and contributed the chapter "Miller in China" to the volume Arthur Miller for the Twenty-first Century (2020). Recent play translations include Meng Jinghui's Rhinoceros in Love for the BBC (2014) and Teahouse for the Avignon Festival (2019).
Her current projects include translations of 2000 Nobel Laureate Gao Xingjian's French language works into English, including Ballade Nocturne (2010) and four other plays, and a manuscript in progress on sport as performance. Her chapter "Sport as Performance" is included in The Routledge Companion to the Anthropology of Performance (2024). Her articles have been published in TDR, Theatre Journal, Asian Theatre Journal, Modern Chinese Literature and Culture, and other journals. She has directed student productions and staged readings of contemporary Chinese and Asian American plays at MIT, Duke, Harvard, Tufts, and University of Michigan.
Conceison was the recipient of the MIT Everett Moore Baker Memorial Award for Excellence in Undergraduate Teaching in 2023 and a Levitan Teaching Award in the School of Humanities, Arts, and Social Sciences (SHASS) in 2017.